Cat Activities & Pampering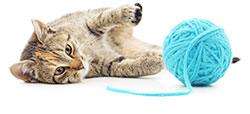 Evidence from the pet care industry and our experience has shown that high levels of physical activity and enrichment result in happier and healthier pets, especially when they're away from home. So we created two discounted activity packages you can choose from for your cat.
Our Purrrfect Cat Activity Package includes:
30 minutes of exploring in our cattery which gives your cat free roam in our beautifully designed cat play room filled with climbing and scratching posts, skylight for outside view, toys, catnip, and more.
A game of toy chase, laser tag or one on one cuddling with a counselor.
And a tasty Catch o' the Day treat.
---
Our Cat's Meow Activity Package includes:
One activity or Pampering Session.
And a tasty Catch o' the Day treat.
---
Why Activities?
Feline guests enjoy activities and interaction. Activities can be added to their stay and will provide additional personalized attention and stimulation for your kitten or cat while you're away.
When considering activities for your pet, consider the following from Tufts University School of Veterinary Medicine:
Exercise helps keep pets healthy, agile and limber.
Cats need physical and mental stimulation each day.
Exercise reduces the incidence of digestive problems and constipation. Exercise helps prevent depression.
Exercise helps prevent boredom and channels the cat's energy in an acceptable direction.
It's a good way to help a timid or fearful cats build confidence and trust.