Dog Grooming in NYC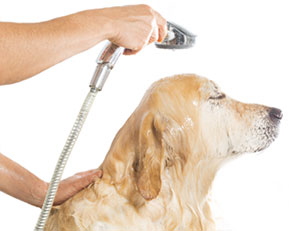 Come in and let our stylists give your dog the total salon experience. After all, who doesn't love a makeover?
Camp Canine's Dog Grooming Salon & Spa in the heart of the Upper West Side has an amazing team of dog groomers and bathers that will keep your best friend looking and feeling his very best. Besides the obvious appearance benefits of grooming, there are real health reasons to have your dog groomed regularly:
Avoiding painful and potentially harmful matting is especially important for the health of long or heavy-haired breeds.
Our team spot checks for fleas, ticks, skin issues and lumps and will alert you to any physical issues we discover while pampering your pooch.
Make your dog the envy of the neighborhood by visiting Camp Canine Grooming Salon & Spa. Whether your pup needs a clean up after a day of fun Camp or just wants some pampering, your furry child is guaranteed to look amazing after a luxurious day at our spa.
All Camp Canine Spa treatments feature: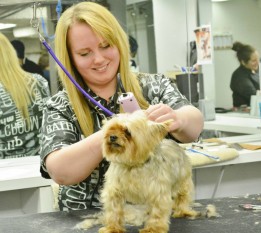 Ear cleaning
Nail trimming/filing
Anal gland expression
Fluff drying and brush out
We'll even brush your dog's teeth!
Our Grooming Salon & Spa also offers:
 Full professional grooming
Breed standard cuts
De-matting and brush-outs
Shedding control services
Medicated baths
My Petunia loves it! The staff is incredibly nice and helpful, and you can tell how much they love the dogs. I bring Petunia here for boarding and grooming again and again.
Petunia's Mom
Reasons to Choose Camp Canine Dog Grooming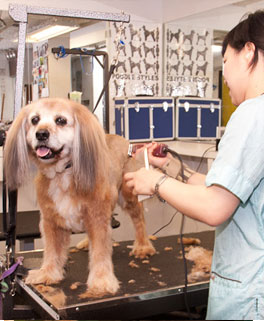 We use state-of-the-art dog grooming equipment and techniques
Our professional groomers are friendly pet lovers who take great pride in their work
Groomers, stylists and bathers pay special attention to your pet's specific needs and unique body styles
Grooming services are available 6 days a week by appointment
Under Tania and the new ownership, the staff is helpful, obviously love the dogs and take as good care of your dog as you do at home.
Oliver's Mom
Benefits of Regular Bathing & Dog Grooming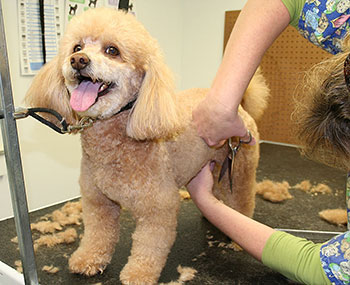 Leads to less shedding, healthy skin, and a healthy coat
Removes the stress of having to lift and struggle at home getting your dog into the bathtub
Trimmed nails are safer for your pet and you, and easier on your floors
Extra hair/fur can matt and reduce contact to the air and trap moisture
Properly cleaned ears hear and feel better
Thorough cleaning and brushing promotes healthy hair and scalp
Trained eyes spot potential health risks before they become major complications
Your dog will become accustomed to being bathed and actually enjoy the experience!