Every single member of Camp Canine is a dog lover. They have been selected for their vast knowledge and experience, but it's their love of animals that makes Camp Canine special. Only you love your dog more than we do!
Camp Canine and Camp Feline have undergone some major changes recently; the most important of which is that we are now owned and operated by a new owner! Mike Becker has managed and operated various businesses over the last 20 years, and combining his love for business with his love for animals is a dream come true!  After meeting the staff, seeing how happy the animals were and getting to know Tania, the decision to become Camp Canine's new owner was an easy one.
Mike has dived head-first into the world of Camp Canine, Camp Feline and caring for your pets. Camp Canine is already the premier daycare, grooming, and boarding center for the Upper West Side, and Mike aims to make it the premier pet care facility for all of New York City. Under his management, we will continue providing luxury care for all of the dogs and cats who visit us, and continue to cultivate an environment where our employees and clients, both two-legged and four-legged alike, love coming through our doors!
When he's not manning the helm of Camp Canine, Mike enjoys spending quality time with his two pups, Barney, a seventeen-year-old Havanese, and 9-month-old Miniature Sheepadoodle, Shea.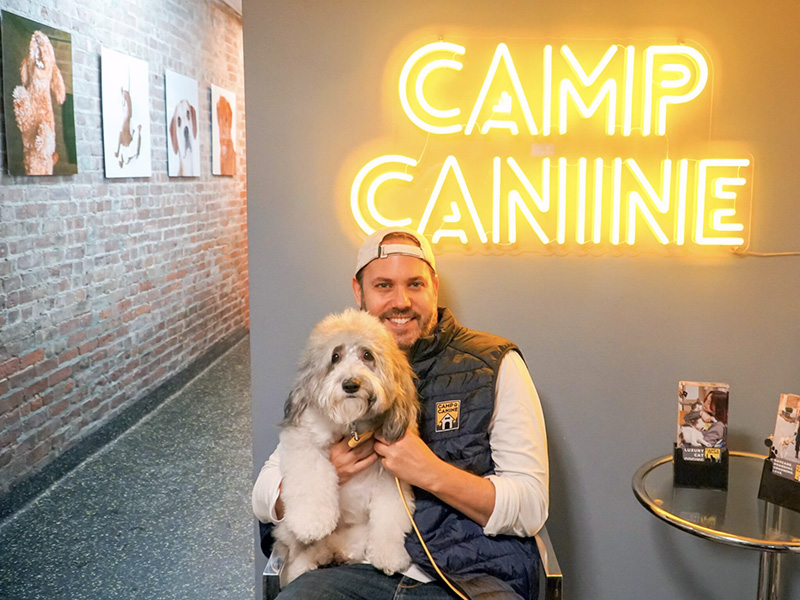 The mission of Camp Canine is to treat each and every dog and cat as if he/she were our own. We are all animal lovers and pet parents and have created a place we would want for our own furry, best friends.  Pets will have a fun safe place to play during the day and a secure night time environment.  It is our sincere pleasure to serve our campers every day and to meet any special needs of theirs such as administering medications, providing extra treats and special care for older pups, just to name a few. Our goal is to give our clients peace of mind knowing their pampered pets will be given top notch care.
One of the Camp Canine core values is giving back to our community, and we do so in as many ways as we can. We usually have one or two foster dogs available for adoption who are staying at Camp Canine. We partner with Animal Lighthouse Rescue to provide these adoptable dogs a comfy temporary home and much needed socialization. See our current foster dogs who need homes here! Check out our Wall of Fame to see some of the fosters who have passed through Camp Canine and now have furrever homes!
We also support The Toby Project, a nonprofit organization working to end the killing of adoptable dogs and cats each year in New York City's animal shelters through a targeted, free, and low-cost spay/neuter initiative.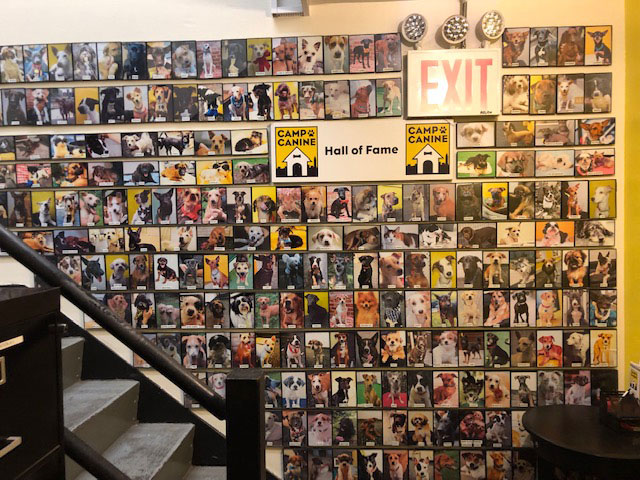 We come highly recommended by leading veterinarians
We provide safe, clean, private and spacious play and overnight accommodations
Our guests receive care and attention from friendly, experienced and certified staff members
We offer more than 5000 square feet of play areas, spa and sleeping facilities
We are not a corporate chain – we are locally owned and owner-operated
Professional Affiliations & Awards
Camp Canine is a proud member of the following organizations and certifying bodies:
International Association of Canine Professionals
West Manhattan Chamber of Commerce
New York Better Business Bureau
Additionally, Camp Canine employees have completed the comprehensive Outstanding Pet Care Learning Center (OPCLC) curriculum and are OPCLC accredited.
2 Free Days of Daycare for New Clients After Your Pup Passes our Trial Interview
Please Note:  Your Pup must meet our onboarding requirements and pass our trial Interview to qualify for Daycare.  Reservation required. Discount applies to first-time daycare clients. Discounts subject to availability and dogs must meet onboarding requirements. Discounts cannot be applied during peak periods.