Camp Canine's Story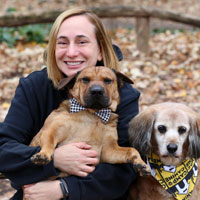 Every single member of our staff truly cares about dogs. They have been selected for their vast knowledge and experience, but it's their love that makes Camp Canine special.  Only you love your dog more than we do!
Camp Canine has been locally owned and operated since 2012 by Tania Isenstein.  A lifelong animal lover, Tania had been a decade-long client of Camp Canine when she left her career as a lawyer on Wall Street to take ownership. She wanted to spend her days with the furry friends of her beloved Spaniel mix Mooshoo and create a full service dog care to help busy New Yorkers lead full lives while providing an extended family for their pooches.  She knows all too well the balancing the demands of a career and caring for a fur child can be challenging.  Tania can often be found working to make Camp Canine the best facility in NYC, with a sleeping dog or two on her desk and a smile on her face.
Our Mission
The mission of Camp Canine is to treat each and every dog and cat as if he/she were our own. We are all animal lovers and pet parents and have created a place we would want for our own furry, best friends.  Pets will have a fun safe place to play during the day and a secure night time environment.  It is our sincere pleasure to serve our campers every day and to meet any special needs of theirs such as administering medications, providing extra treats and special care for older pups, just to name a few. Our goal is to give our clients peace of mind knowing their pampered pets will be given top notch care.
Community
At Camp Canine, we are firm believers in giving back to the community, and we do so in as many ways as we can.  We usually have one or two foster dogs available for adoption who are staying at Camp.  We partner with Animal Lighthouse Rescue to provide these adoptable dogs a comfy temporary home and much needed socialization.  See our some of the dogs we have fostered who now  have loving furrever homes along with our current adoptable foster dogs here!
We also work with local Upper West Side SavABul to help socialize rescued pit bulls so that they can find furrever homes.
We host meetups regularly to benefit The Toby Project, a nonprofit organization working to end the killing of adoptable dogs and cats each year in New York City's animal shelters through a targeted, free and low-cost spay/neuter initiative.
Why choose Camp Canine?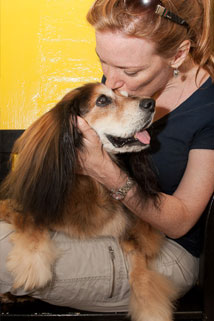 We come highly recommended by leading veterinarians
 We provide safe, clean, private and spacious play and overnight accommodations
 Our guests receive care and attention from friendly, experienced and certified staff members
We offer more than 5000 square feet of play areas, spa and sleeping facilities
We are not a corporate chain – we are locally owned and owner-operated
We bring our 7 month old Shiba Inu here, and he absolutely loves it. We walk by on days where he is not scheduled for daycare and he still tries to run into the camp!
Chewy's Mom
Professional Affiliations & Awards
Camp Canine is a proud member of the following organizations and certifying bodies:
International Association of Canine Professionals
West Manhattan Chamber of Commerce
New York Better Business Bureau
Additionally, Camp Canine employees have completed the comprehensive Outstanding Pet Care Learning Center (OPCLC) curriculum and are OPCLC accredited.
Camp Canine is a terrific daycare and creates a great experience for all of its clients, both doggy and human! From the moment you walk in there, your dog can sense the excitement of being around a great bunch of dogs that are watched over by a wonderful staff. This is an A+ doggy daycare.
Nemo's Dad
Hours of Operation
7 DAYS A WEEK 7:00am TO 8:30pm
Photo Gallery