The time has come: soon our #CampFam will be campaigning and voting for our sixth Brand Ambassador! The newest Ambassador will be following in the footprints of some Camp Canine icons; they'll be in good paws with predecessors like Harley, Oliver, Lizzo, Brinkley and Enzo!
With the nominating of a new Ambassador comes the retirement of our current Ambassador. But Enzo deserves to hang up his crown to thunderous applause, because his reign has been overwhelmingly adorable! Let's check out the highlights:
This time last year, Enzo was appointed by popular choice (aka an internet poll). Enzo the beagle-mix is an Animal Lighthouse Rescue alumni and a bit of a celebrity in the neighborhood. In addition to all of the connections he's built on the Upper West Side, he's done an excellent job at representing the Camp Canine name as our Brand Ambassador this year.
To enter the contest, our ambassador-to-be submitted a photo of himself sitting in front of our iconic 'Camp Canine' neon sign and included his favorite things about Camp Canine in the caption.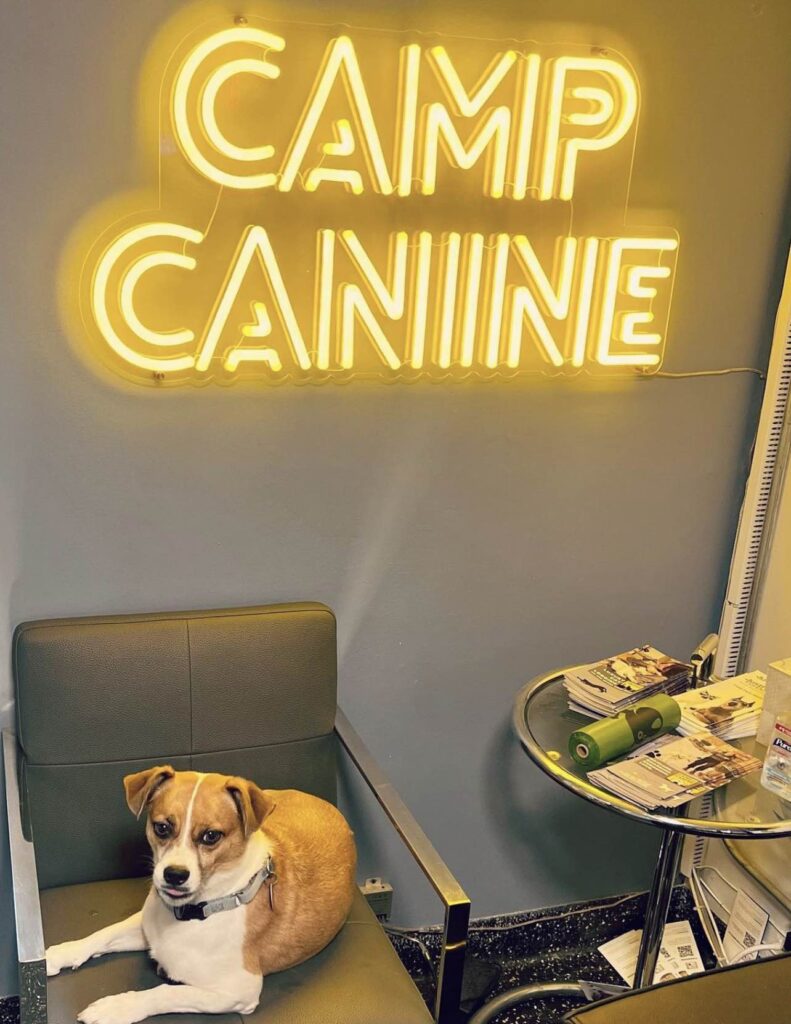 He said: "There are so many things I love about camp that I run down the stairs, wagging my tail for my counselors whenever I stop by. I like playing with my friends of course, but I also enjoy some cozy nap time and one-on-one cuddle time with my counselors. The Central Barks and Games really keep my mind and body active and in shape on those long days my dad is in the office. And I love it when he and I get to do activities at camp together, from Father's Day photos to sampling delicious treats from their Brand Partners."
The first order of business for any Brand Ambassador is our 'Passing the Crown' photoshoot with the newest Ambassador and all of their predecessors. This photoshoot gets more difficult every day that passes, but the sheer level of cuteness as we pack in a new dog each year is hard to get over!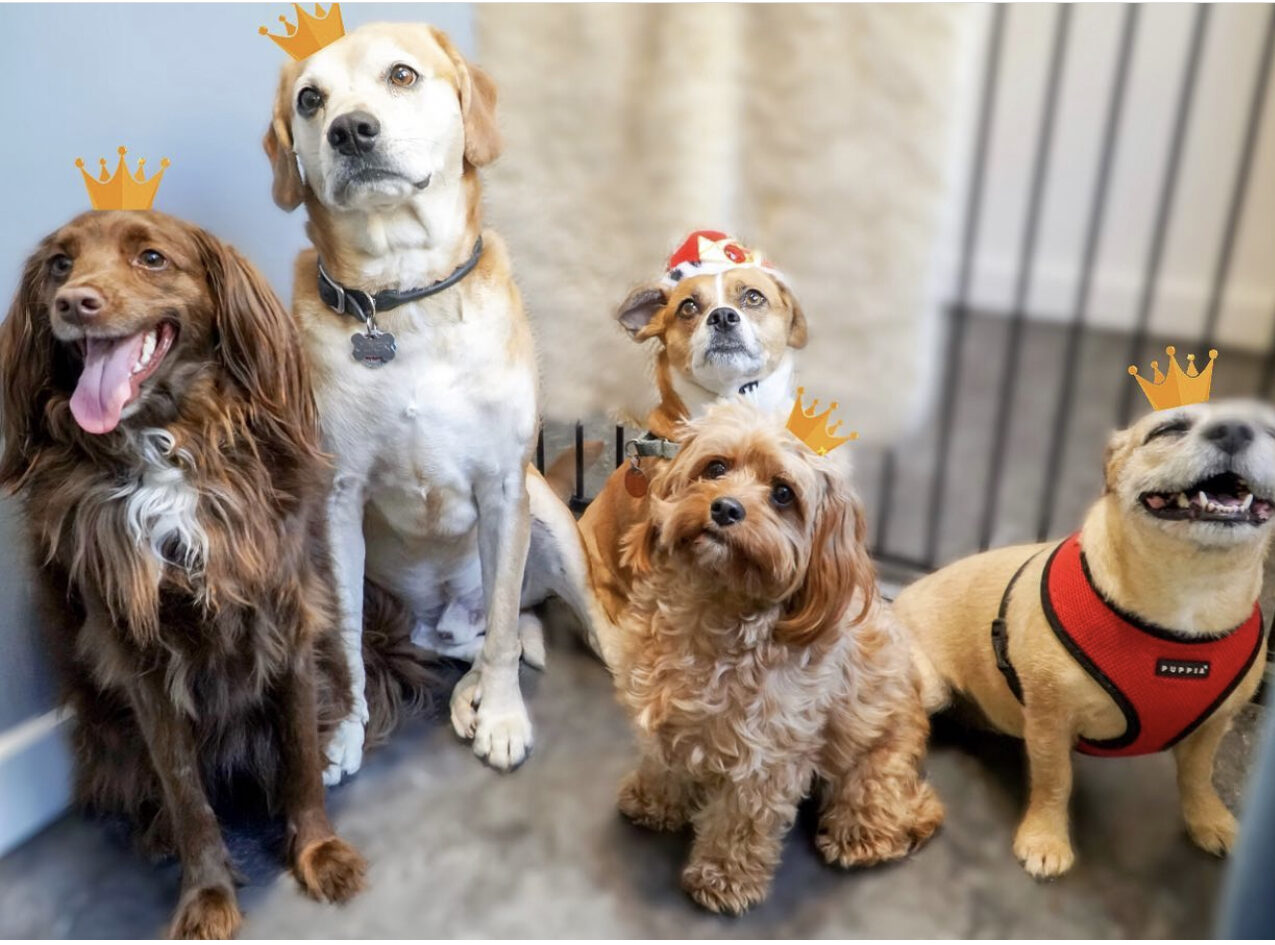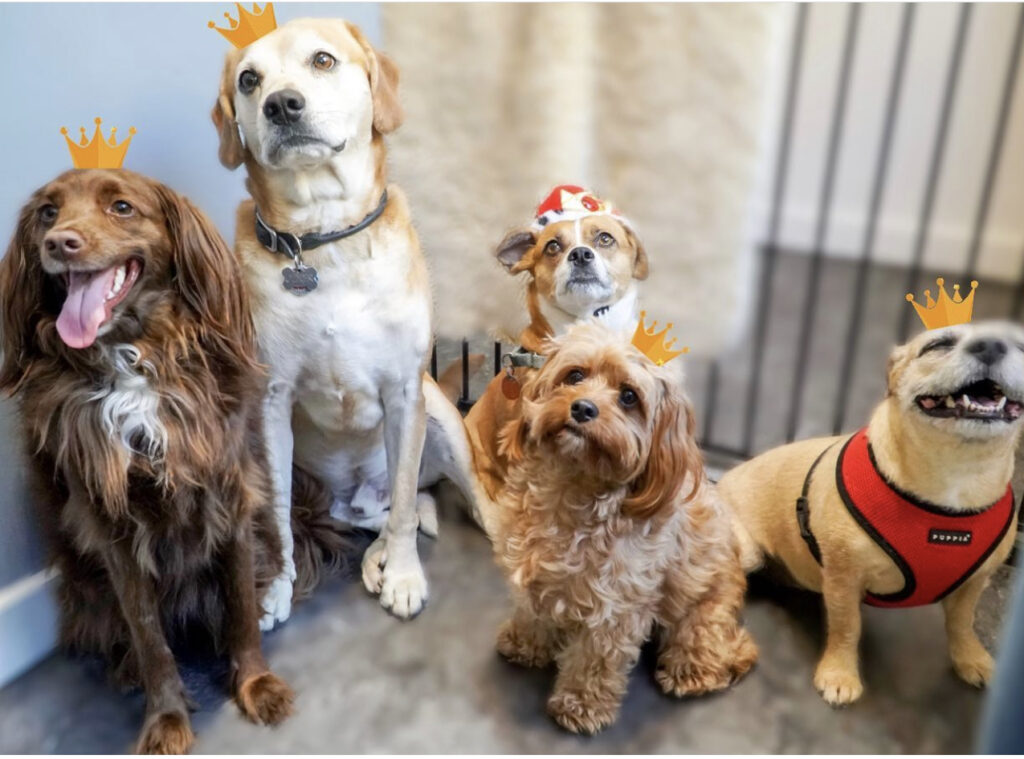 His headshot was then hung on our 'Wall of Fame' with the other Brand Ambassadors!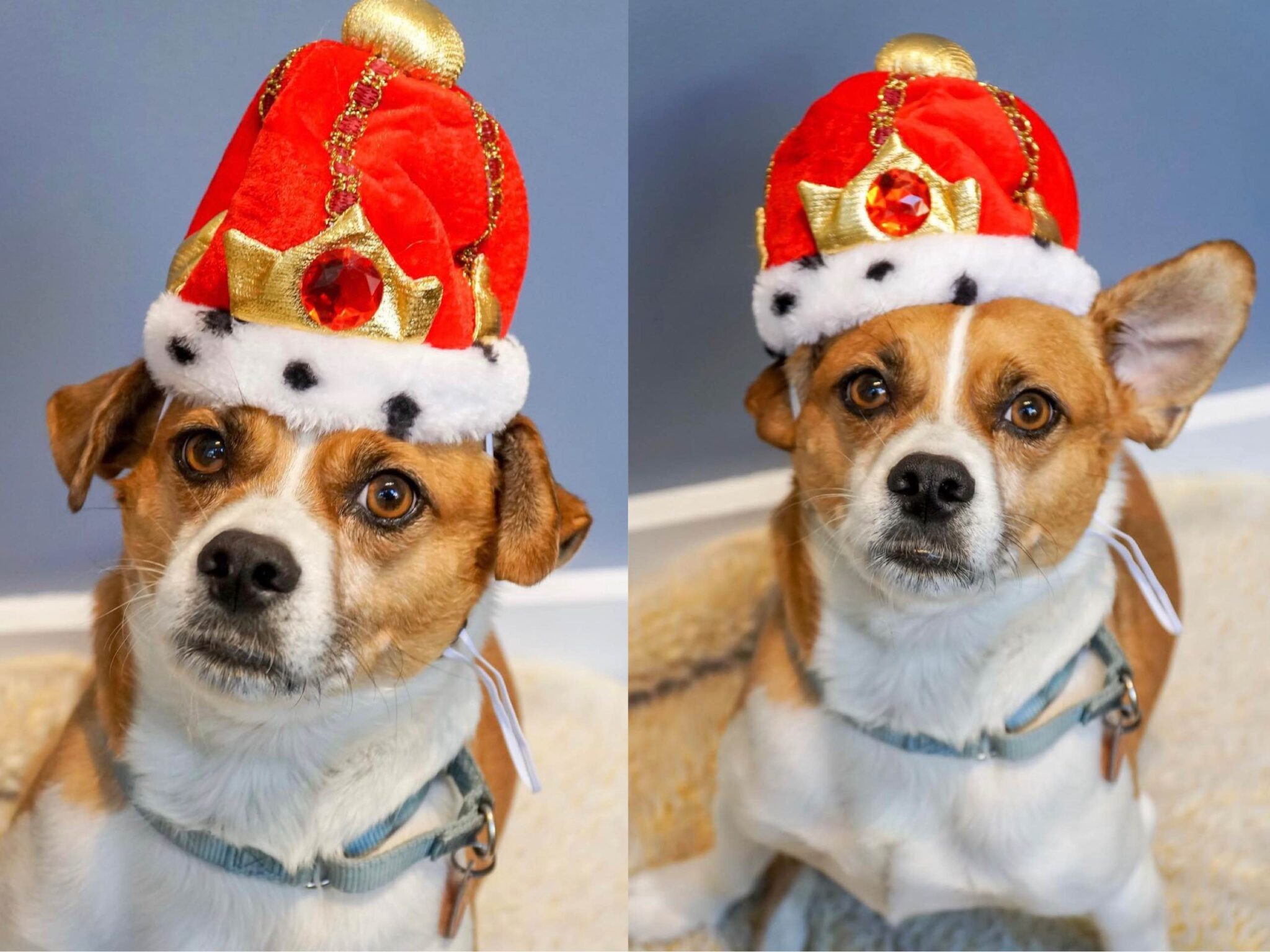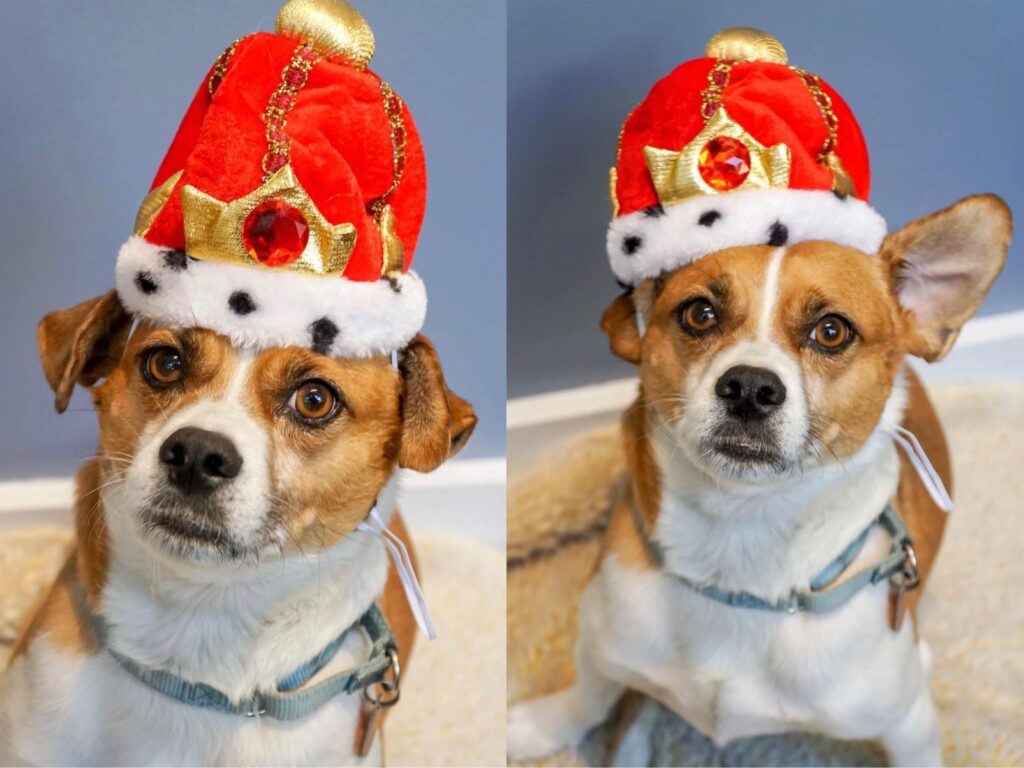 And Enzo's ambassador schedule just got fuller from there; especially when Valentine's Day hit. Enzo was the first to take a fellow camper out on a Romantic Central Bark Date – he asked fellow-Beagle, Agnes. Can you say 'Camp Canine Power Couple'?!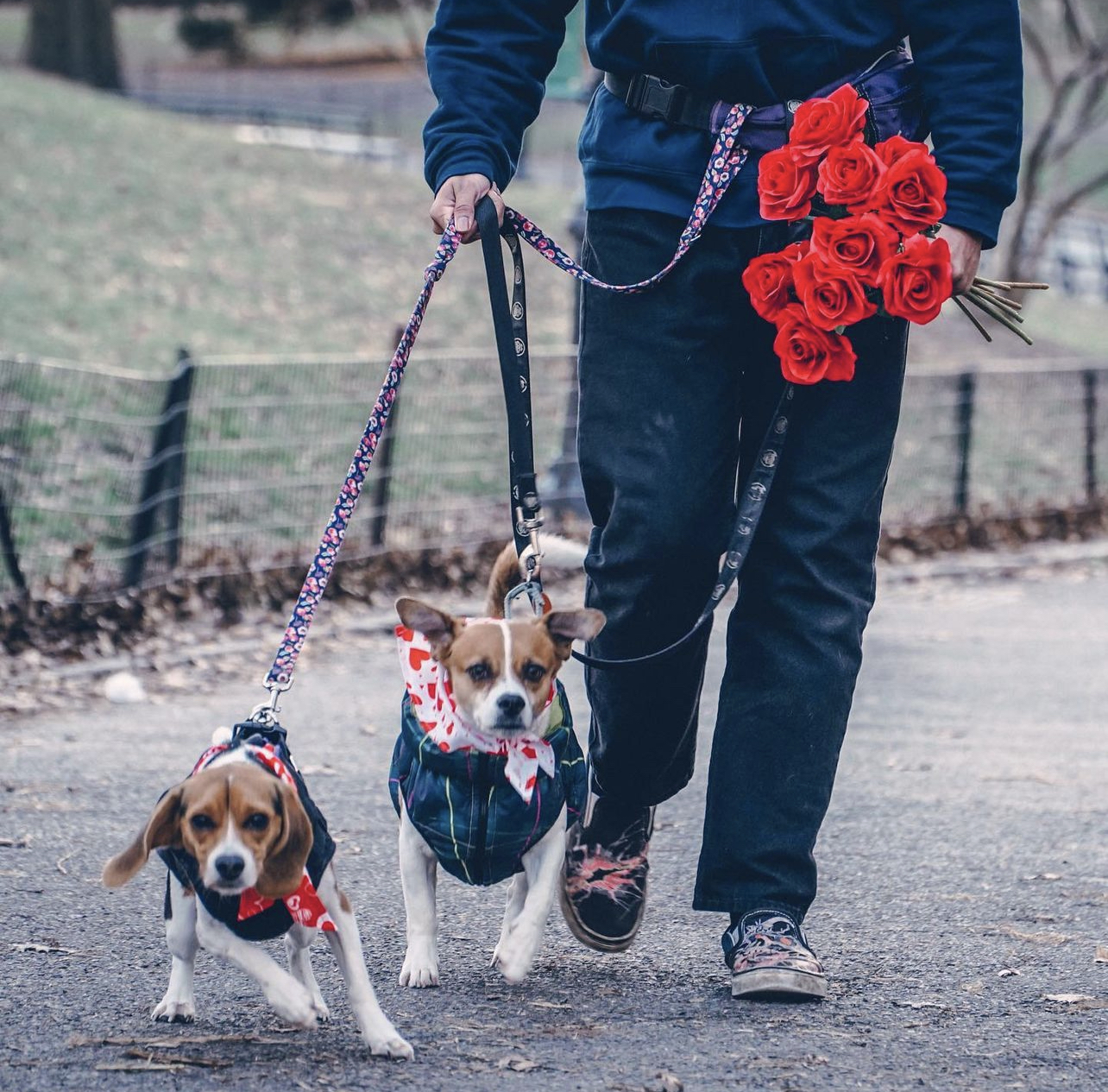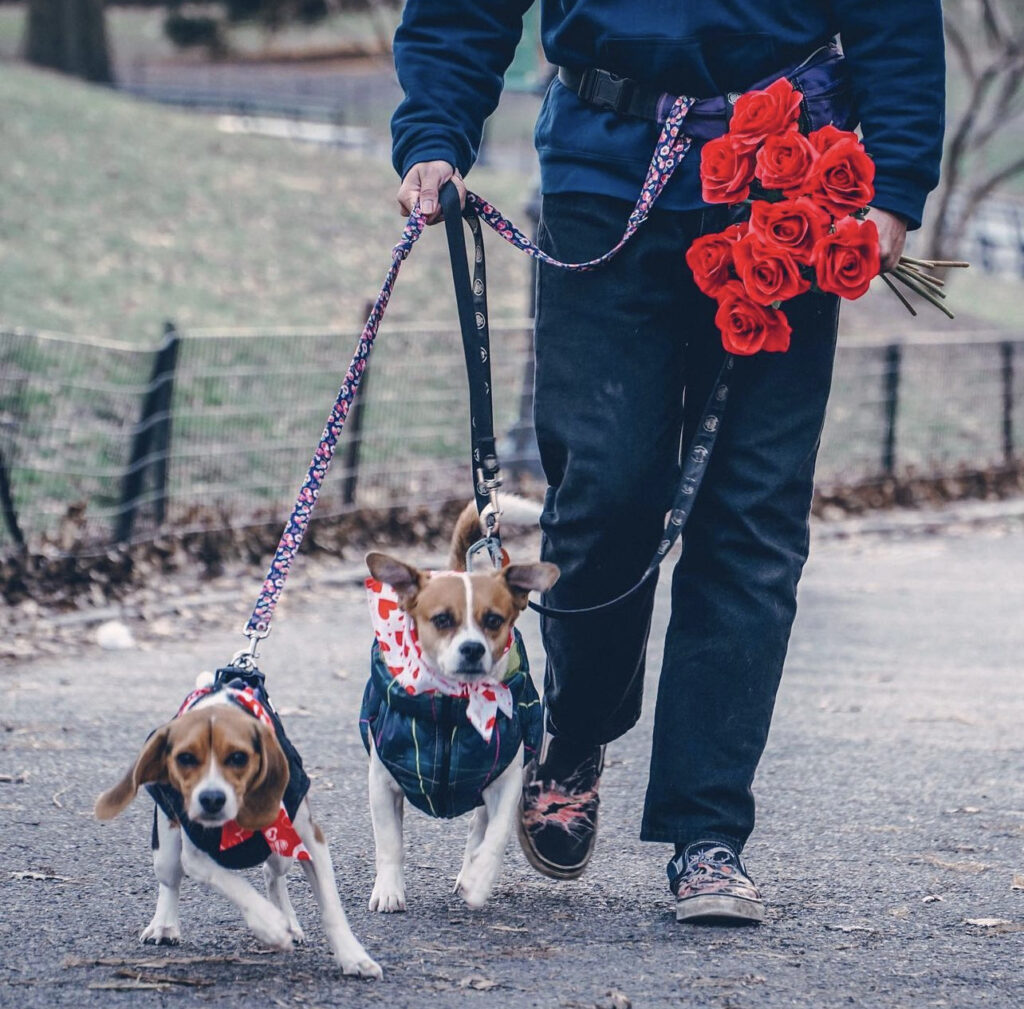 As a Brand Ambassador, it is a "duty" to promote Camp Canine's pawties before they even happen – in these cases, Enzo posed for our Rave Party and our Hot Dog Eating Contest before they even happened so that we can use these pictures to promote the events!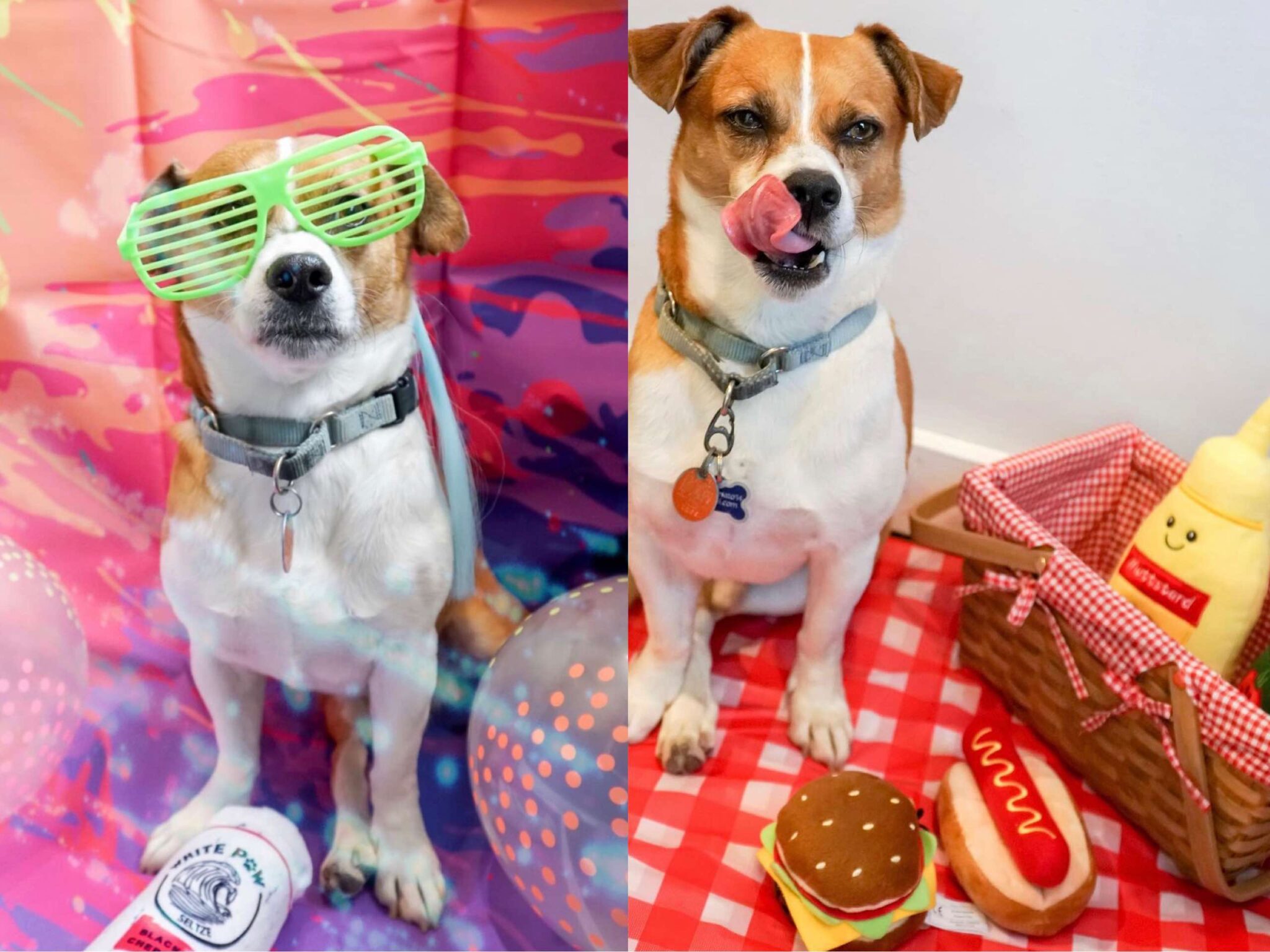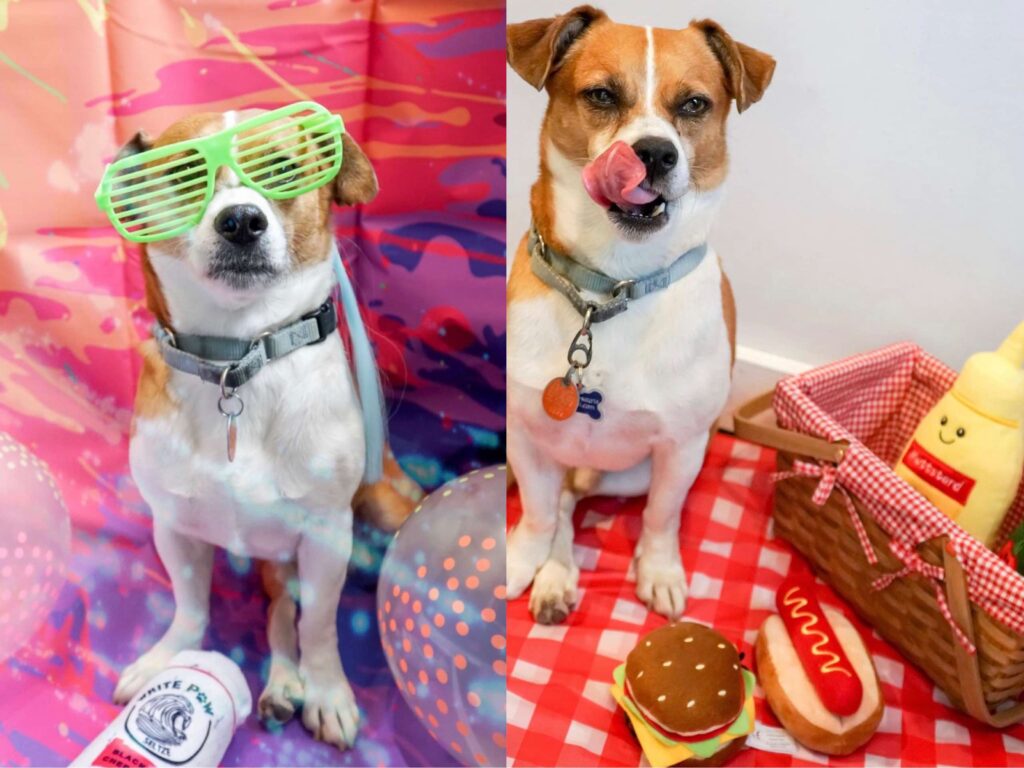 Our Ambassadors love to get their pawrents involved! Take a look at these times Enzo dragged his dad to Camp to pawticipate in things like our Howloween Pawty and Father's Day photoshoots! We love these events because these photos make great keepsakes for pawrents, wouldn't you agree?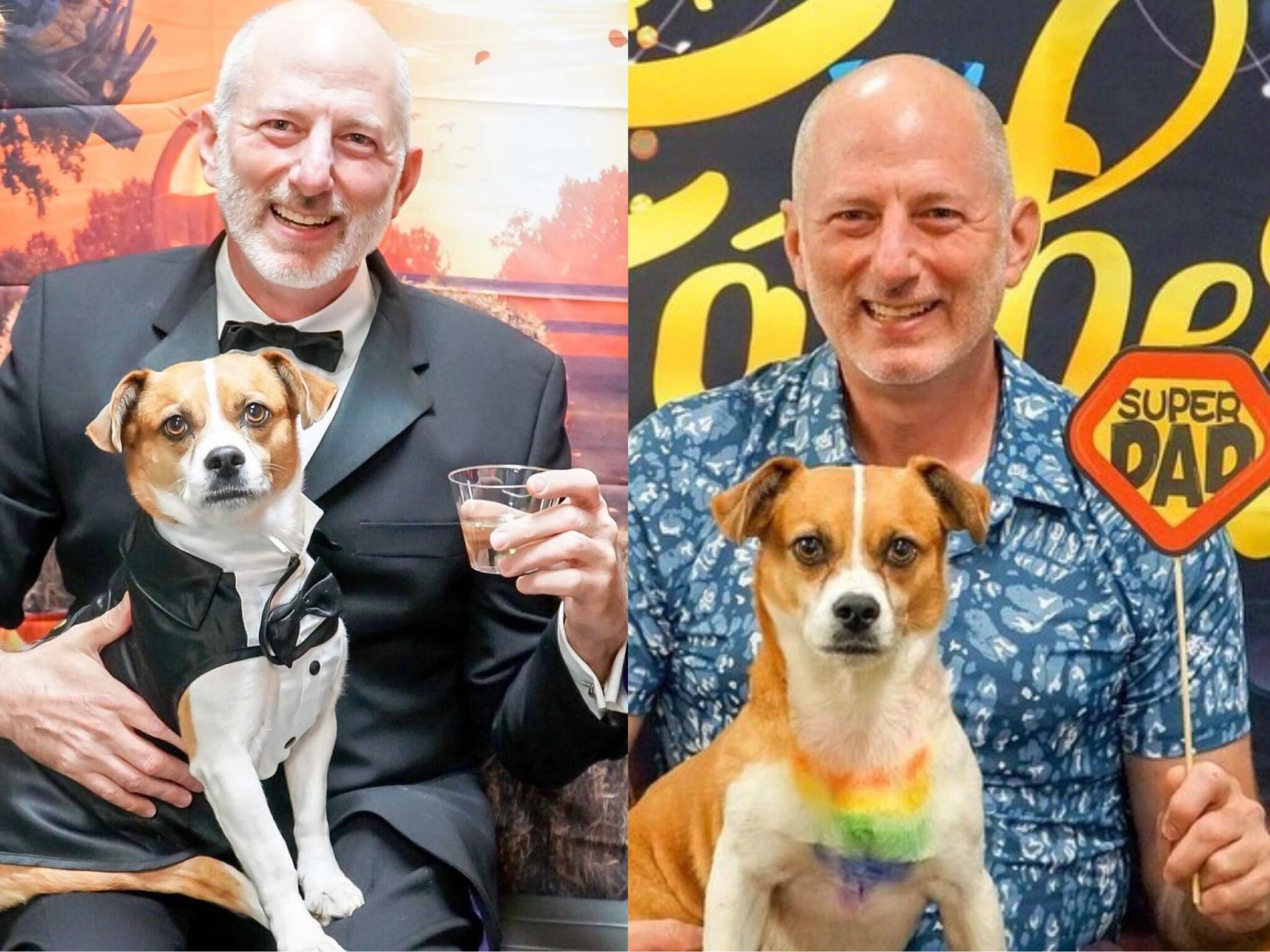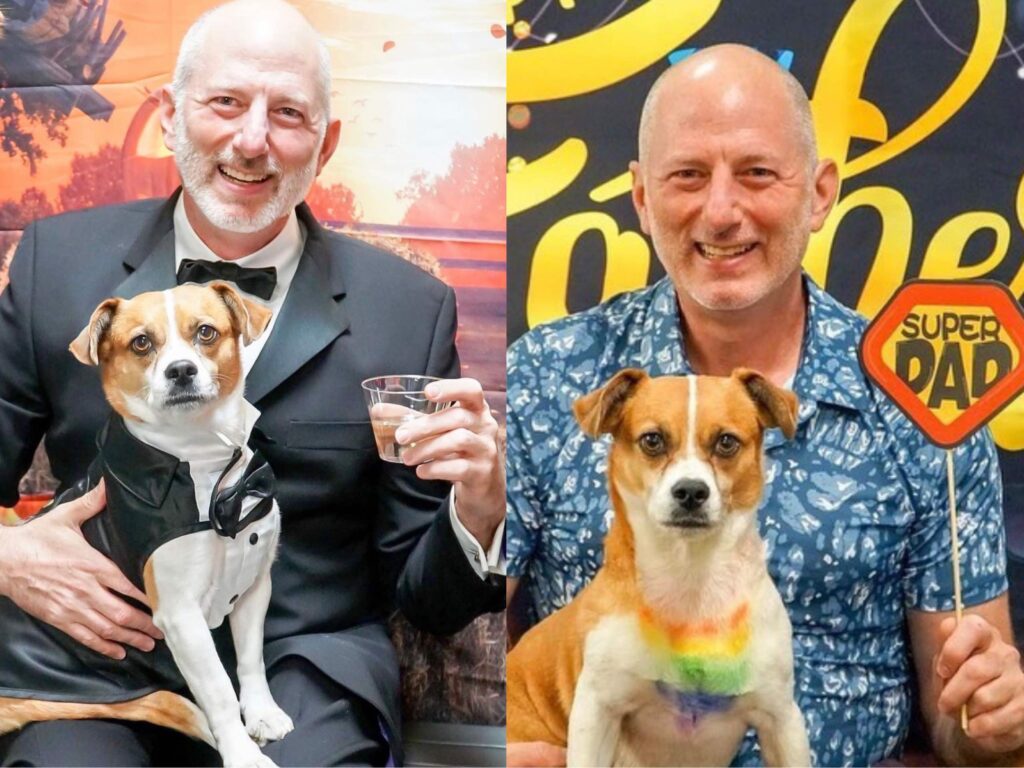 Enzo had the chance to try out this year's newest activities – totally complimentary, of course! He loved our 'Tuck In Service' (bedtime reading and bedtime snack included!) and he had a chance to paint our Camp Canine Craft now available year round. You can see his beautiful sunset painted over the NYC skyline still hanging in our lobby!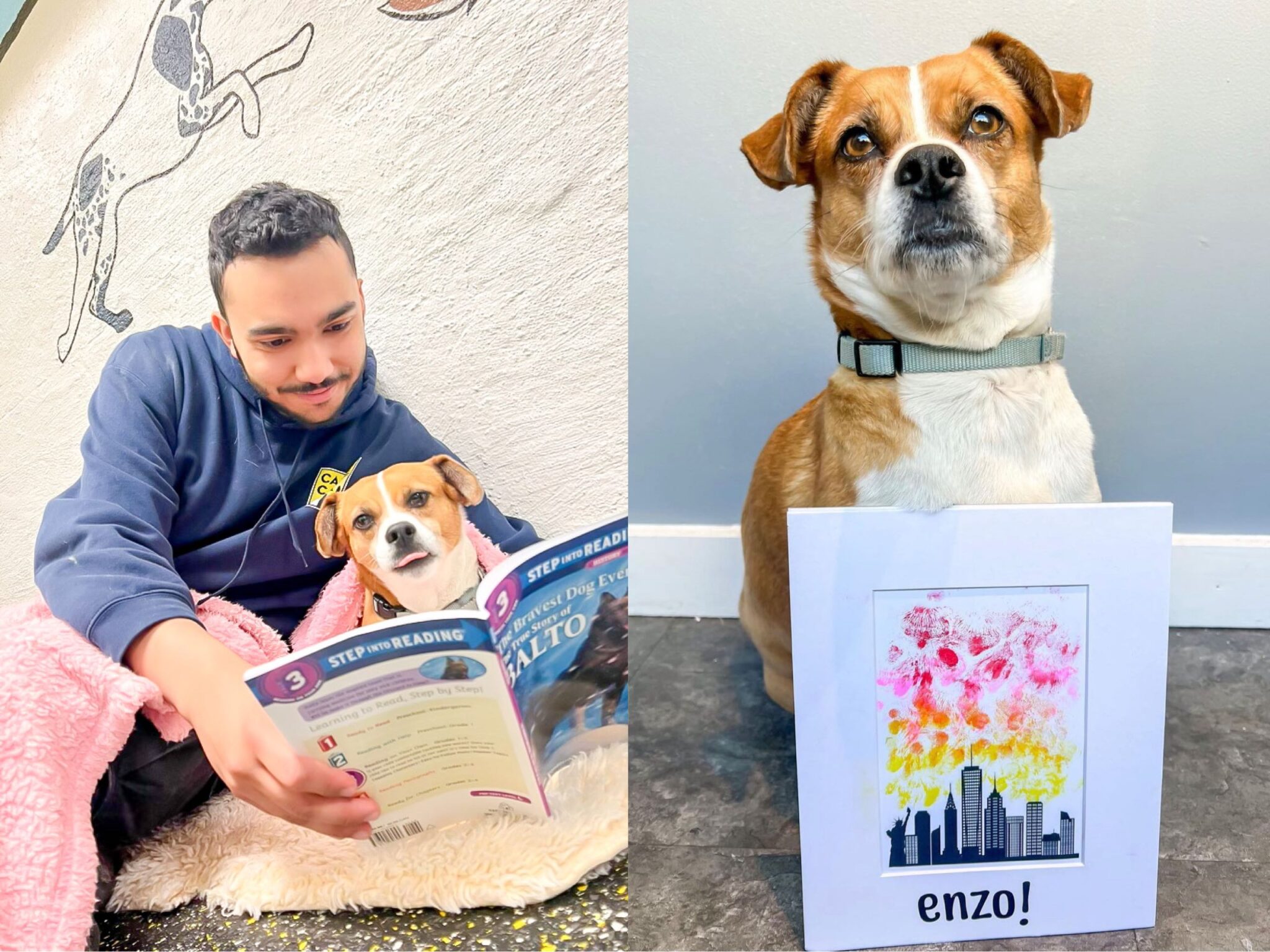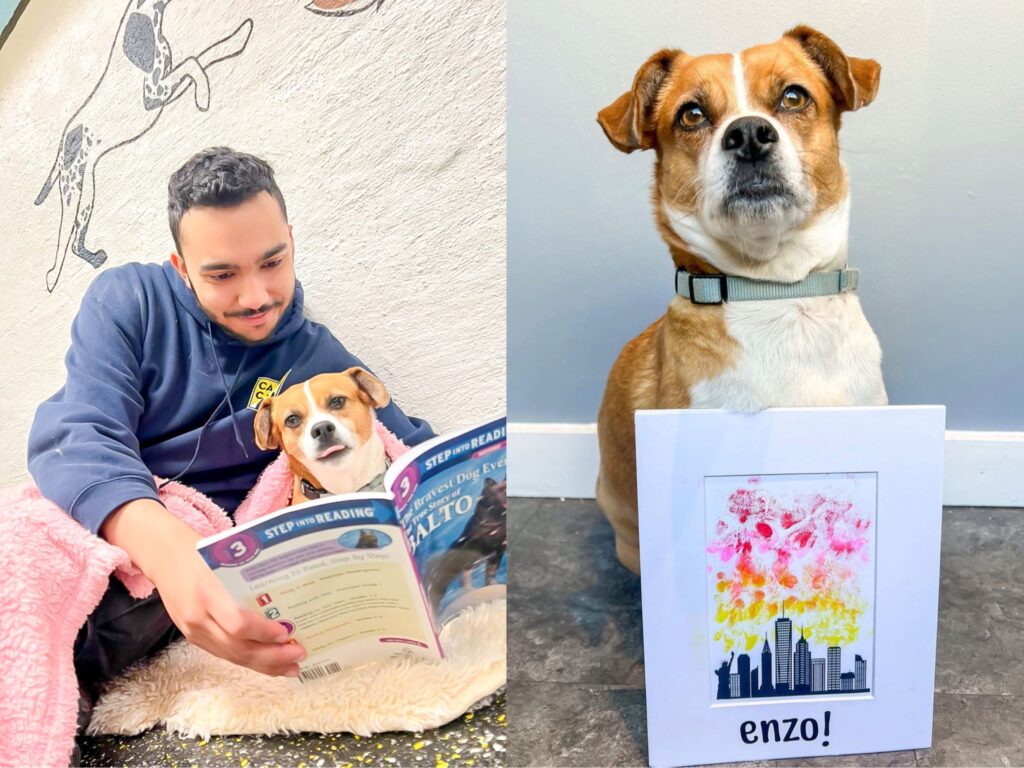 In June, Enzo helped us kick off our Creative Grooming Pride Month Flash Sale with a rainbow heart on his chest and a striped rainbow tail. And he wore them both proudly! He then decided to wear his Pride Colors at our Drag Queen Story Time event that month. Can you spot him sitting at Drag Queen Reese Havoc's feet?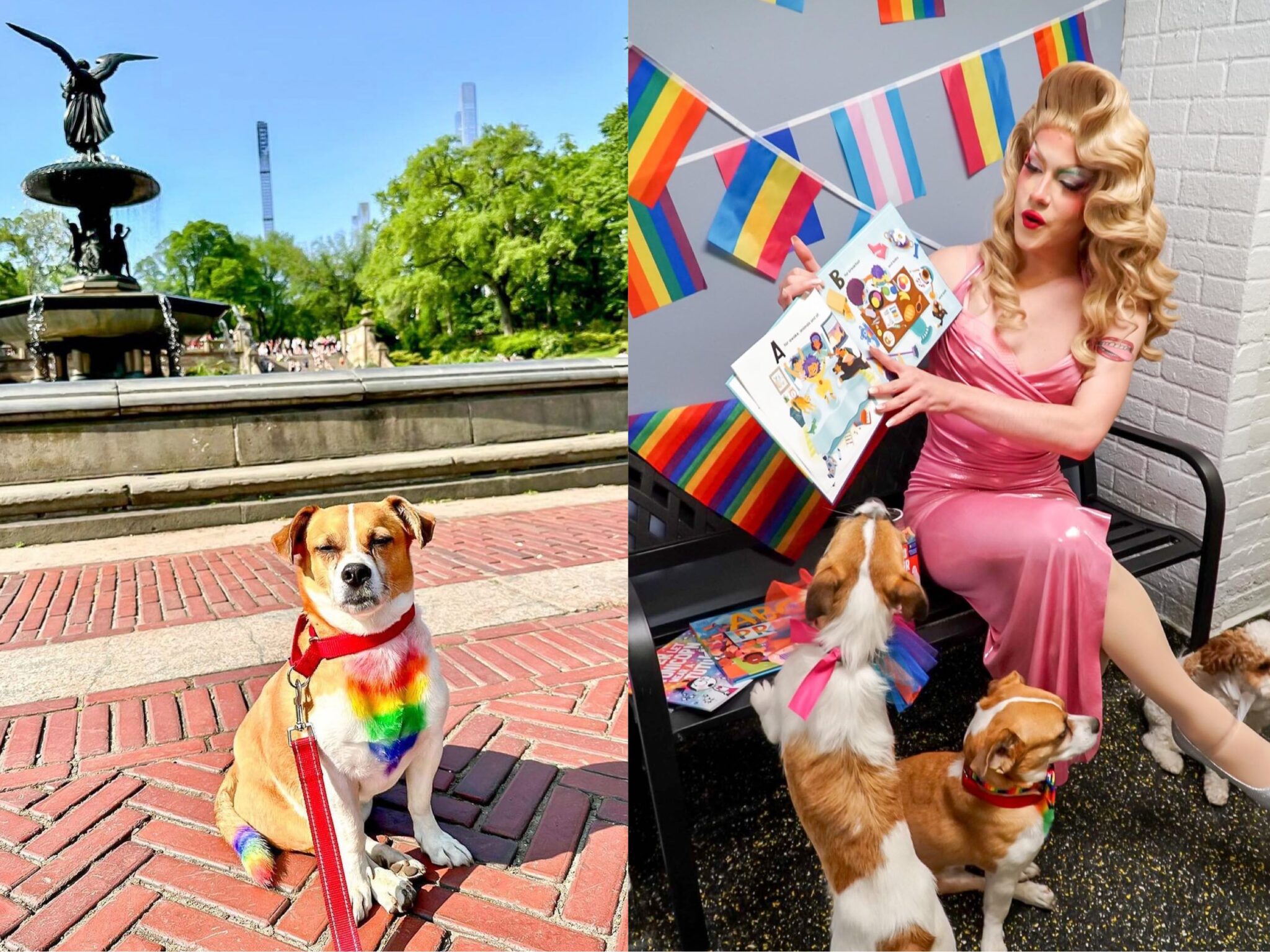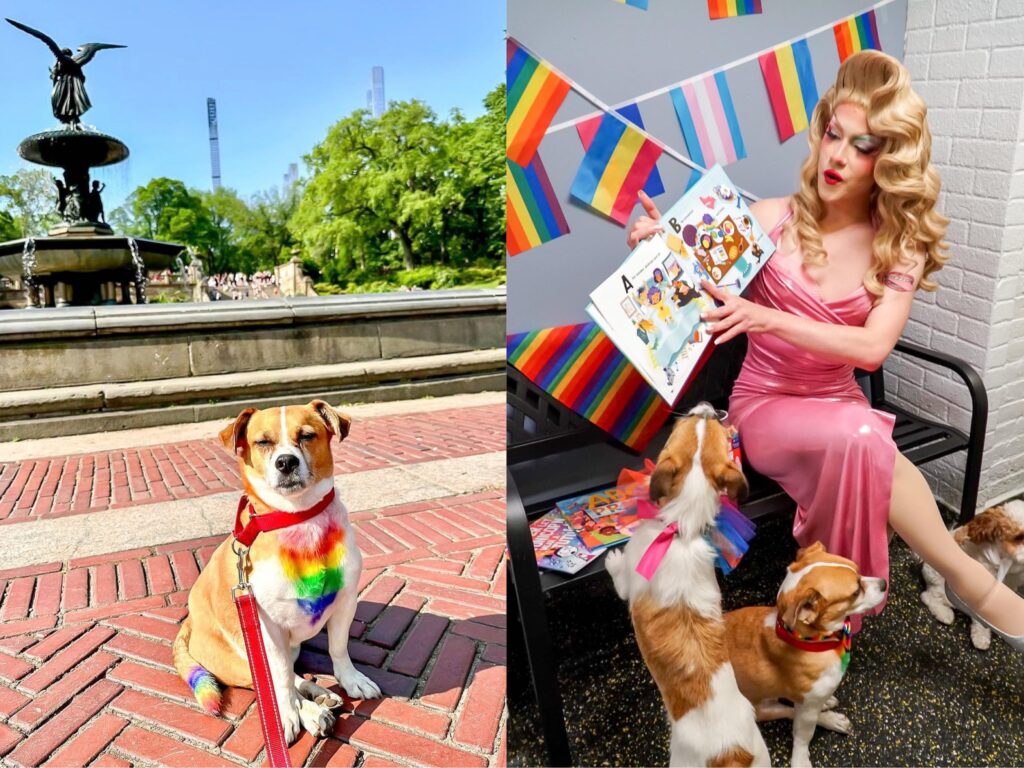 We loved our year spent with Enzo as our Brand Ambassador. We had the opportunity to share so many parties, promos, howlidays and activities together – and he did an amazing job sharing his Camp adventures on Instagram, repping the Camp brand around the neighborhood, and just being an all-around good sport about participating in photo shoot after photo shoot. We're glad that he'll be sticking around to train the next Ambassador!
Now, the time has come for Enzo to pass his crown to our sixth Brand Ambassador. Who will it be and how do you sign your pup up? Here are the deets:
Who Can Enter:
Your pup MUST be a Camp Canine Member! If you would like to learn more about our Membership, email campcanineny@gmail.com.
Your pup must have attended Camp Canine for a minimum of 6 months.
Your pup must have an Instagram of their own!
How to Enter: 
Post a picture (grid post only since stories disappear) on Instagram of your Camper posing with the Camp Canine brand! You can use our brand new Camp totebags, our iconic neon signs in the lobby or street-facing window, or the logos on our front stoop.
Hashtag it #CampCanineBrand23.
Let us know what your Camper loves most about Camp in the caption!
Timeline: 
You can post your Brand Ambassador pictures starting NOW! The deadline to get your post up is Wednesday, September 20th.
Voting will begin Thursday, September 21st and the polls will close Sunday, September 24th.
The winner will be announced on Monday, September 25th.
Once appointed as our next brand ambassador, this new celebrity can expect to:
Model in a "passing the crown" photo shoot with our previous brand ambassadors (Enzo, Brinkley, Lizzo, Oliver and Harley) as well as be a star in their own crowned photoshoot.
Their headshot will be placed on our Brand Ambassador Hall of Fame in our lobby.
They will be featured in our social media, newsletters and blogposts throughout the year.
And they'll be given complimentary activities or featured in festivities and events throughout the year. The pictures and videos we get of them enjoying these activities and events will be used on our social media!
To our 2023-2024 Brand Ambassador – we can't wait! This is going to be pawsome.