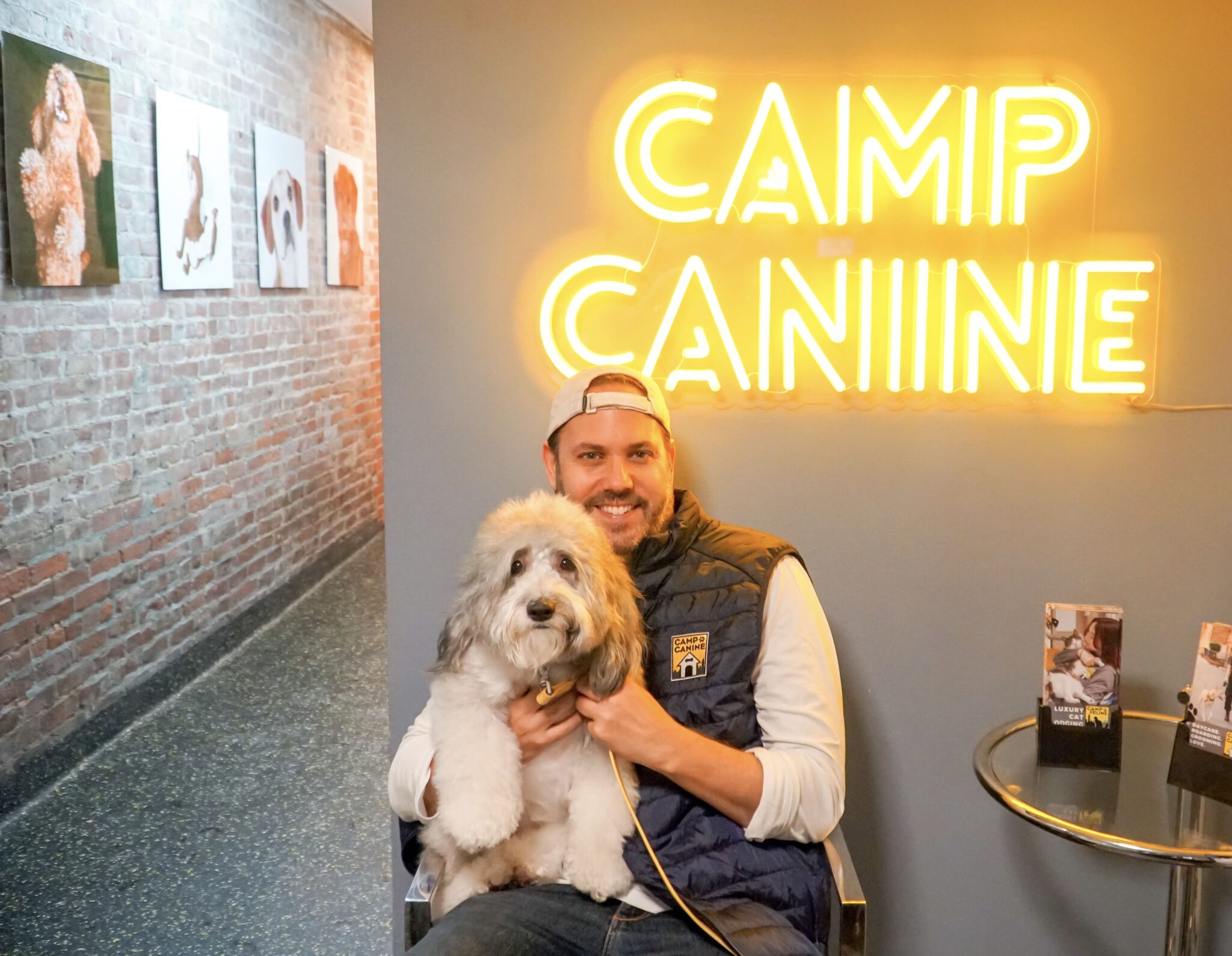 October marked one year of Mike's ownership of Camp Canine! On October 8th, 2021 Mike signed for ownership of Camp Canine after our previous owner, Tania, saw the business through the hardship of Covid. After 10 years invested in an incredible business that she built from nearly the ground up, it was time to hand Camp Canine off to a new Captain! One year later and Camp Canine has seen many of the changes that come with a new owner at the helm, as well as the changes that have come from operating in this time where the world is healing from the pandemic. To celebrate our One Year Anniversary under Mike's ownership, let's talk about those changes:
Established a Management Team: In the first few months of his ownership, Mike established a management team that consists of Jaime our Operations Manager, Lena our Front of House Manager, Alessia our Back of House Manager, and Amanda our Marketing & HR Manager. Together, these women have tightened up the ship, put new protocols and operations in place, and allowed Mike to focus on 'big picture.'
Hired More Staff to Keep up with Business Demand: We now have a team of 46 dedicated staff members. This number has grown from the team of 35 that we had in October 2021. As the world opened, business grew; and having a well-staffed business is how we're able to offer the luxury services that we do. Plus, having a team as passionate about your dogs and cats as they are about their own is how each of the animals that comes through our door becomes family!
Employee Retention: A year later and our employee retention rivals or soars well beyond our competitors. We have developed a new staffing system based off of referrals alone, which means our team members enjoy their job enough that they're willing to recruit other people in their life to join!
Facility Renovations: Mike has personally put a lot of effort into putting his own touch on the facility. You can see his personal style come out in the way our lobby is now furnished. The blues and grays mixing with Camp Canine's classic yellow – plus our iconic neon sign! – are just a few of these examples. But the facility has been renovated in areas our clients can't see as well. Walls were replaced in all of our playrooms, new gates, doors and sinks have been installed, our staff got new lockers – and so much more!
Upgraded our Technology & Software: One of the first things Mike wanted to do when he took over ownership was switch the system that we use to keep track of our camper's reservation details and vaccinations. The change was a big one, but it has paid off with a user-friendly platform that has given us the ability to keep detailed, customizable notes on our campers' files and allow digital registration options for new clients. In the same vein, we instituted a team-wide Slack account for communication purposes. Our Front of House and Back of House can communicate digitally now rather than with walkie-talkies, and we have a new, state-of-the-art security system so that our staff and all of our campers can be safe when they're tucked in for bed at night.
Expanding Capacity in the Grooming Salon & Camp Feline: Due to the demand we've experienced over the past year, Mike made the decision early on to invest in new grooming tubs and new cat condos so that we could expand the capacity of both grooming and cat boarding. In addition to these new expansions, our business continues to thrive because of our happy clients who bring their dogs and cats back to Camp, time and time again!
New Activities and Events: We introduced new activities and events to add new opportunities for enrichment in our campers' visit, including our ever-popular Brain Games (an add-on activity where our pups can solve puzzles for treats!), the Summer Picnic Event with a barkcuterie board and paint 'n sip craft time, and the Upper West Side's first-ever Dog Trick or Treat Night!
There's so much more where that came from – Mike and the team is in this for the long-haul, and we won't stop improving and perfecting your campers' experience here with us!