The time has come: soon our #CampFam will be campaigning and voting for our fifth Brand Ambassador! The fact that this is the 5th year in a row where we'll be hosting our Brand Ambassador contest is mind-blowing; the newest Ambassador will be following in the footprints of some Camp Canine icons.  They'll be in good paws with predecessors like Harley, Oliver, Lizzo and Brinkley!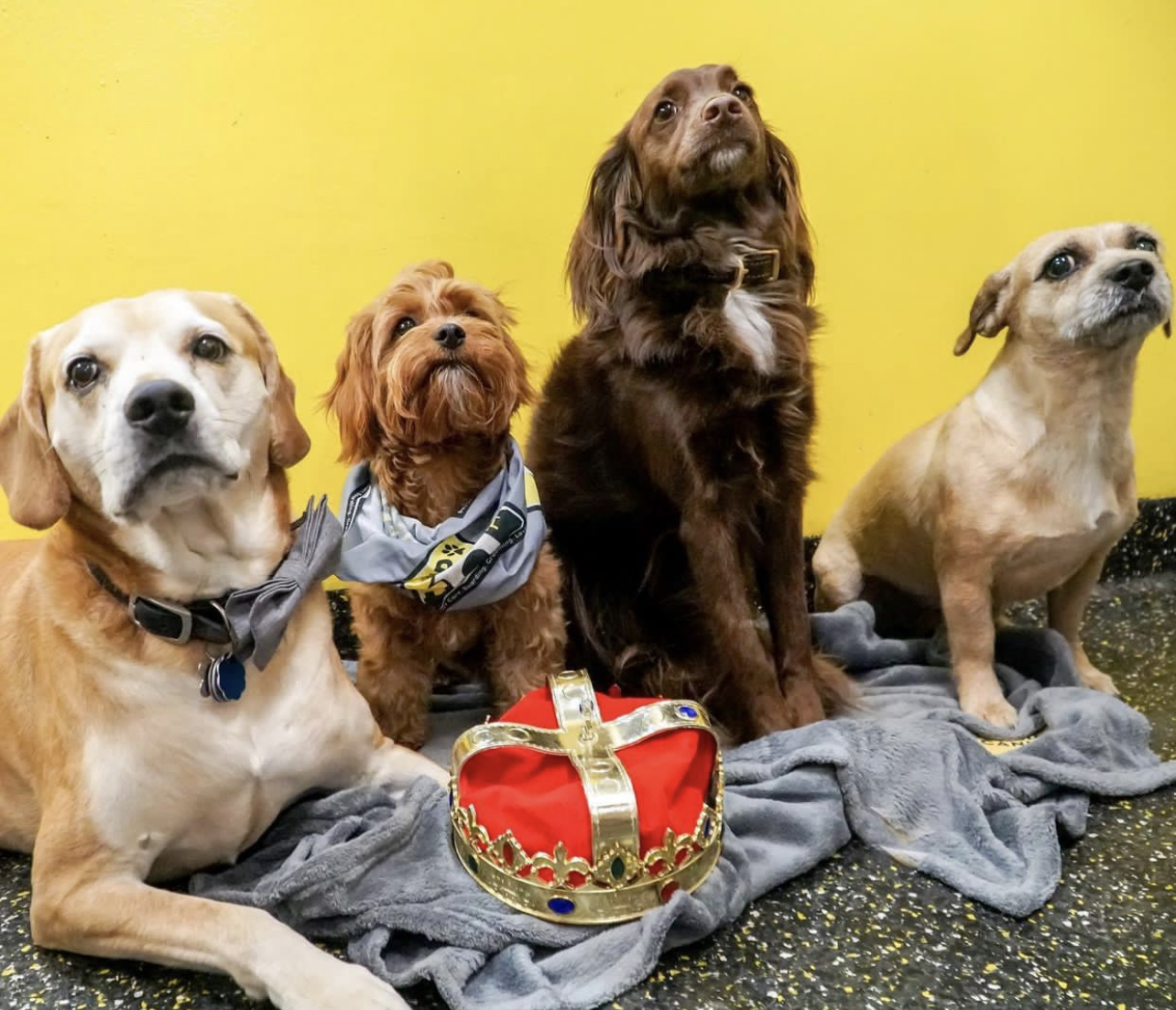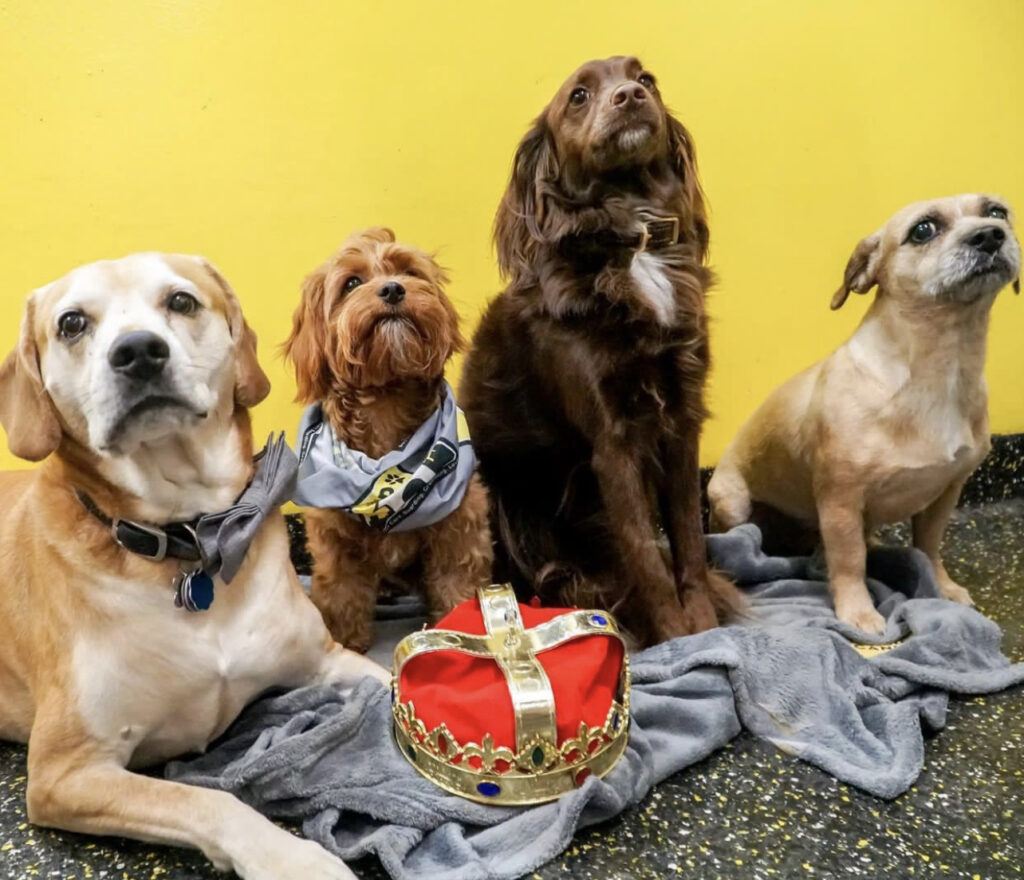 With the nominating of a new Ambassador comes the retirement of our current Ambassador; but Brinkley deserves to hang up his crown to thunderous applause, because his reign has been overwhelmingly adorable! Let's check out the highlights:
This time last year, Brinkley was appointed by popular choice (aka an internet poll). This little Cavapoo and frequent Camper was the pawfect choice; he has done an excellent job at representing the Camp Canine name as our brand ambassador. To enter the contest, our ambassador-to-be submitted his favorite photo of himself repping the Camp Brand on our stoop. It's no surprise he won – just look at that face!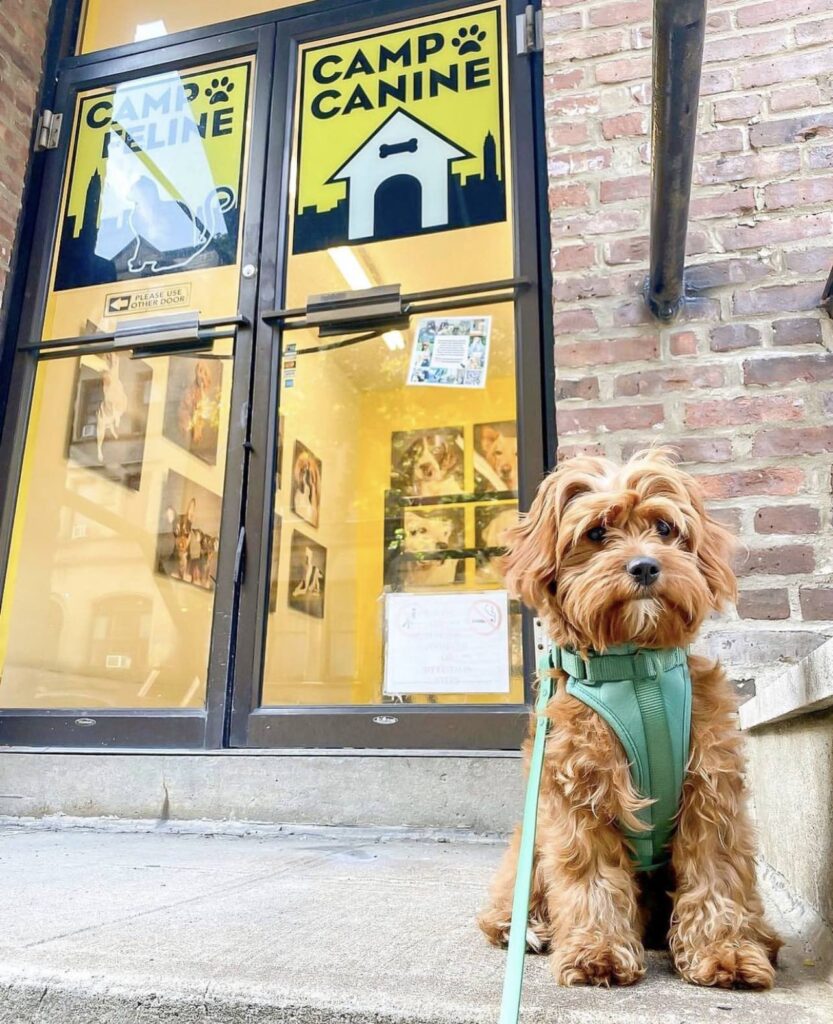 The first order of business for any Brand Ambassador is our 'Passing the Crown' photoshoot with the newest Ambassador and all of their predecessors. The sheer level of cuteness in this photoshoot is hard to get over!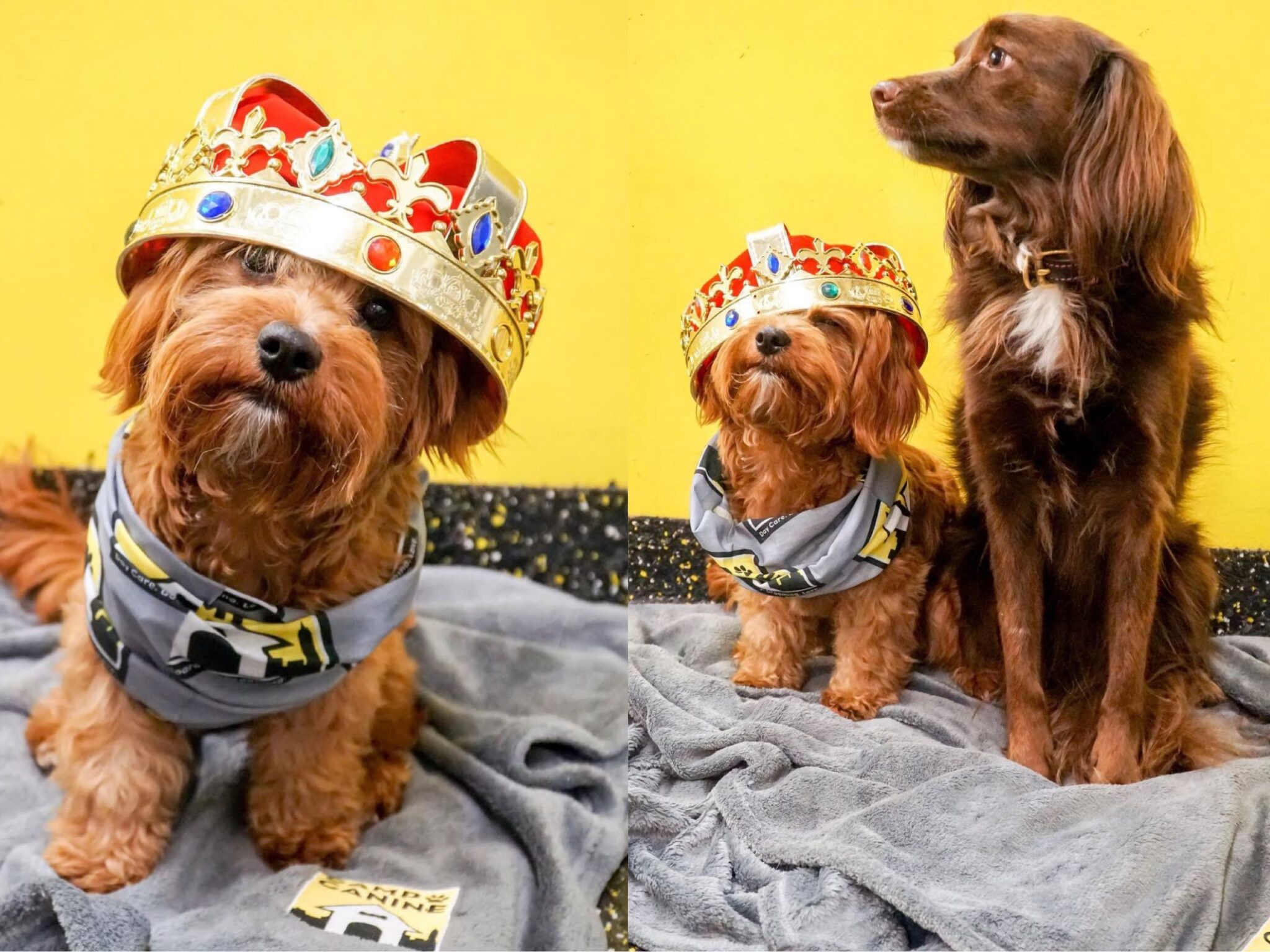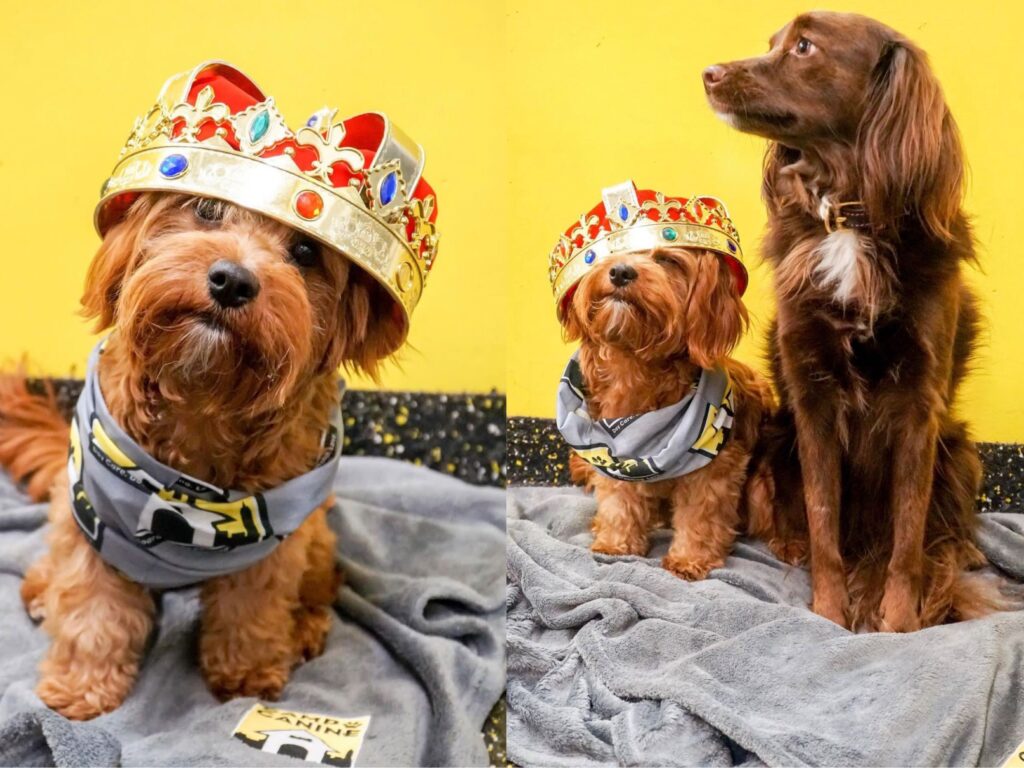 As Brand Ambassador, it is Brinkleys' "duty" to pawticipate in as many (free/complimentary) Camp activities and events as possible, so that we can use the content of Brinkley enjoying himself to promote said activity/event on social media. Our Ambassadors even get their pawrents involved! Take a look at these times he dragged his mom to Camp to pawticipate in our Howloween Pawty and, a few months later, our Mother's Day photoshoot. He also attended our Spring Break Pawty solo and had a ball with the swimming pool and doggy beer. We love this events because these photos make great keepsakes for pawrents, wouldn't you agree?


And Brinkley's ambassador schedule just got fuller from there; especially when Valentine's Day hit. Brinkley was the first to take a fellow camper out on a Romantic Central Bark Date – we made a reel from their date to promote the activity, and plenty of campers followed suit that season! Brinkley's memorable date was with the beautiful Sofia.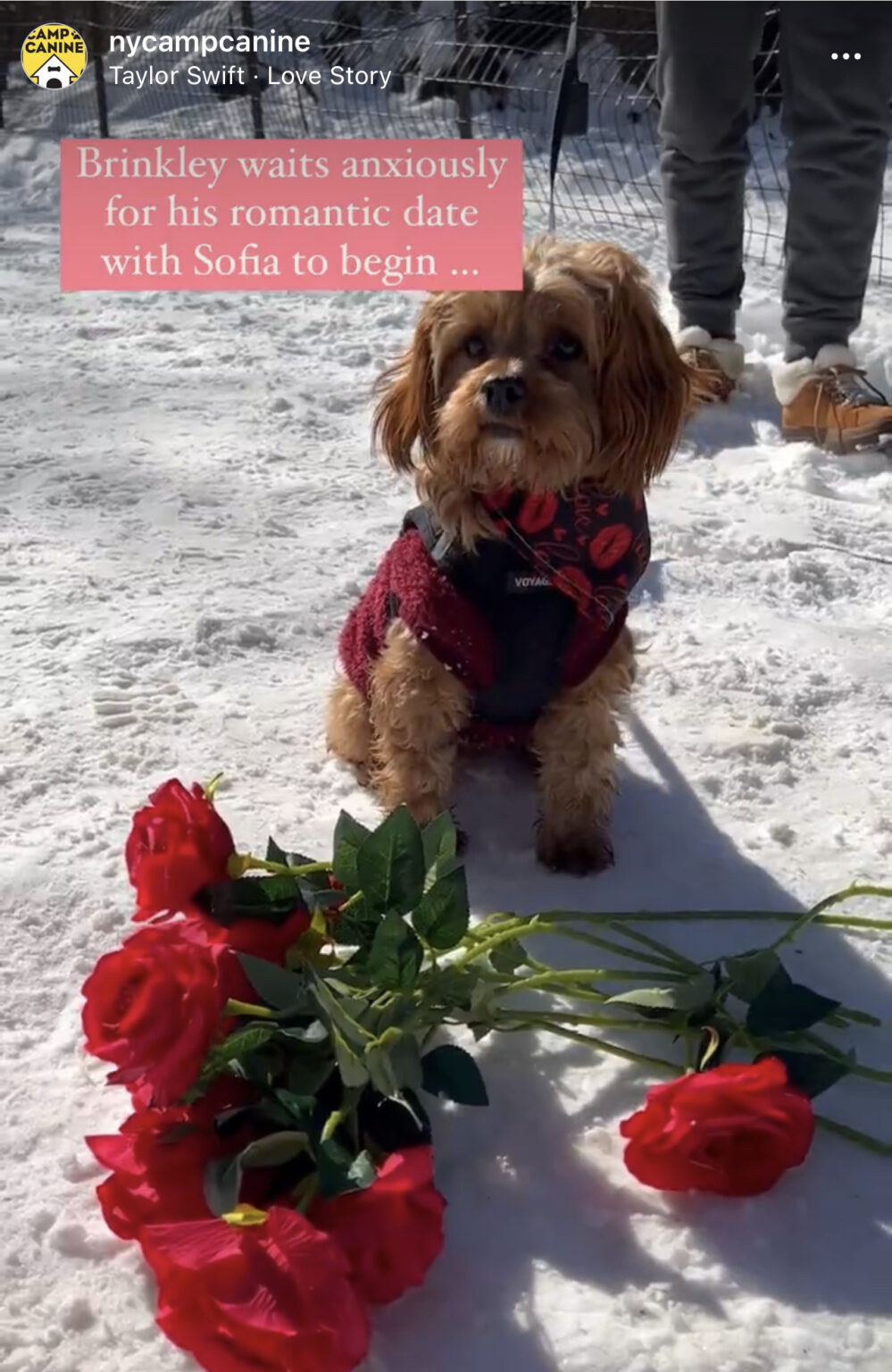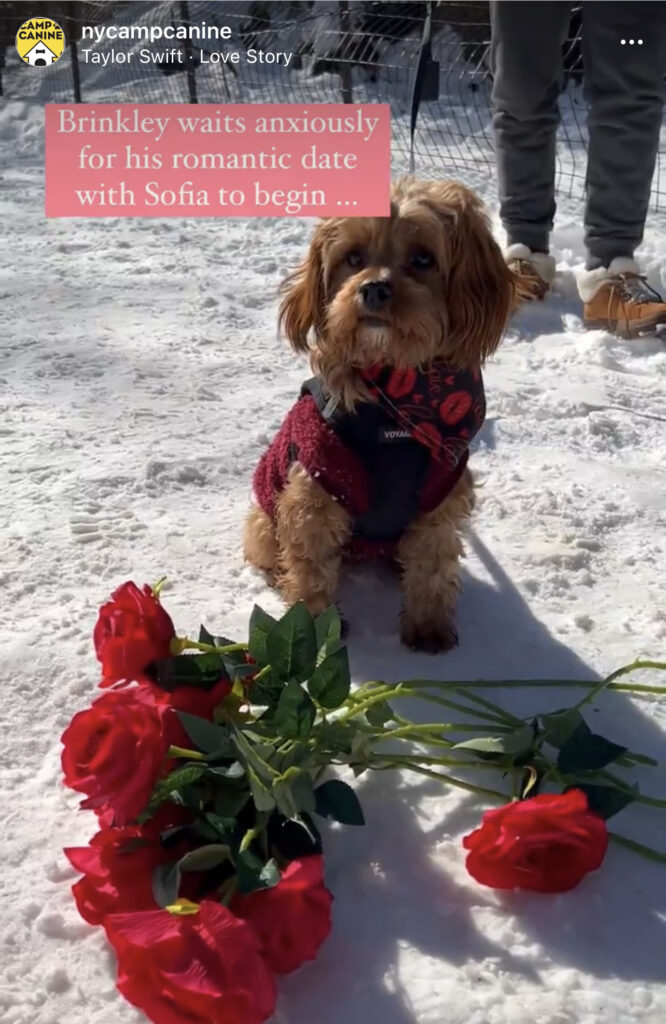 When we offer new activities, our Brand Ambassadors are the first to try them out – and this was the case for Brinkley's Thanksgiving turkey craft. Brinkley got his paws dirty and made the pawfect masterpiece that his mom was able to show all of the family during Thanksgiving dinner.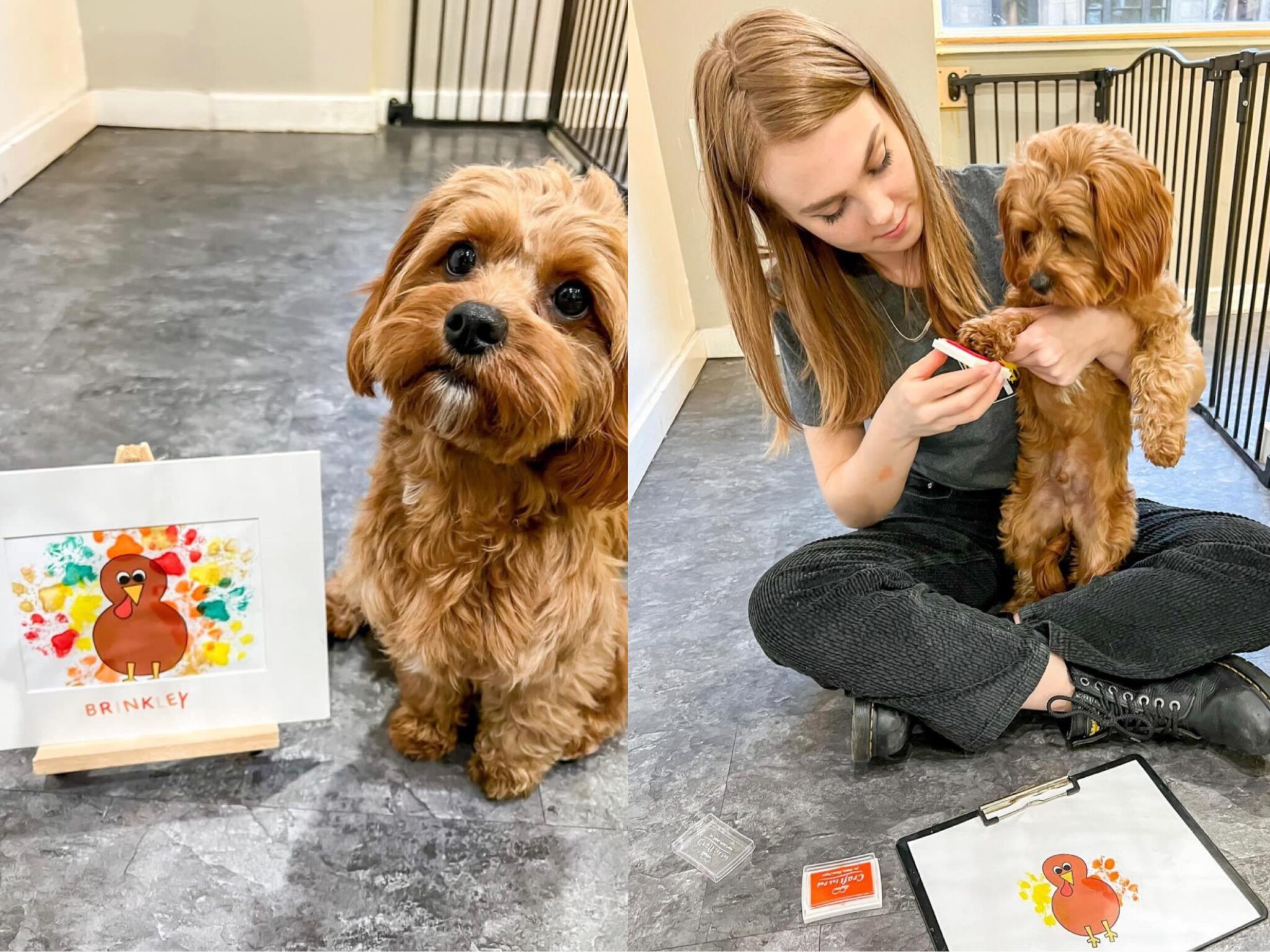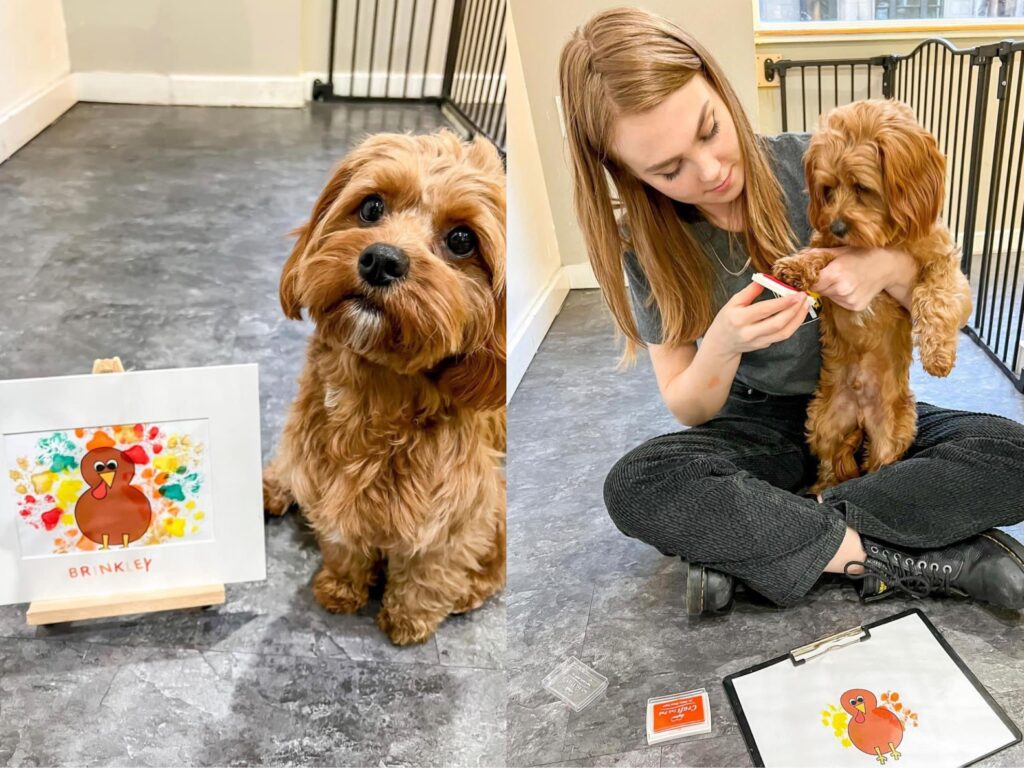 We introduced a new activity this year as well: Brinkley was the first camper ever to be treated to a Brain Game! And, in exchange for this free activity, we used his brainy adventure to promote our Brain Games with a reel. The Brain Game activity is enjoyed by many campers to this day! These puzzles are a great add-on for dogs at daycare and lodging who could use some extra mental stimulation.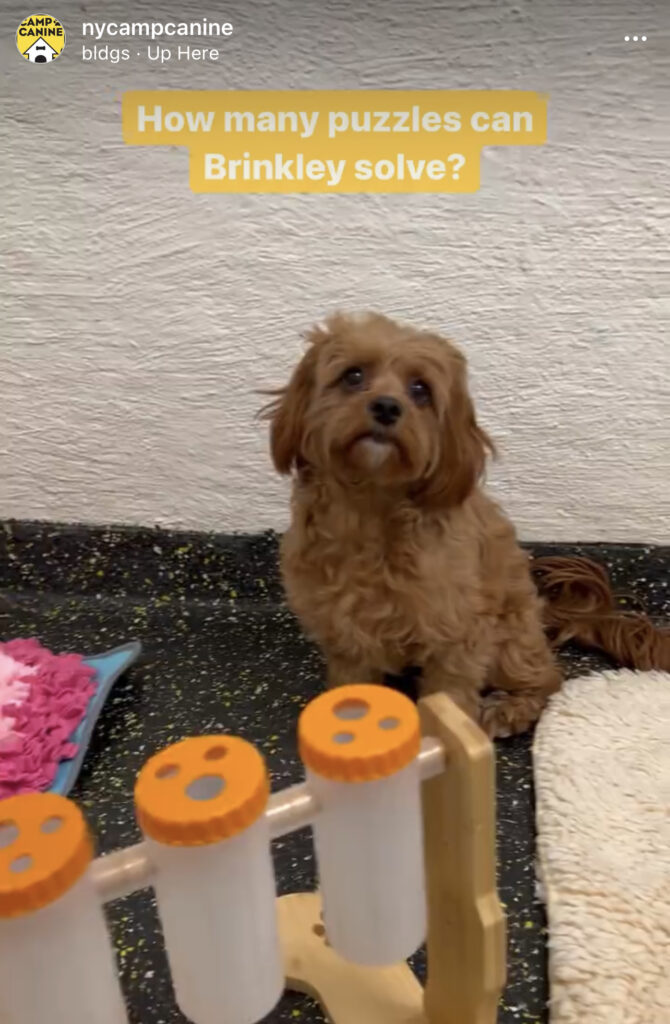 Brinkley visited our Spaw throughout the year as well – on one visit, we used the opportunity to capture his makeover on film and create an Instagram reel, which you can watch here. Another visit was for our Pawliday Spa Treatment: over the winter holidays we offered a 'holiday scented' treatment that pawrents could add on to their campers' bath or groom. Their pup could go home smelling like spiced cider, candy cane or pumpkin spice! Fun fact: Brinkley chose pumpkin spice!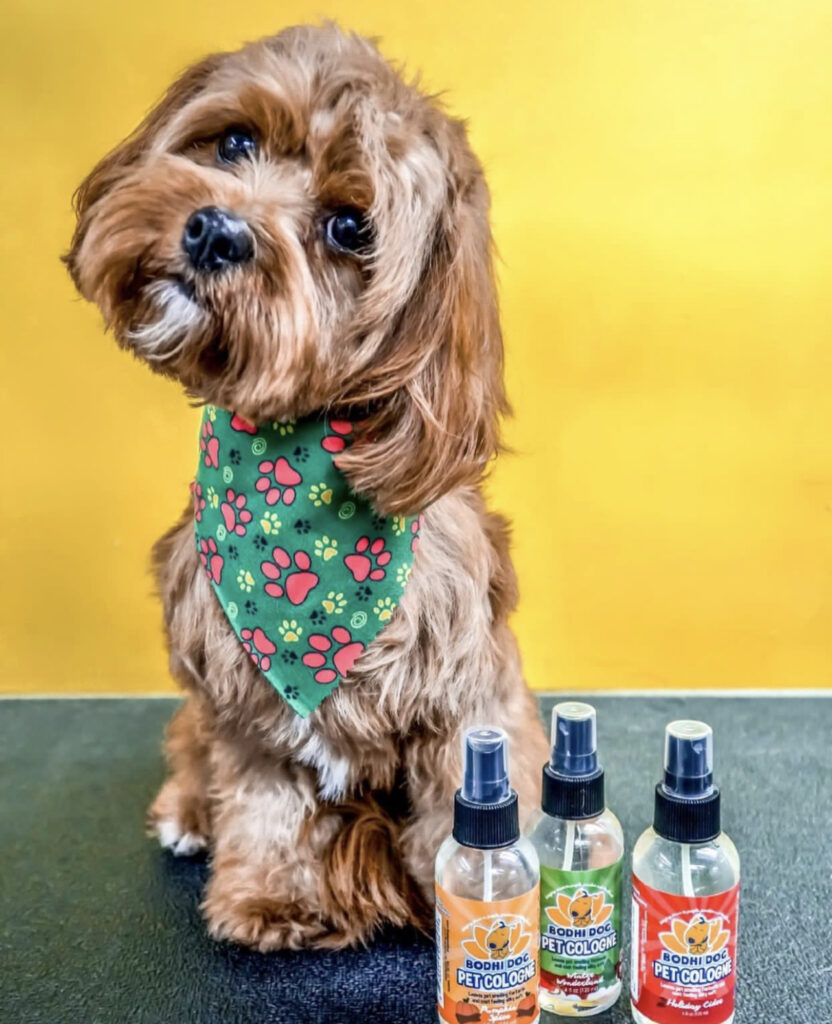 In the last few months we ran a promotion where we asked our campers to pose in front of our brand new neon sign and, in return, they'd get a free and easy $10 added to their account! Brinkley was, of course, the pup we used to model the new neon light and promote the campaign.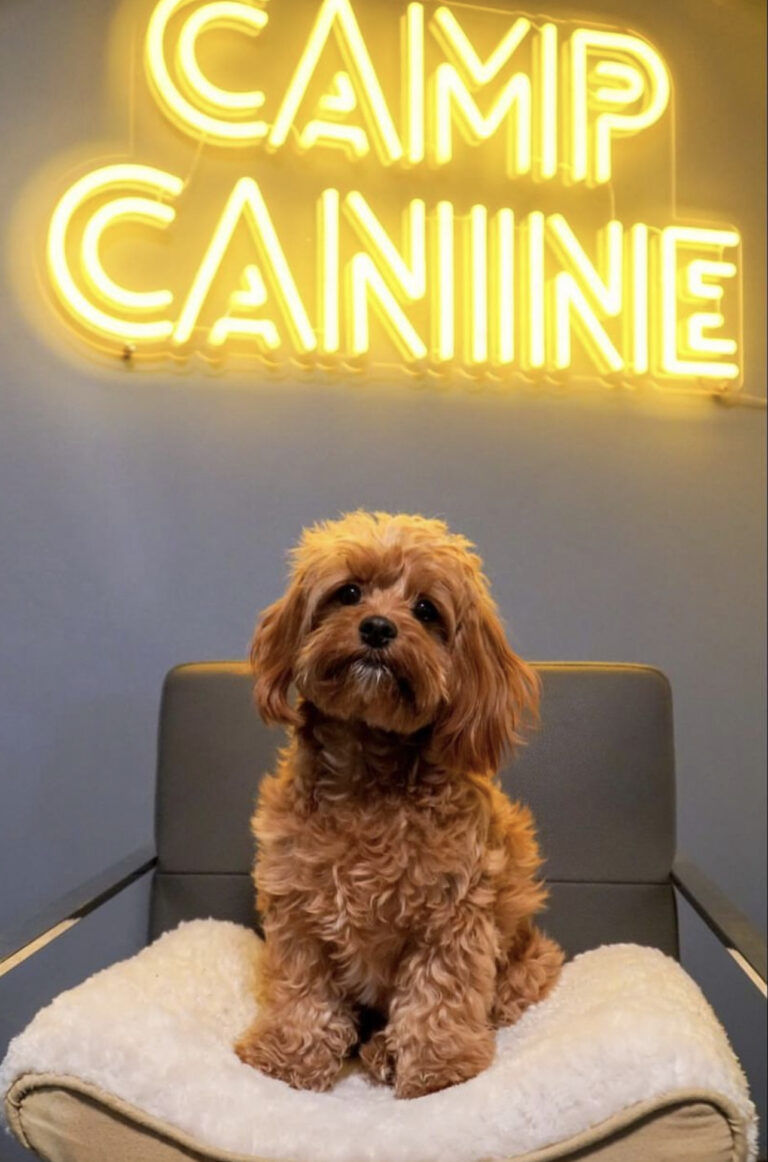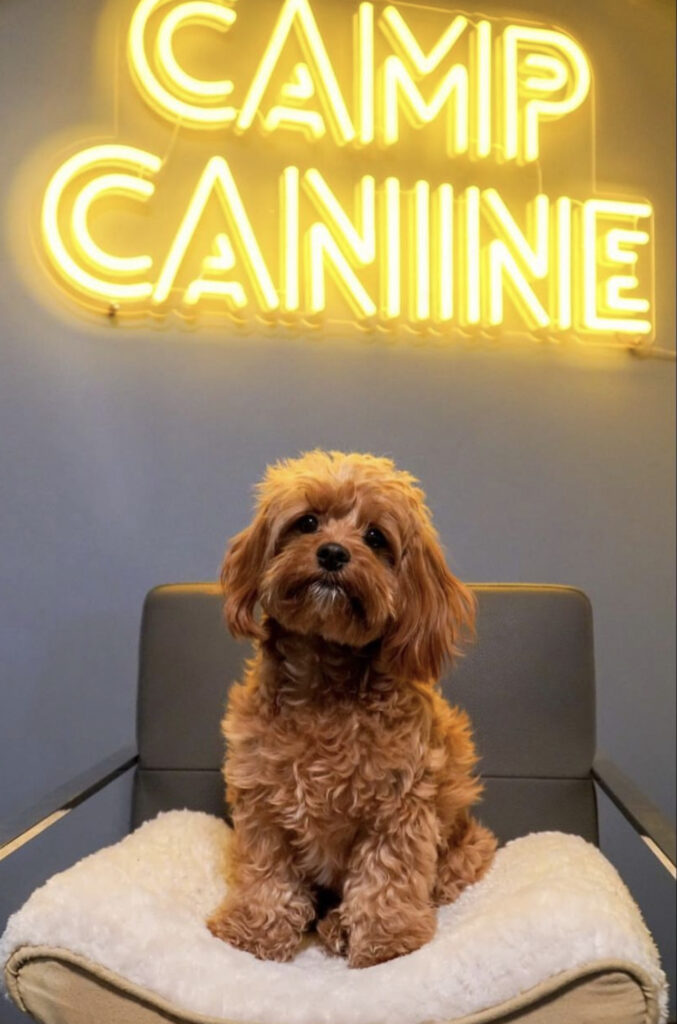 And most recently, we had a 'Day in the Life' Takeover on Instagram where you can follow Brinkley along on all of his Camp Canine fun throughout the day – check that out here!
Now, the time has come for Brinkley to pass his crown to our fifth Brand Ambassador. Who will it be and how do you sign your pup up? Here are the deets:
Who can Enter:
Your pup MUST be a Camp Canine Member! If you would like to learn more about our Membership, email info@nycampcanine.com.
Your pup must be attending Camp Canine for a minimum of 6 months.
Your pup must have an Instagram of their own!
How to Enter: 
Post a picture (grid post only since stories disappear) on Instagram of your camper posing with the Camp Canine brand! You can use any Camp swag, our neon signs in the lobby or window, the mat on our stairs, or the logos on our front stoop, etc.
Hashtag it #CampCanineBrand22
Let us know what your camper loves most about Camp in the caption
Timeline: 
You can post your Brand Ambassador pictures starting NOW! The deadline to get your post up is Saturday, September 24th.
Voting will begin Monday, September 26th and the polls will close Wednesday, September 28th at 7pm.
The winner will be announced on Thursday, September 29th!
Once appointed as our next brand ambassador, this new celebrity can expect to:
Model in a "passing the crown" photoshoot with our previous brand ambassadors, Brinkley, Lizzo, Oliver and Harley, as well as be a star in their own Camp-branded photoshoot.
Their headshot will be placed on our Brand Ambassador Hall of Fame in our lobby
Their be featured in our social media, newsletters and blogposts throughout the year
And they'll be given complimentary activities or featured in festivities and events throughout the year. The pictures and videos we get of them enjoying these activities and events will be used on our social media!
To our 2022-2023 Brand Ambassador: we can't wait! This is going to be pawsome.