We have always been involved in rescue efforts here at Camp Canine, specifically through our partnership with Animal Lighthouse Rescue. When their dogs arrive in NYC from Puerto Rico, they come to Camp Canine for intake and medical screenings, before going to their foster homes. In many cases, the dogs are actually fostered here at Camp Canine! If you've ever visited our facility, you'll see our 'Wall of Fame' commemorating the 100+ dogs that we've fostered before they found their "furever home."
We fall in love with each of these dogs, and are a little extra happy when those dogs are adopted into our Camp Canine family! Whether they are adopted by parents who already have campers, or by parents who start using Camp Canine for the first time after they adopt –  when an ALR dog becomes a regular part of the family, we are ecstatic! From "satos" (the Puerto Rican slang for 'stray') to ruling the Upper West Side, we asked the parents of  just a few of the babies who were rescued by ALR and continued on to become a regular camper to tell us their rescue story:
Beau
Tell us about Beau's rescue story:
Beau, formerly known as Panzi, was rescued by El Faro de Los Animales in Puerto Rico. I don't know if he was born in the shelter or if the folks at El Faro picked him up when he was 1-2 months old. The good people at Animal Lighthouse Rescue brought him to NYC on March 11th, 2018 with 40+ other dogs. By a stroke of good luck, Beau was fostered by ALR's Karie, who is a neighbor of mine. I had lost my dog Sacha 4 months prior to meeting Beau and I didn't plan on adopting another dog, but life is funny that way. It must have been preordained, since every day after work I would see Karie with Beau and I couldn't help but fall for him.
How long has he been coming to Camp? 
Beau loves Camp Canine and has been a regular since April 2018.  I think he views Camp as his first home, since that was the place he first visited after coming to NYC. Beau and I can't say enough good things about the counselors, groomers, and his friends at reception. He might like the Camp Feline cats too, but that is up for discussion. As for his love for his "fetch" sessions and all of his doggy friends that he plays with, words cannot describe the joy I see in his face when I see him at the end of the day.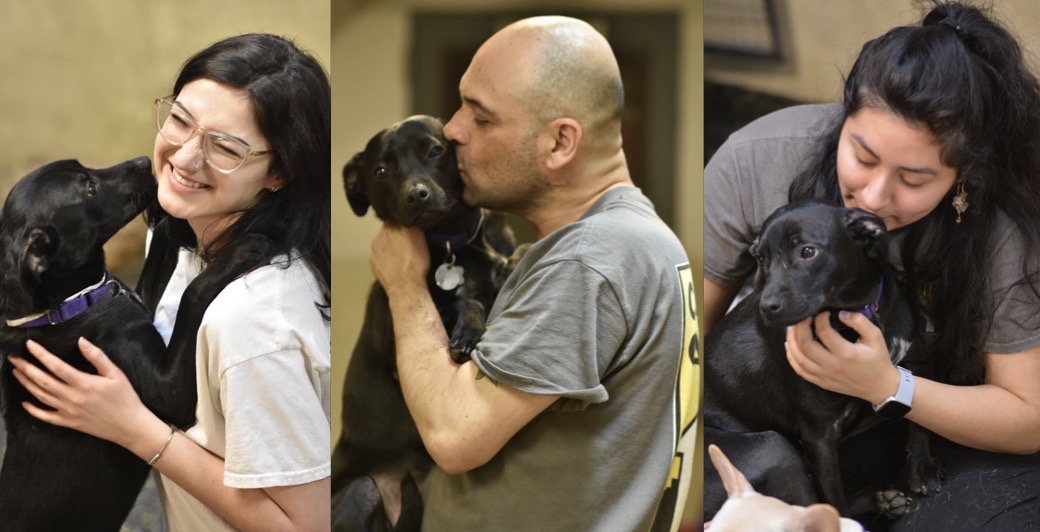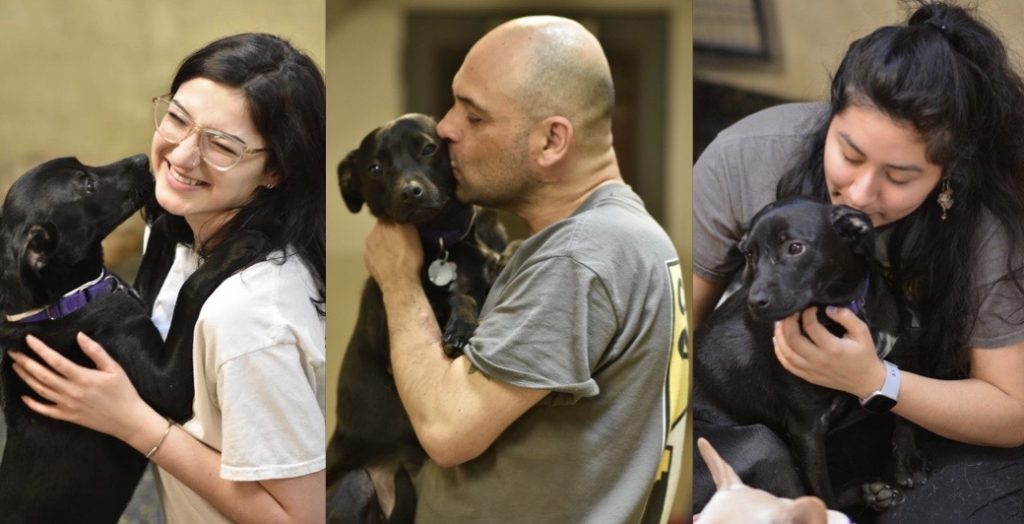 What are his favorite things to do on the Upper West Side? 
When home, Beau loves playing tug-o-war or fetch, walking with his fellow ALR alumni, Lobo, and his pals Heinz and Estefano, and checking out his girlfriends Lexie, Phoenix, and Thunder. He also loves snow, and being the dog who knows all the doorman with biscuits. I love my boy, Beau.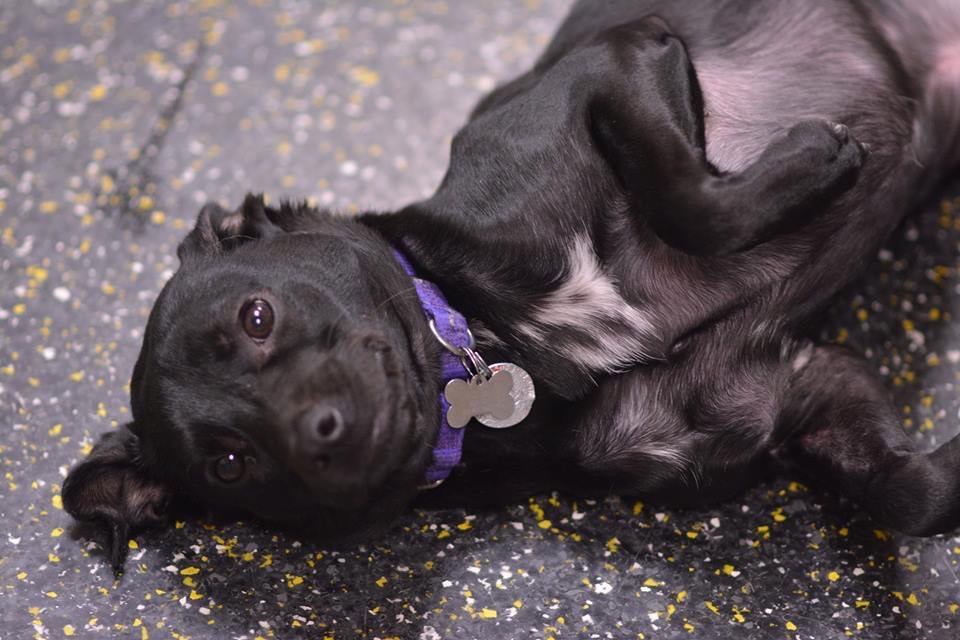 Follow Beau on Instagram: @beaubolicious
Penny
Tell us about Penny's rescue story:
In April 2018, Penny was rescued from a horrific hoarder situation that had gotten out of control – there were over 100 dogs at this house. Our best guess is that, after the hurricane, the lady took in as many dogs as she could to try to help and it just got out of control.  Unfortunately the lady passed away, and by the time rescue groups found out and came to help, only 18 pups were still alive – including Penny, her bro Bowie, fellow camper Enzo and some other friends we have since met. Penny (fka Lilly) went to El Faro, and flew to NY in mid June 2018.
About 3 days later, Penny was walking to her foster home after a day at Camp with Christine, her foster mom.  At the same time, I was leaving dinner at Playa Bettys where I told my friend I wanted to adopt a pup and was checking out Muddy Paws and Badass Rescue etc.  Then I saw her on the street wearing an "adopt me" vest.   Penny came right over to me and I knew she was a perfect fit.  Christine gave me an ALR business card, I put in an application in the very next day. Penny was home with me before the 4th of July.
Christine and I have also become friends and she hangs out with Penny often, especially when I get stuck at work late.  Penny's two biggest/happiest greetings are for me and Christine. Especially since we live on the same block.
How long has she been coming to Camp? 
When I first brought Penny home, she was shy and scared around most other dogs and wouldn't let me out of her sight. Around October/November 2018 I decided to try to bring Penny to Camp 1 day a week to see if it helped with her separation anxiety.  It took a little time and a lot of treats to get her to leave me without crying, but she now drags me down the stairs into Camp. At first the counselors said she only played with Enzo, her former house mate. But now she has made friends with Libby and Harley, among other campers!  
What are her favorite things to do on the Upper West Side?
Most weekends we meet up with her Camp friends Enzo, Libby and Harley (and their parents) in Central Park. Her favorite UWS activity is definitely chasing the squirrels, followed closely by hanging out by Pier I and having a drink (of water) outside.
Enzo
Tell us about Enzo's rescue story: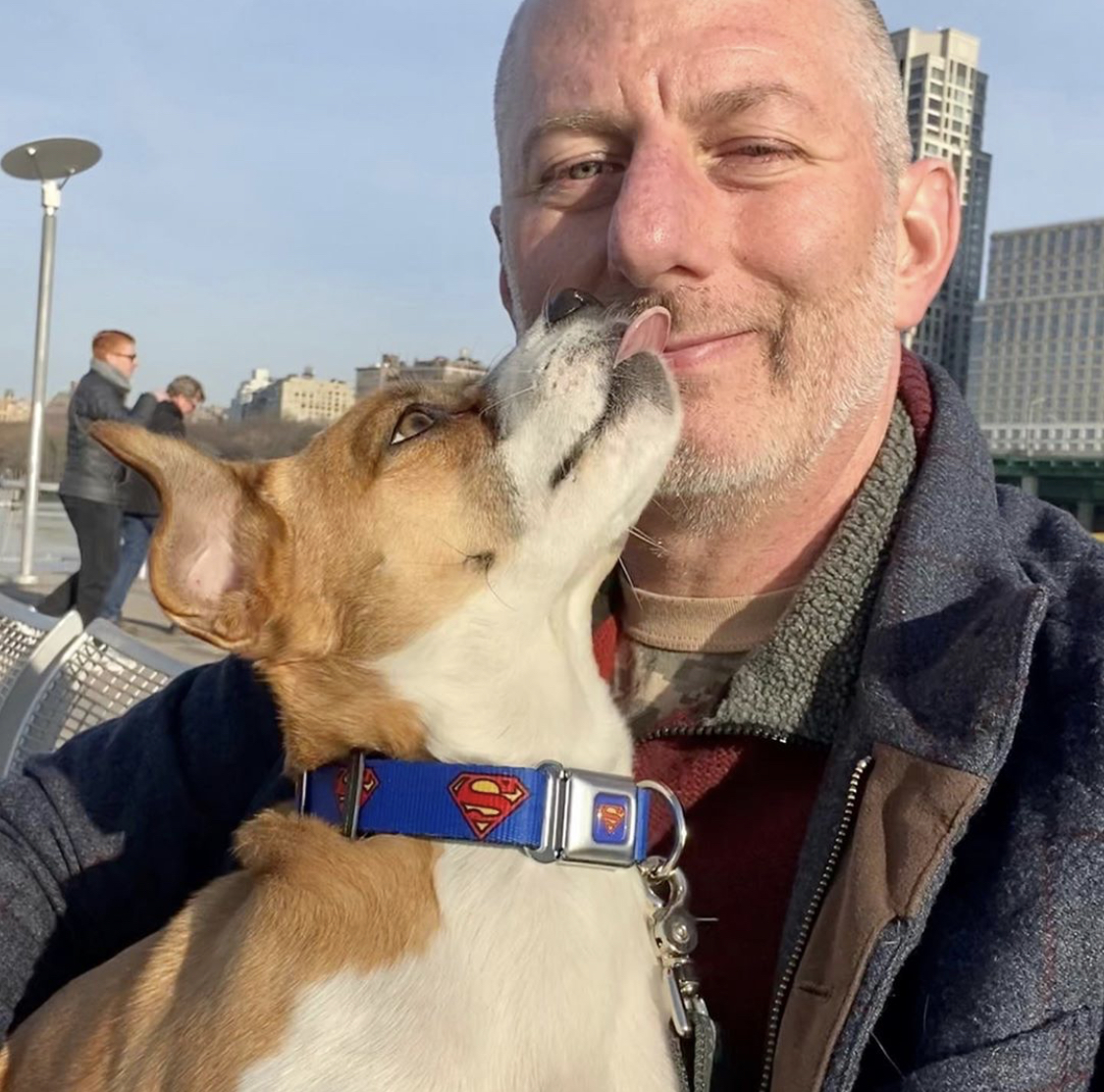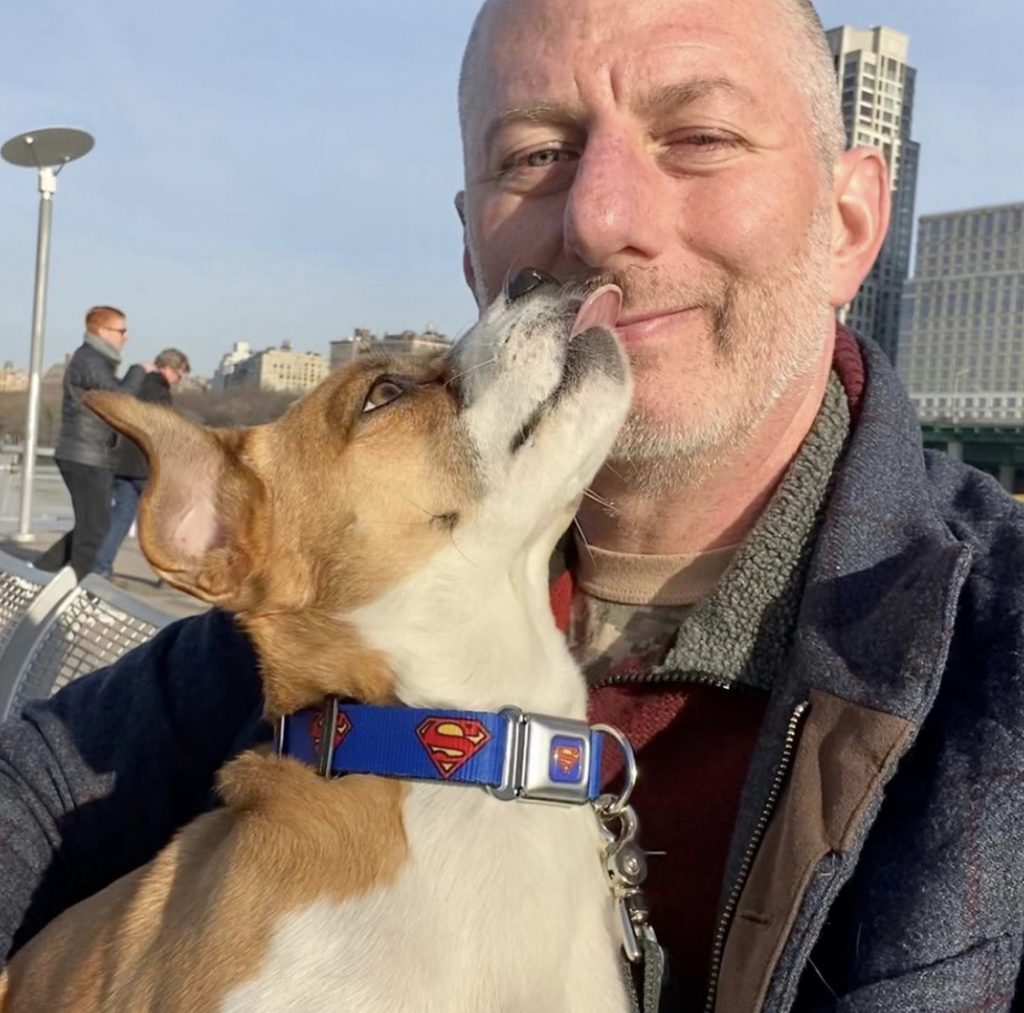 Enzo was rescued from the same hoarding situation that Penny was. I met him when I traveled to El Faro to volunteer; I even transported him to NYC on my way back home on his "freedom flight." The foster home that ALR had set up for him needed a few days before they could take him, so ALR asked me if I wouldn't mind keeping him until then – I said sure. When it came time for me to hand him off to his foster, that's when I thought – maybe this dog isn't meant to leave me after all. A few days later and Enzo was mine.
Given Enzo's rescue situation and physical condition, from a hoarding house and with one lame leg, I was unsure what effect that would have on his, and our, day-to-day life. He often seems very puppy-like in some of his play behavior and curiousness. But also has his serious, stoic, and very regal moments. What has surprised and pleased me the most is to see the effect he has on other people. It's not uncommon that a total stranger who sees him joyfully walking down the street, either helicoptering or walking on the toes of his bad leg, asks if they can pet him. His cute look, total receptiveness to the pets from adults and children alike, calm disposition, and I also believe his very soft fur, make him an immediate hit with passersby. I also have been told more than once that the interaction (which often includes hearing his backstory and about ALR) has made the person's day. It makes both Enzo and me smile, especially if we have made a new friend in the end.
How long has he been coming to Camp? 
We begin most mornings with an early walk in Central Park,  then it's off to Camp Canine. As Penny's mom mentioned, she and Enzo are best friends, and they've formed a clique with their besties, Libby and Harley. (They let other campers play with them, too, of course.) Enzo is always participating in Camp Canine's super fun activities, including the holiday crafts and their annual Howloween Pawty!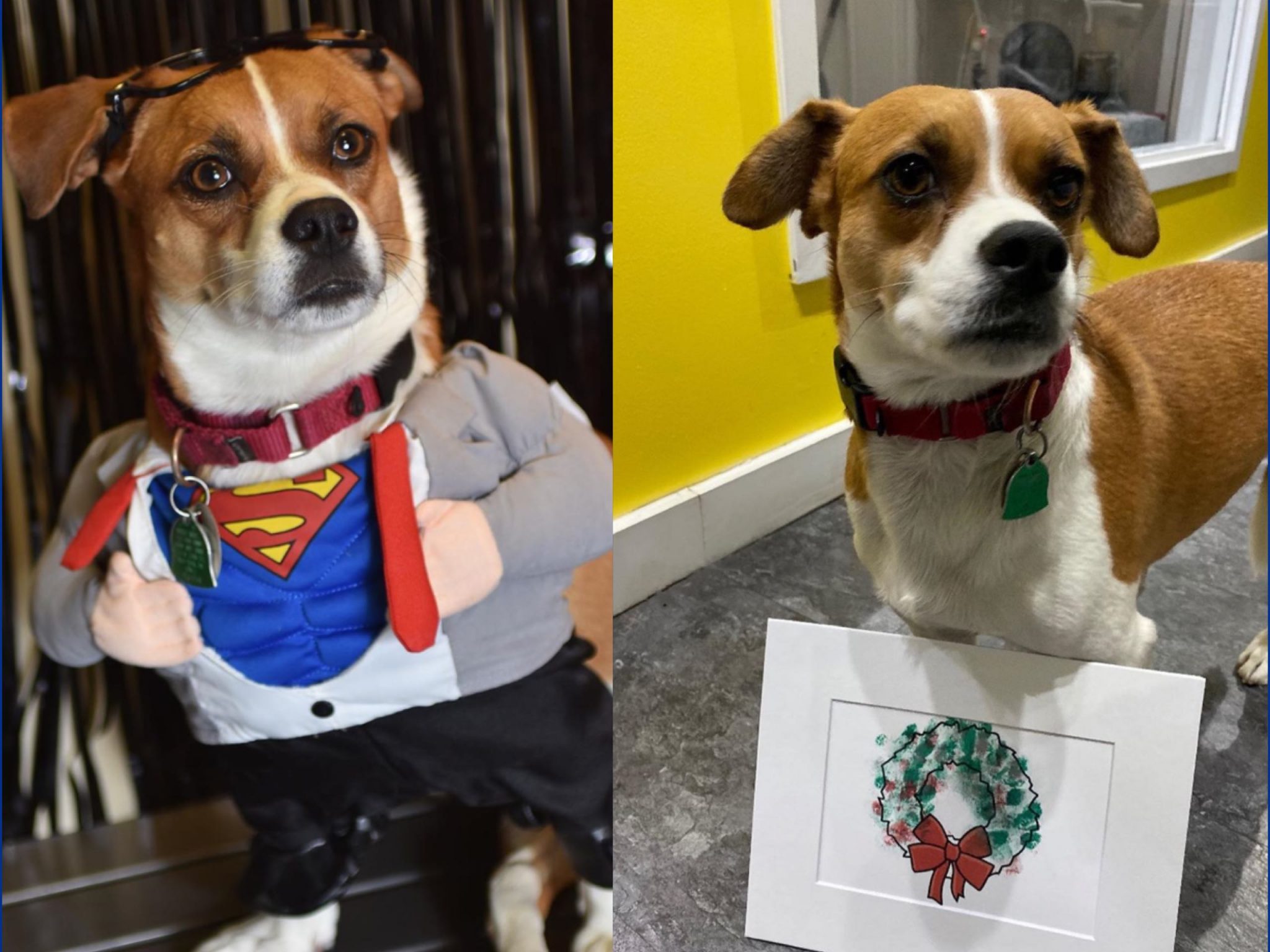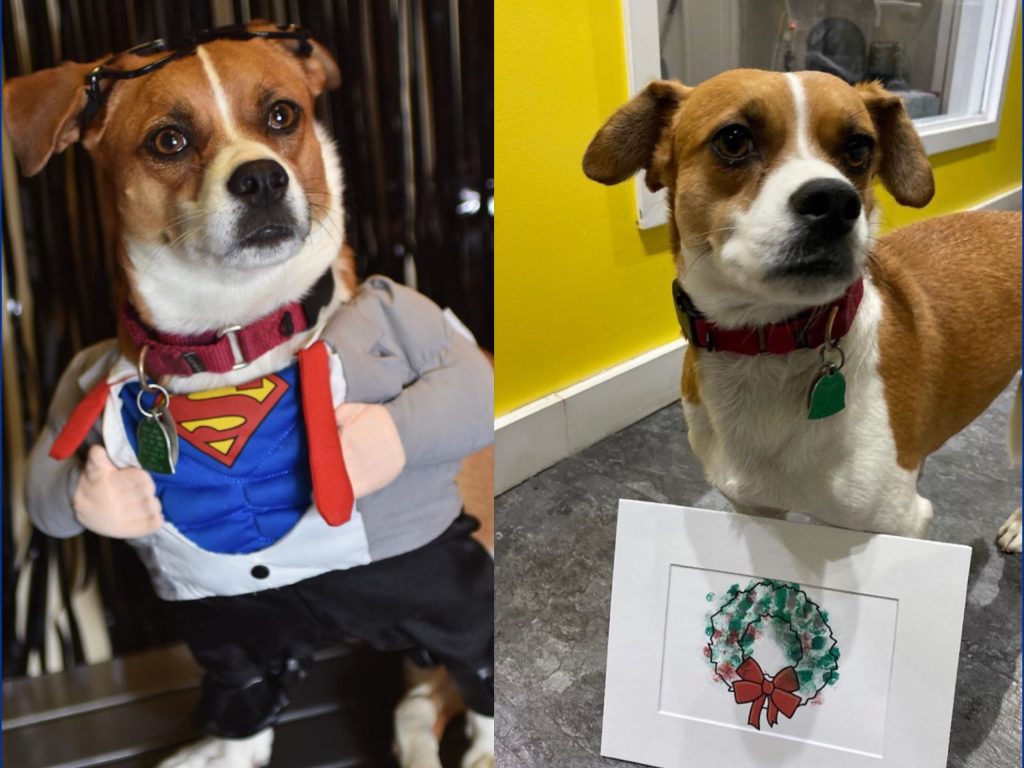 What are his favorite things to do on the Upper West Side? 
Our perfect day on the Upper West Side starts off in Central Park, where Enzo can get his fill of "hunting" geese, ducks, and turtles, as well as running and playing with his dog friends off-leash while I socialize with my human friends and get my fill of the great outdoors. We would then drop by our favorite dog-friendly bakeries and coffee spots before heading home for breakfast and chill-time on the couch. Around mid-day we would head to the Riverside Park dog park and then take a walk along the Hudson. We would rest under the shade of the trees that dot the riverbank, where I would read a book or a magazine while Enzo snoozes or takes in all the nearby scents. Later in the day, after errands at local stores or visits to favorite treat and TLC spots, we would meet up with friends or extended family for dinner at Playa Betty's or Tenzan, where we could sit outdoors, all together. Our final walk of the night might include a stop for ice cream (a spoonful for Enzo too!) or a bar with one or two neighbors and their dogs with a final round of play before bedtime. We'd both be exhausted and sleep well side-by-side that night!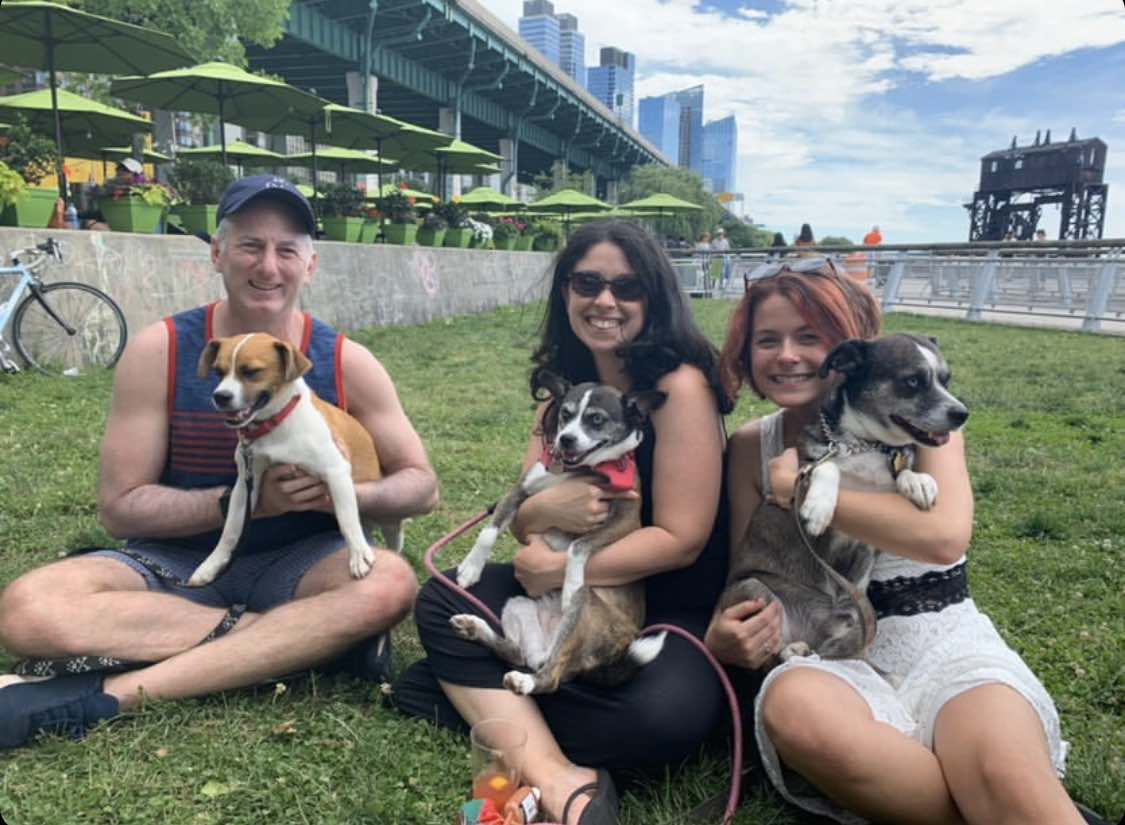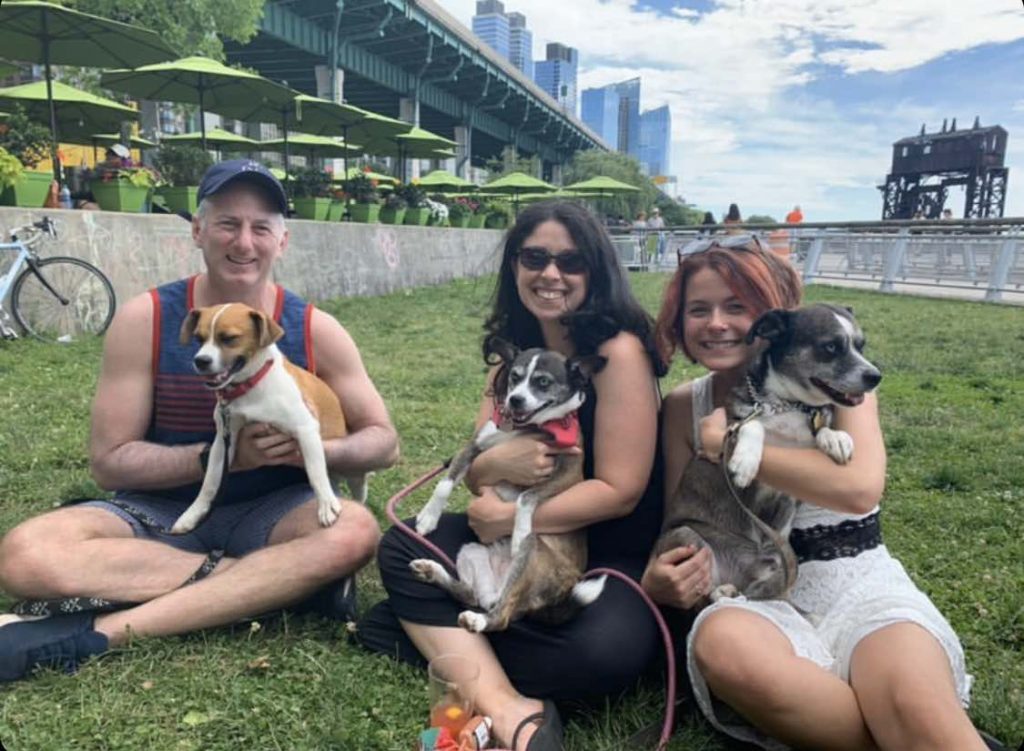 Follow Enzo on Instagram: @harry_and_enzo
Murray
Tell us about Murray's rescue story:
Murray's name was Xander – he was rescued from a beach in Puerto Rico with his mom, Xena (who also found a home through Animal Lighthouse.) Though I had been a client of Camp Canine's for years and I am personal friends with Tania, I had never fostered for ALR before. For some reason, that week I reached out to Tania to let her know that I could foster for the first time! She responded by saying "we have just the dog for you" and sending me a picture of Murray. I fostered him without any intention of adopting, but when it came time to set up his first meet and greet, I was an emotional wreck! I realized then that I didn't want to say goodbye, and the rest is history. This crazy little dog has become the best little brother for Milo, and I'm so happy I was a "foster fail."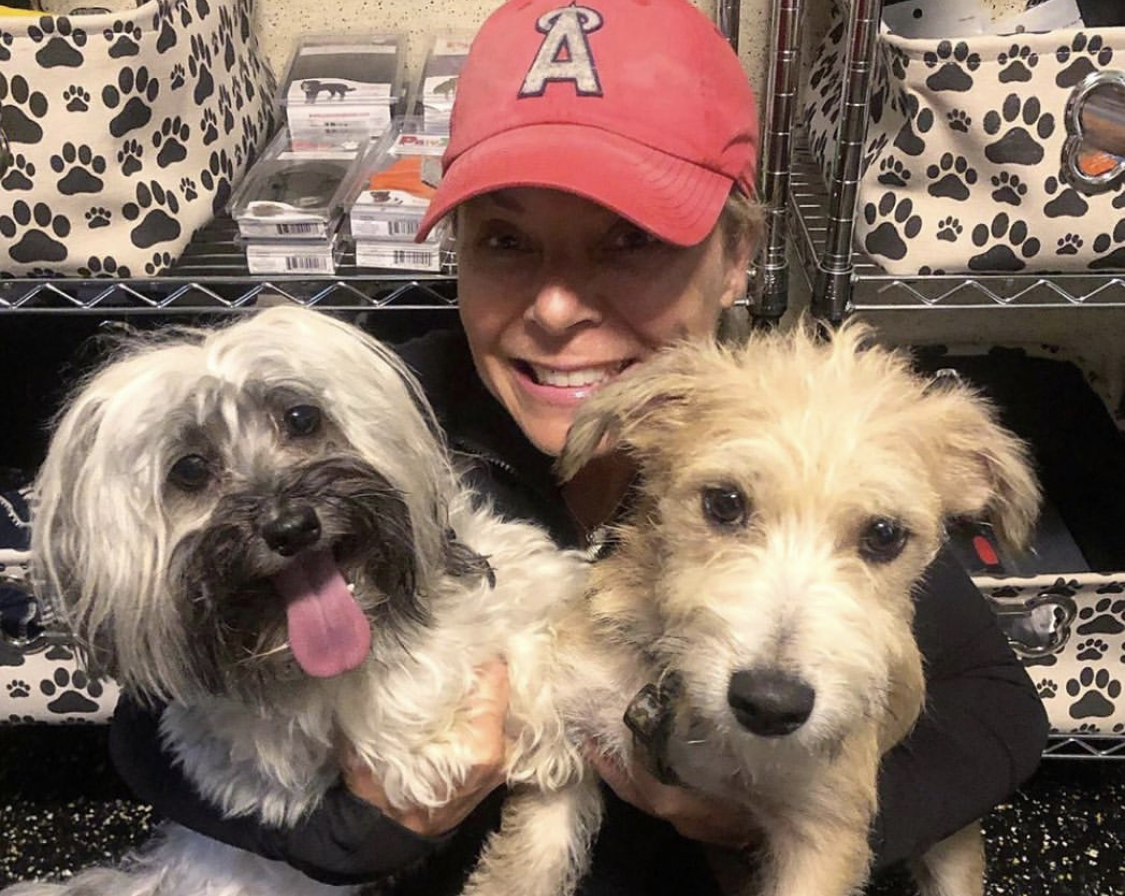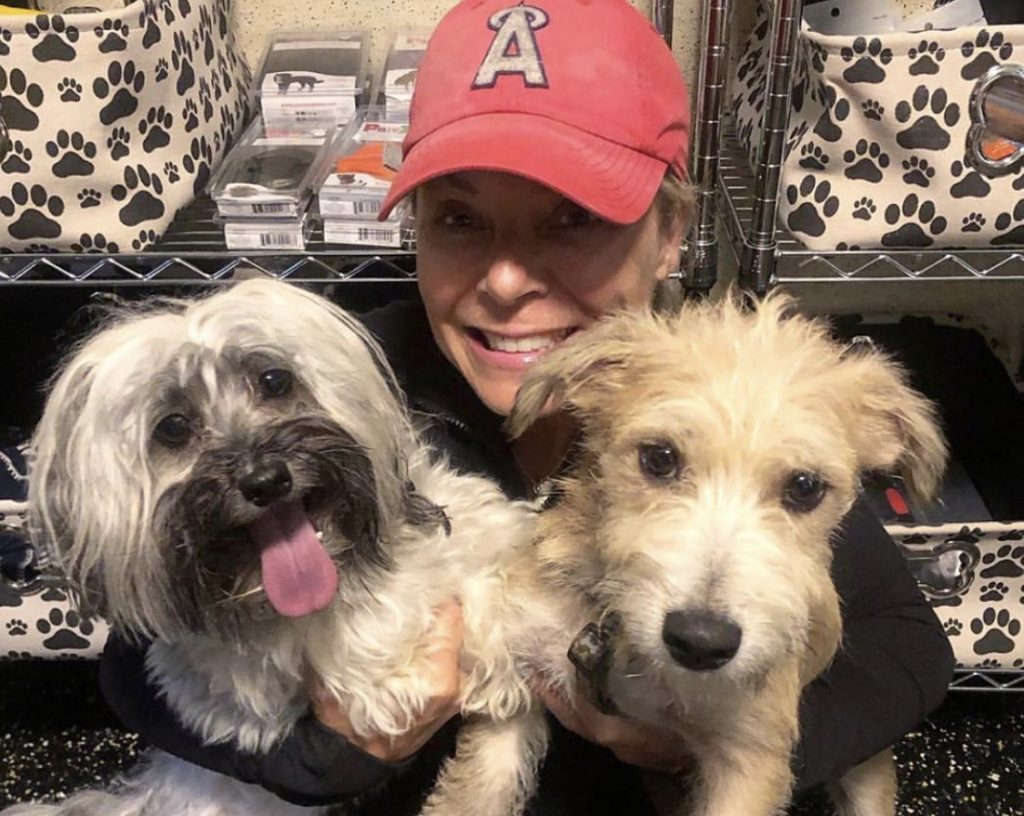 How long has he been coming to Camp? 
Milo has been coming to Camp for over 5 years, so Murray became a camper immediately. I adopted him a little over a year ago, and he's been a camper ever since. He absolutely loves Camp! I've been told he follows Milo around like a little shadow, but he's a wrestler, too. He loves roughhousing with his friends. His best doggy friend is Oliver – I met Oliver's mom through Camp, and Oliver and Milo love each other. Murray has become like the little brother who always wants Oliver's attention and approval. Oliver is in the big dog room, though, but they see each other outside of Camp and on special occasions, like when Camp counselors brought Oliver in to join Murray's first birthday party!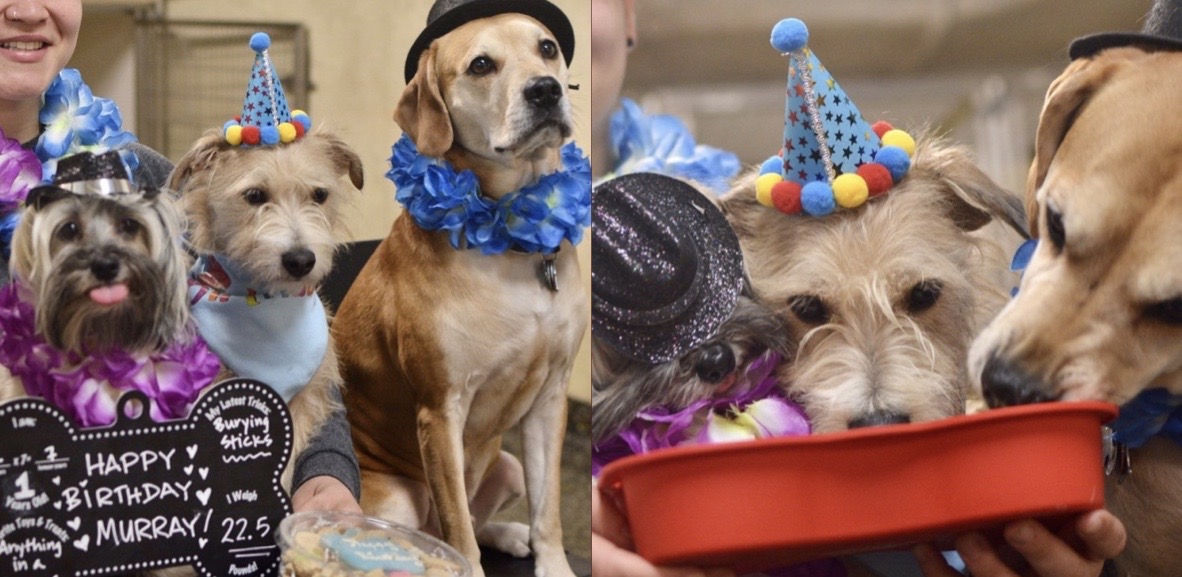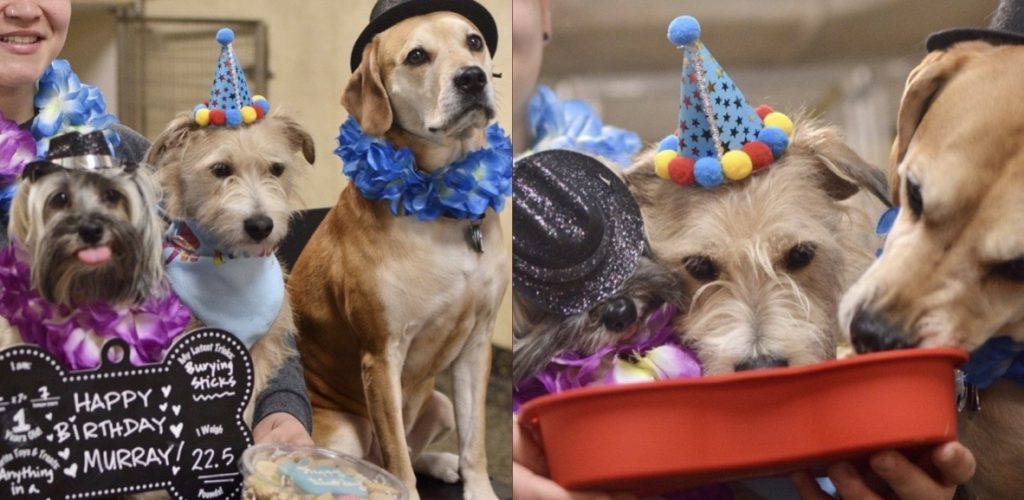 What are his favorite things to do on the Upper West Side? 
Chew everything he can get his mouth on. That's his favorite thing to do on the Upper West Side, and anywhere else! He loves Central Park, and hanging out there with Milo and Oliver. And if I had to say what his least favorite part of the Upper West Side is, then it's the terrifying street grates. He also loves going to the beach house in New Jersey and lounging in the sun, which is where we spent all of quarantine.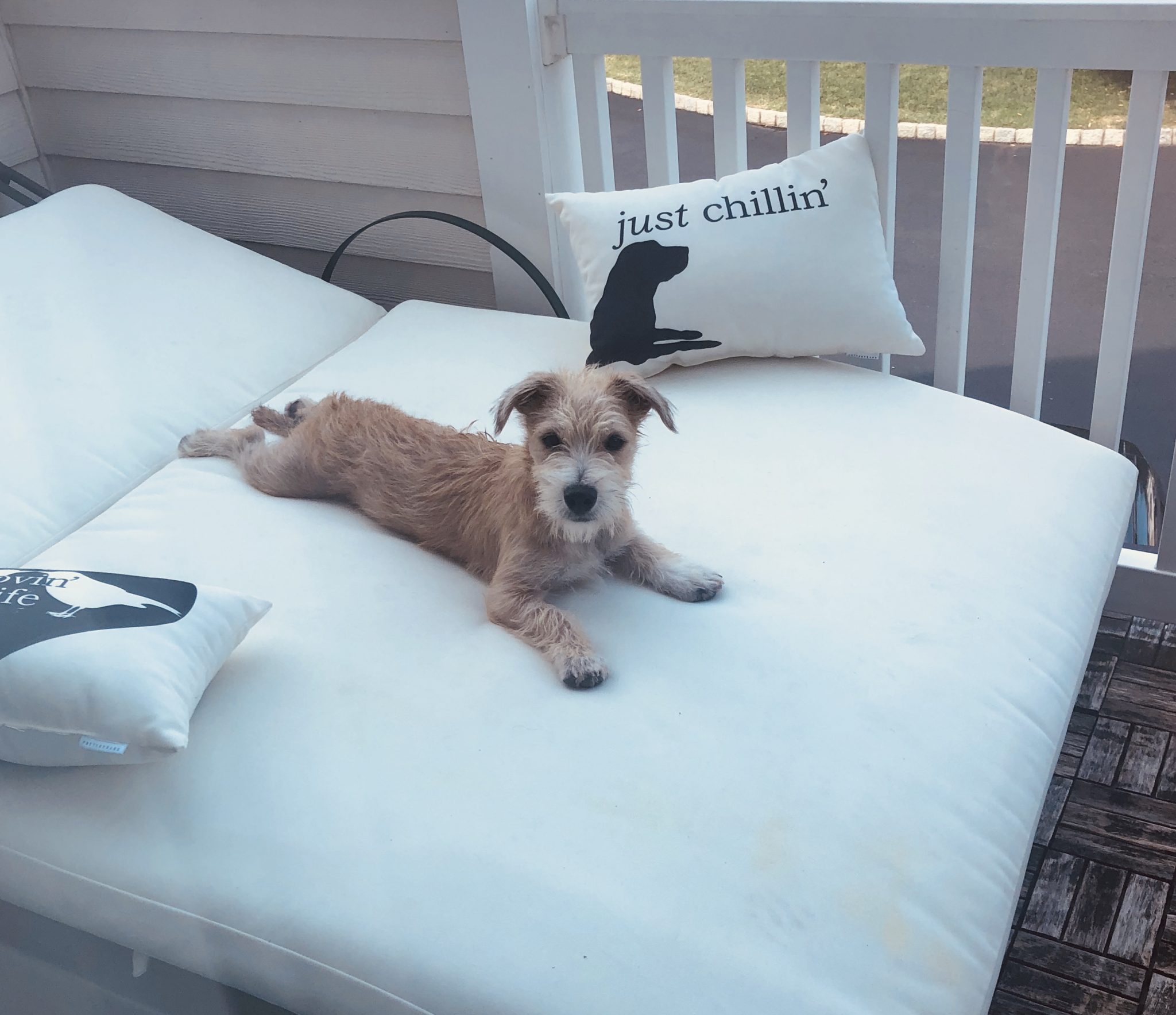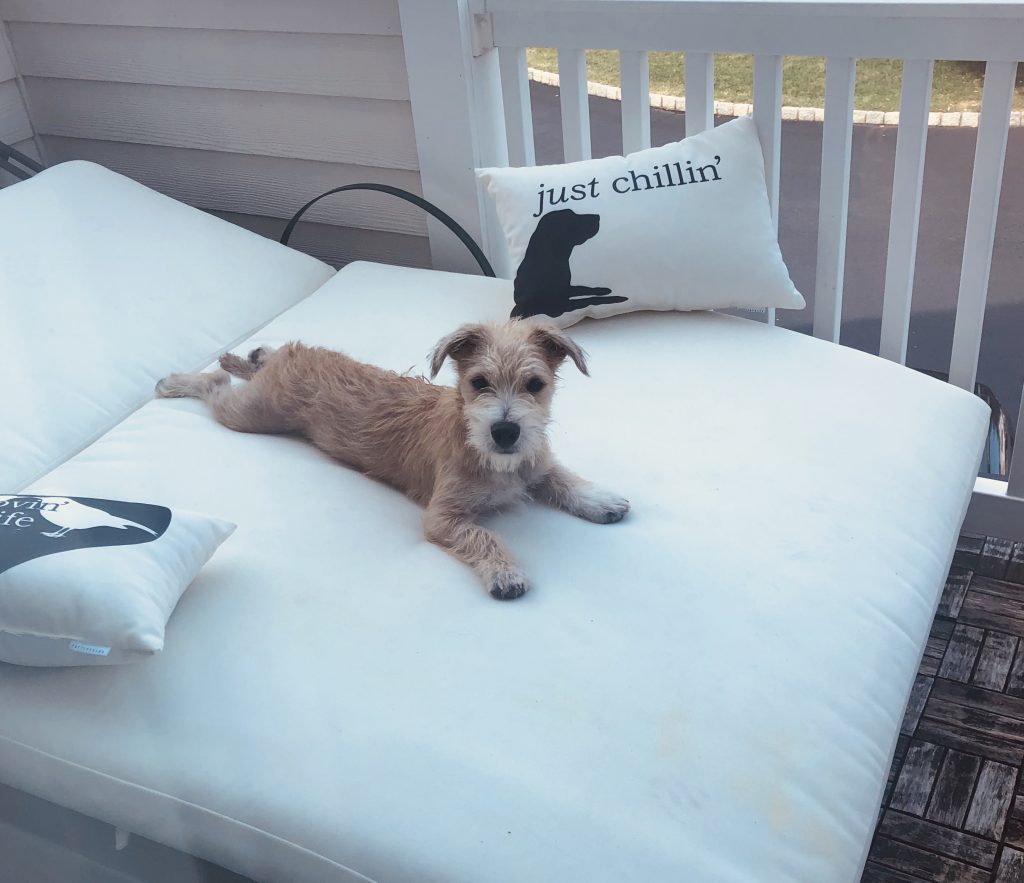 Nacho & Bean
You didn't think we'd fail to include this famous pair, did you? This dynamic duo belongs to Top Dog Tania, the owner of Camp Canine and the Chairman of the Board at Animal Lighthouse Rescue! Learn more about their furever lives: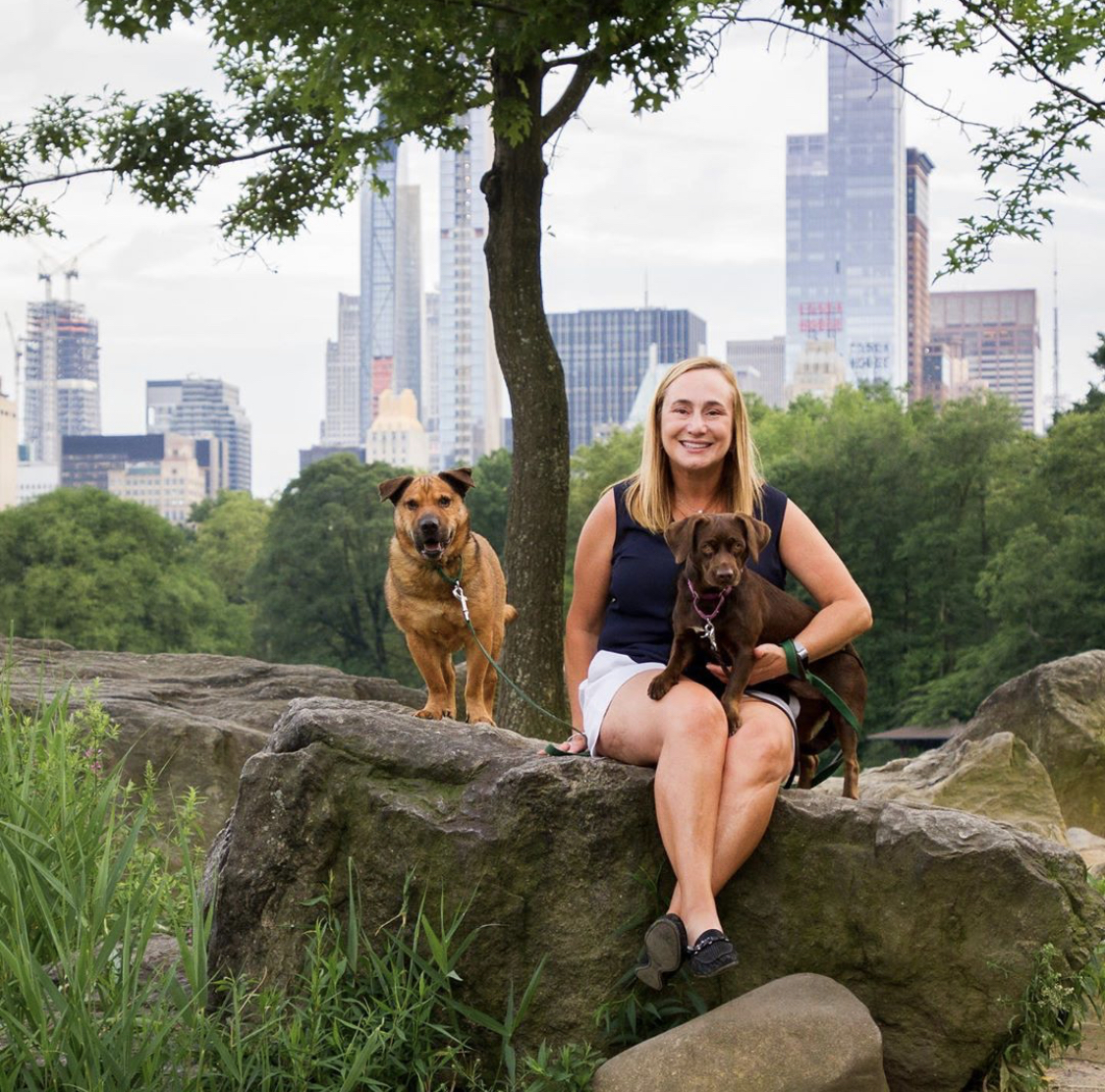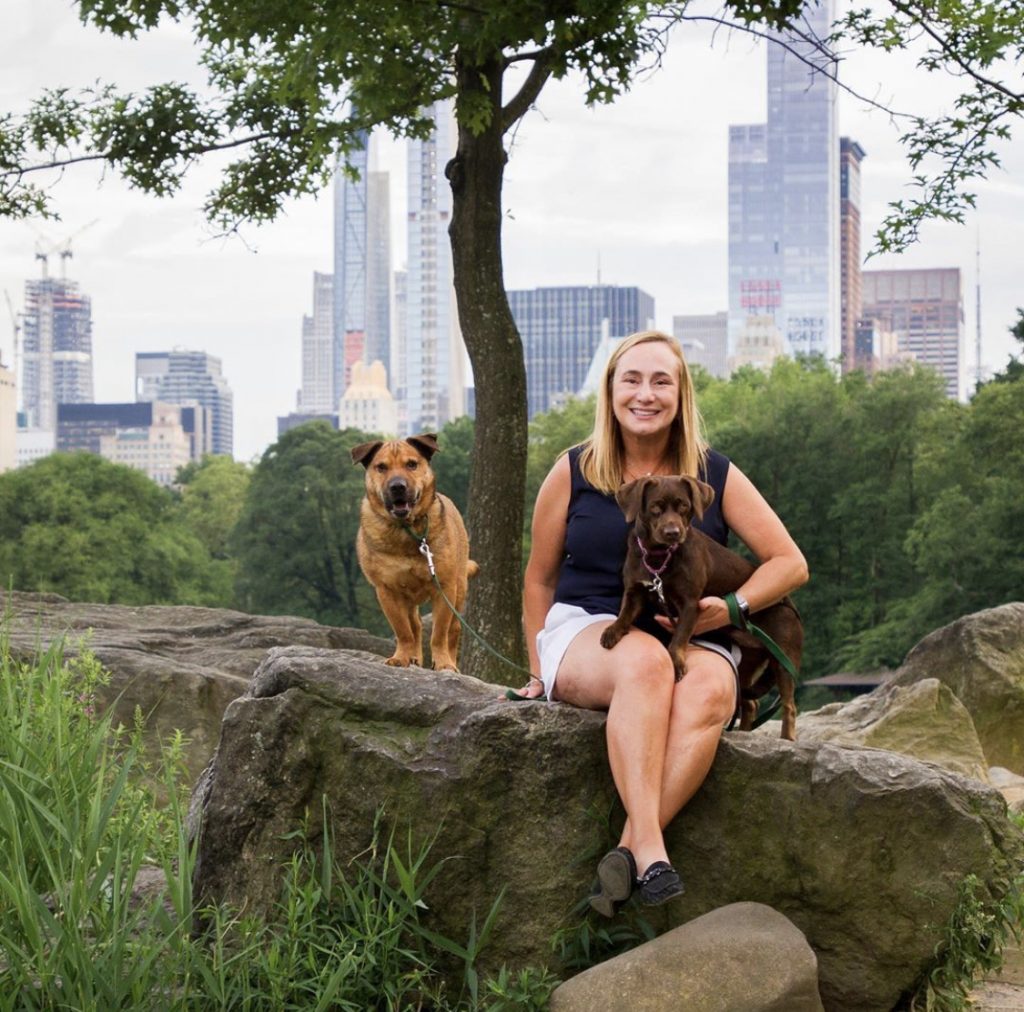 Tell us about Nacho and Bean's rescue story:
Nacho was found abandoned and malnourished in a parking lot in Puerto Rico. He was timid when he first came to NYC, but I fell in love with that nose. He now shows his big personality every day! He was a great little brother to my dog Mooshoo before she passed away, and now is a great big brother to his sister and fellow #ALRalumni, Bean.
Bean was rescued while pregnant. She gave birth to four puppies (all named after different types of beans!) and her puppies were transported to NYC before she was, so that she could take her time to physically recover and gain the weight she needed to gain. I met her when I visited El Faro – she was staying with Liza, the director of El Faro, in her own house so that she could keep a close eye on her recovery. I met her and I fell in love – how could I resist those puppy dog eyes!
How long has he been coming to Camp? 
Since I got them, of course! So, for Nacho it's been 6 years now, and for Bean it's been almost two. They are Camp Canine's mascots! Nacho loves playing with his selective friends and hanging out with me in the office, and Bean loves getting attention from our counselors and rules the playroom.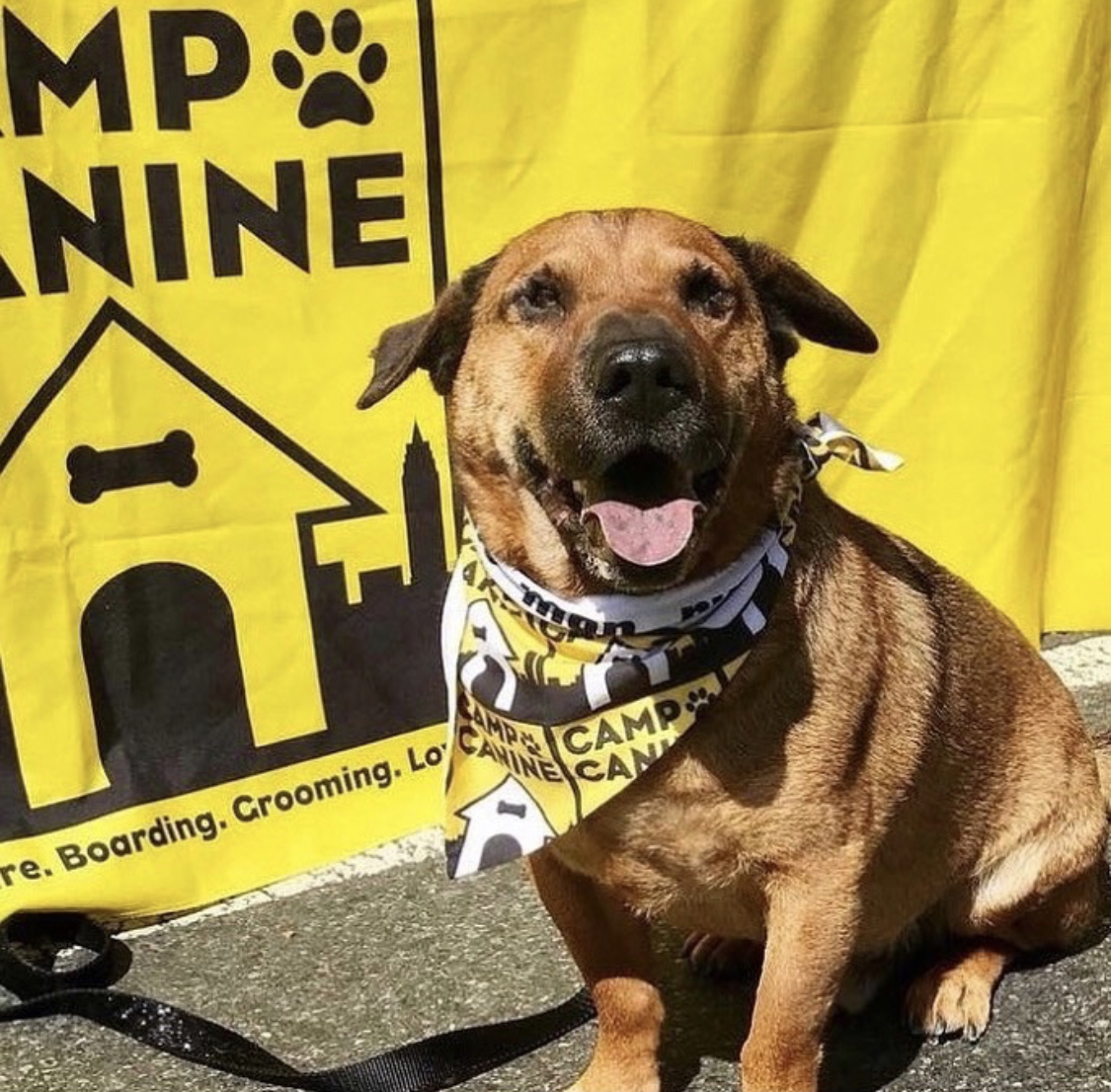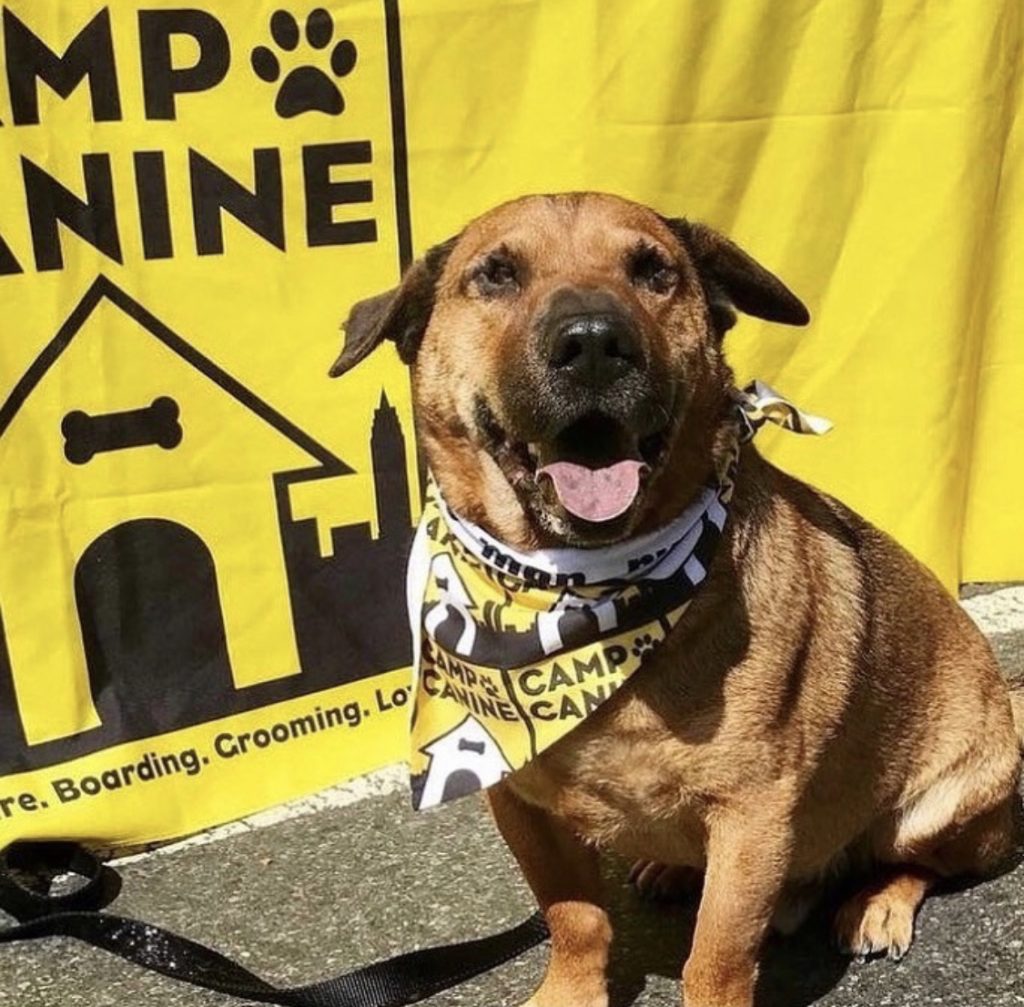 What are their favorite things to do on the Upper West Side? 
They love hanging out at Cherry Hill in Central Park with their Camp buds, Harley, Enzo, Penny & Libby. They are 'the squad' after all! They love getting treats from our doorman and rush back to them after walks. They are very good about enforcing social distancing for me – they'll bark at anyone who gets near. They also love barking at anything on wheels – scooters, bikes, big trucks. It makes for a very eventful walk!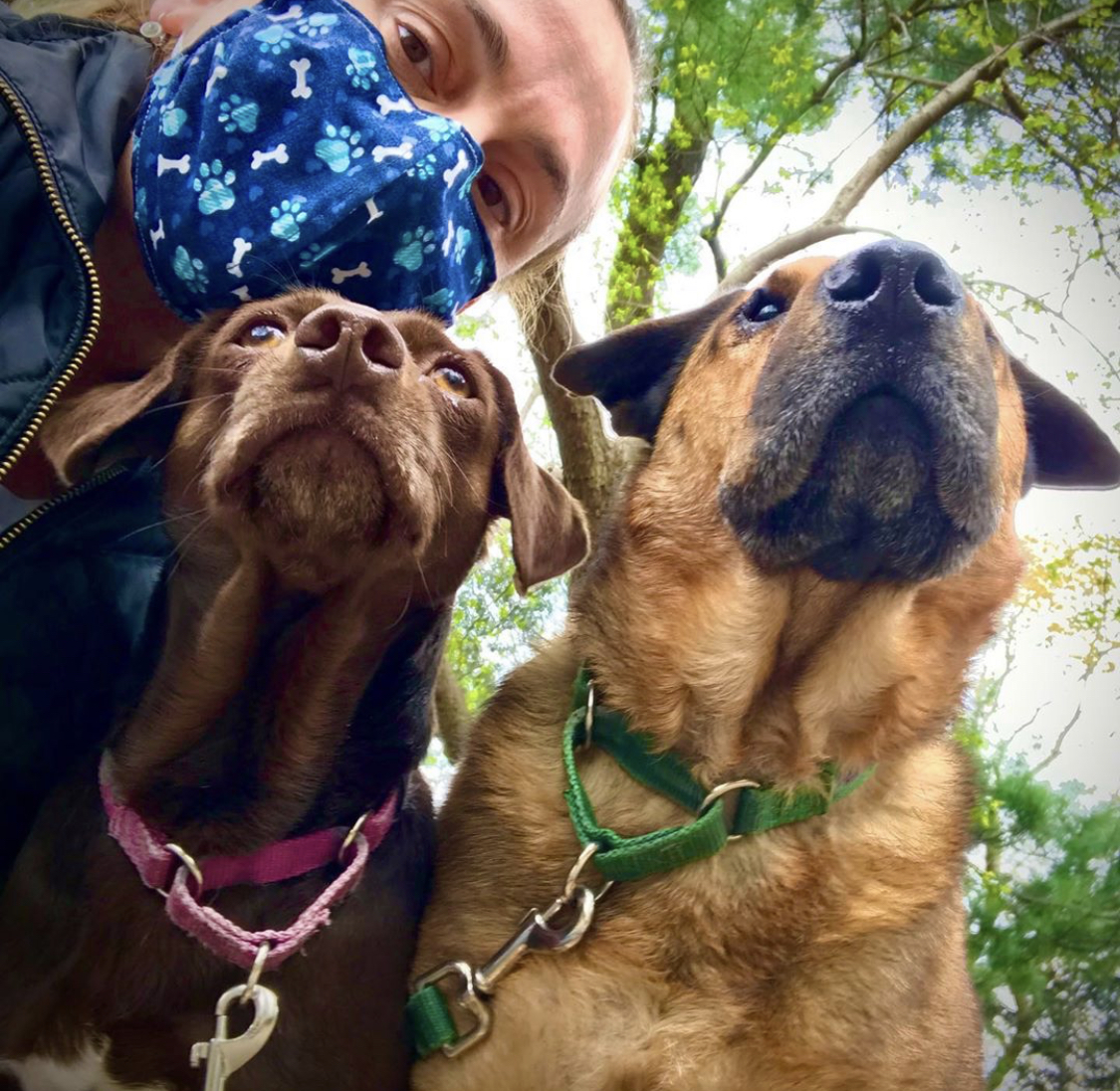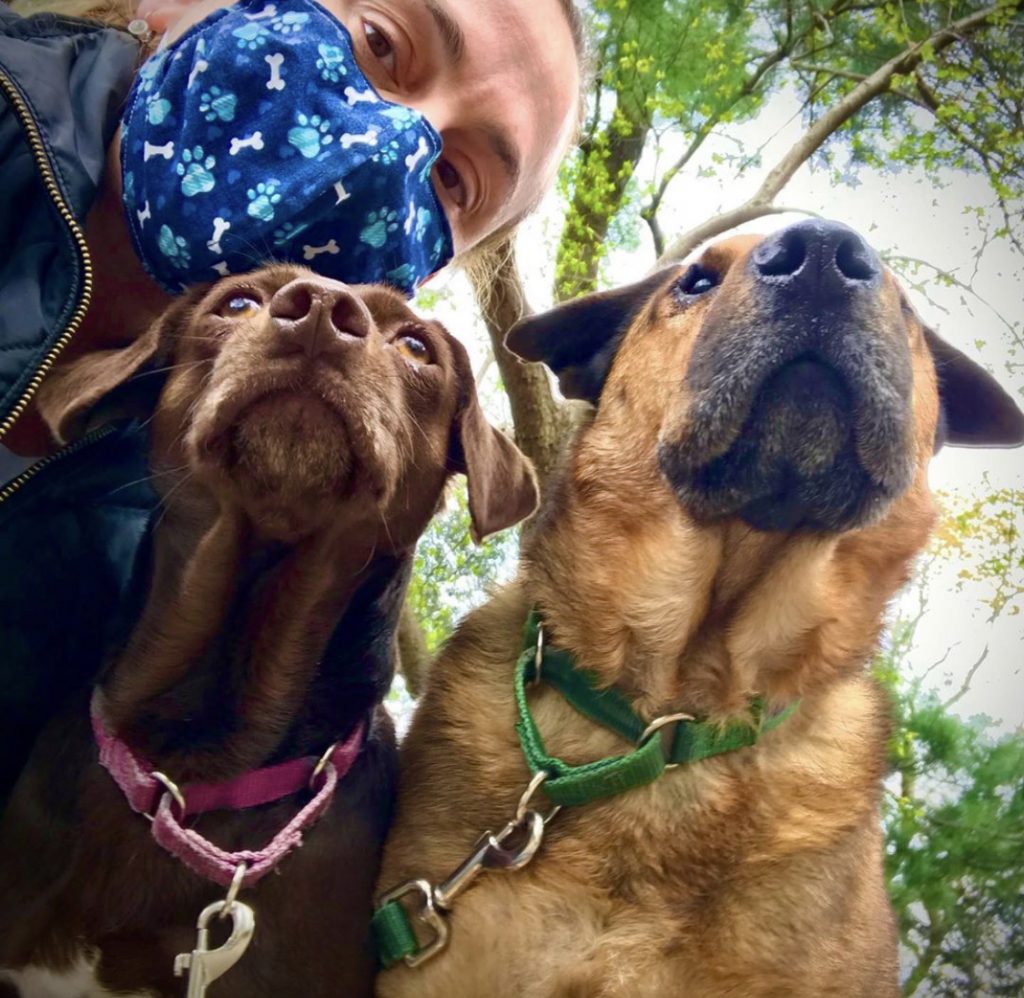 Follow Nacho and Bean on Instagram: @nacho_and_the_bean
We are so thankful for these Campers, and for Animal Lighthouse Rescue for giving us the opportunity to call them a part of our Camp family! It's so cool to see the true friendships – both dogs and humans alike – that form because of both ALR and Camp Canine. If you're interested in learning more about ALR's mission, do so here. Donating can help them save even more lives – you can do that here.