Every week Andrea Arden Training comes to Camp to host a supervised Puppy Playgroup. Here's everything you need to know:
Who is Andrea Arden? Andrea and her team are renowned trainers with extensive education and experience in the field of dog behavior. If you are looking for training beyond puppy playgroups, Andrea Arden's team has a positive and motivation-based approach that helps dogs and their people learn together. Hannah, a trainer on her team, facilitates our puppy playgroups – check out her bio here!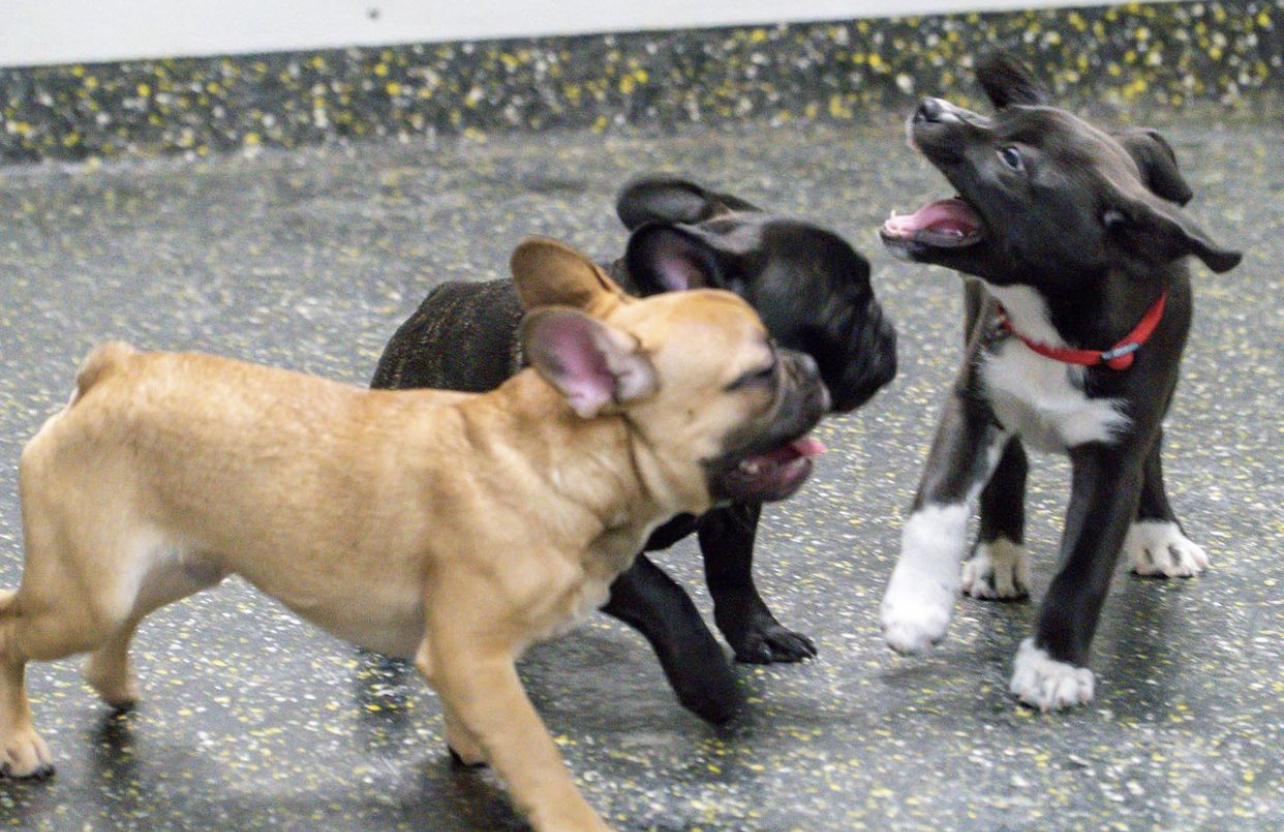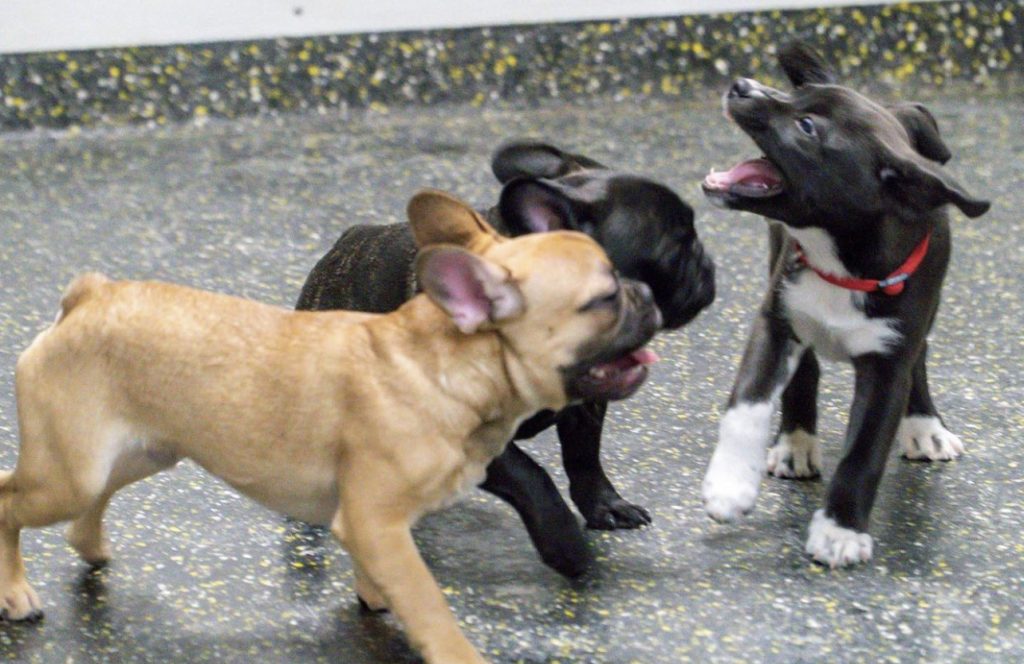 What is puppy playgroup? On Wednesdays at 6pm, our Small Dog playroom is reserved for Andrea Arden's puppy playgroup. Our Campers spread out into one of our other two available playrooms while the puppies play! This playgroup is trainer-supervised and a terrific way to socialize your puppy when they're too young to come to Camp. Even at 8 weeks old your puppy can still attend Playgroup where they get to learn how to play politely, burn energy and and gain the confidence need to take on the world. That way, once they graduate, they'll be perfectly primed to become a camper!
A few important notes: Playgroups are for puppies of all sizes under 20 weeks (5 months). The fee is $35 per pup per visit and you must provide proof of at least one round of vaccines for pups under 16 weeks. For puppies 16 weeks and older this must be signed by the veterinarian and include rabies, parvovirus, adenovirus, distemper, and Bordetella.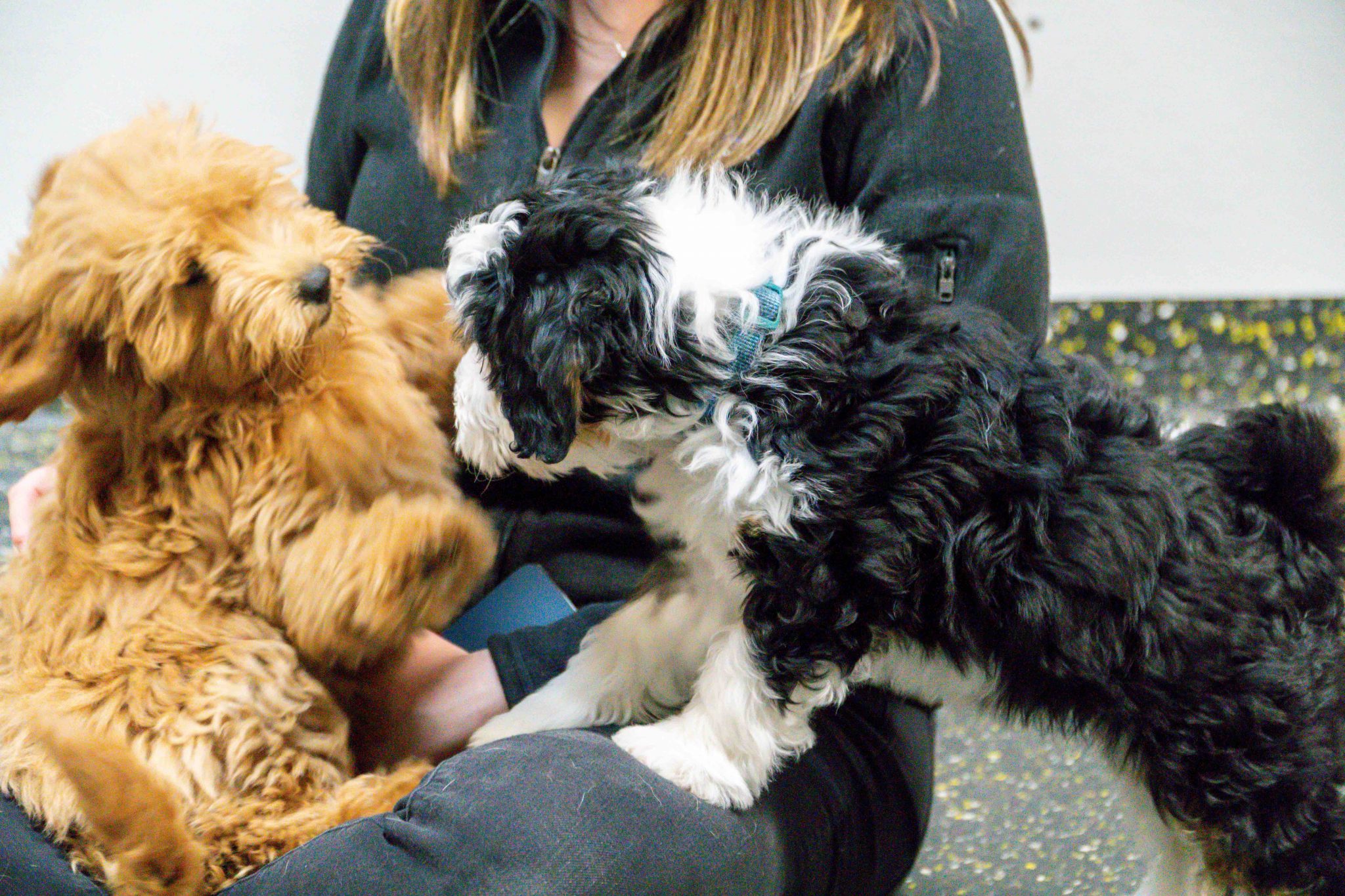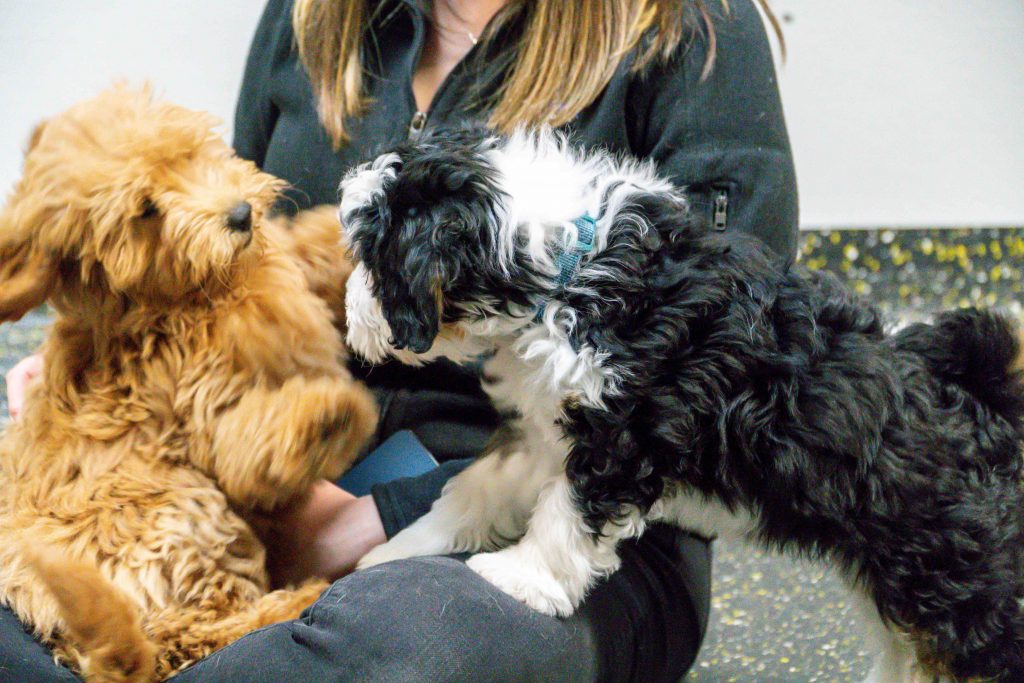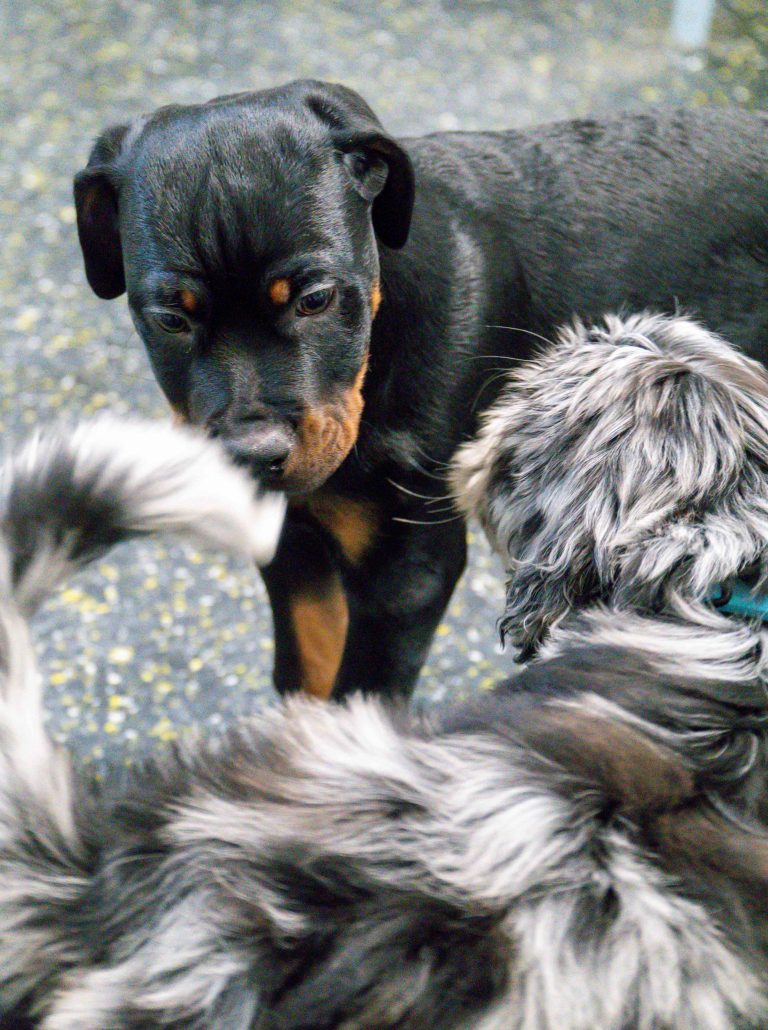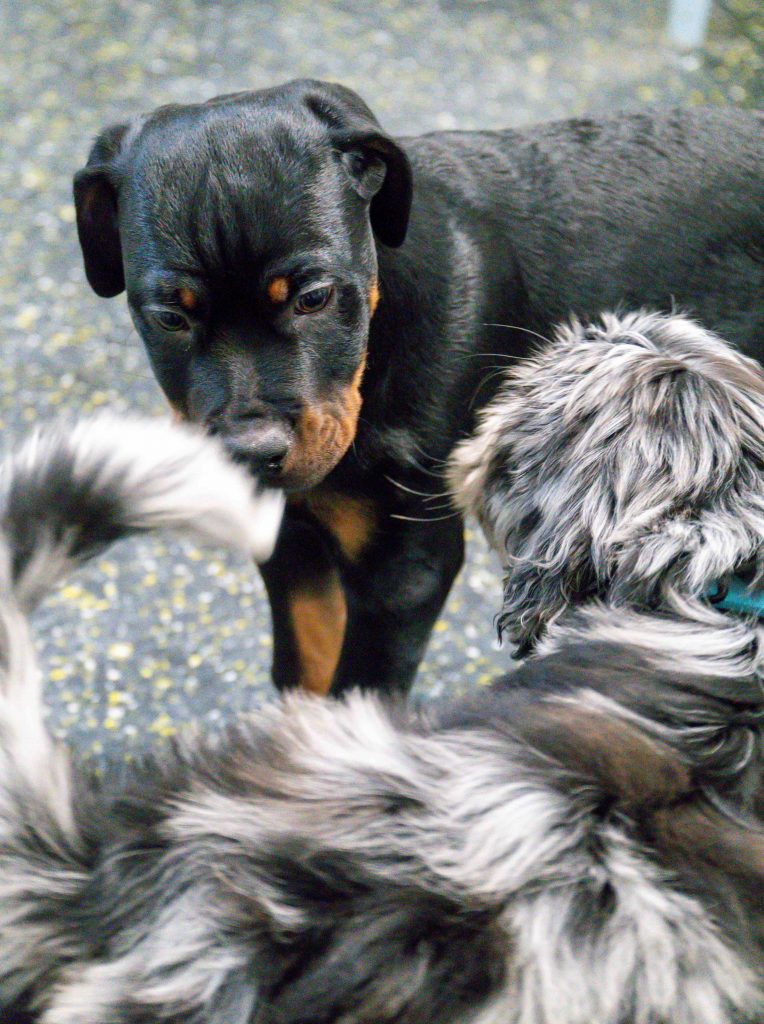 We asked Trainer and Playgroup Supervisor, Hannah, a few questions:
Why should people consider bringing their puppy to playgroup?
"Socializing your puppy at a young age is crucial to their development! Playgroups are super helpful in getting your puppy to be more confident in how they interact with the world around them. Playgroups also help your puppy work on teething because other puppies will give them feedback if they are biting too hard. Most importantly, though, socializing your puppy at a young age is so important. Getting your puppy out and meeting other dogs and puppies at a young age will set them up for a successful future."
Why did you choose Camp Canine to host your playgroup?
"The community at Camp Canine is very supportive and the facilities are well taken care of. We love Camp Canine!"
Is there anything you want our clients to know about Andrea Arden Training?
"Dogs can learn at any age. It's good for all dogs and puppies to take classes and work on skills, regardless of their age. It's gives your dog structure and enrichment."
Where can our clients follow you on Instagram?
You can follow Andrea Arden Training at @andreaardendogtraining
You can find me at @hannahandherdogs
And my fellow trainer, David, who is here with me on Wednesday nights, you can find at @david_leon_dogtrainer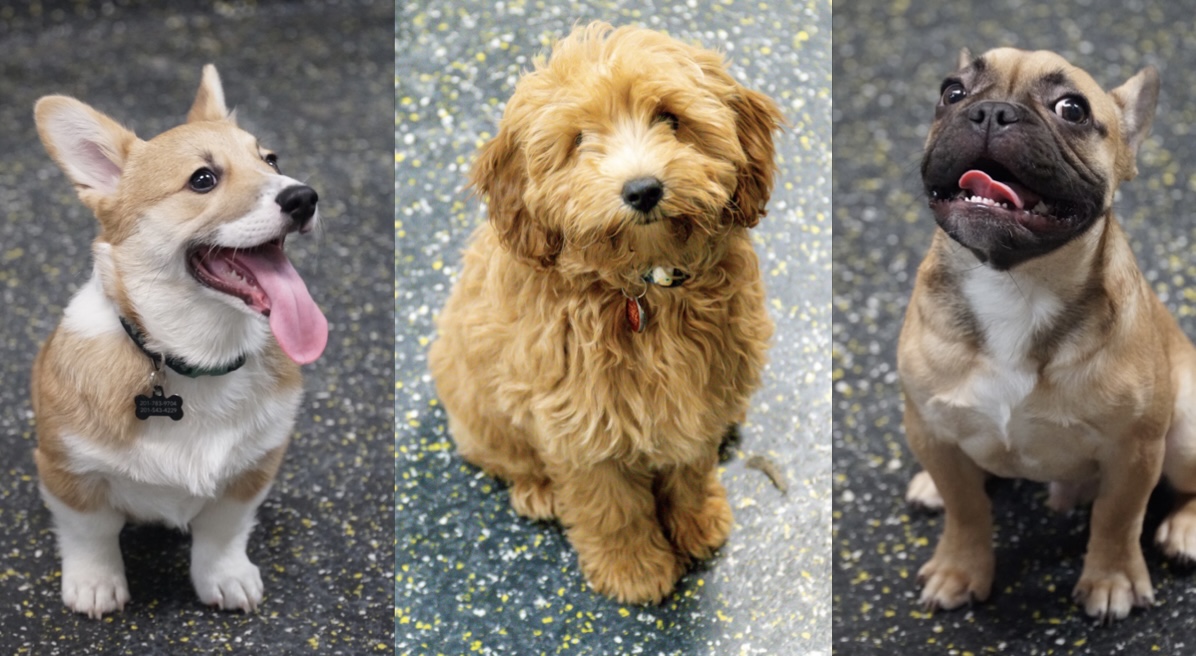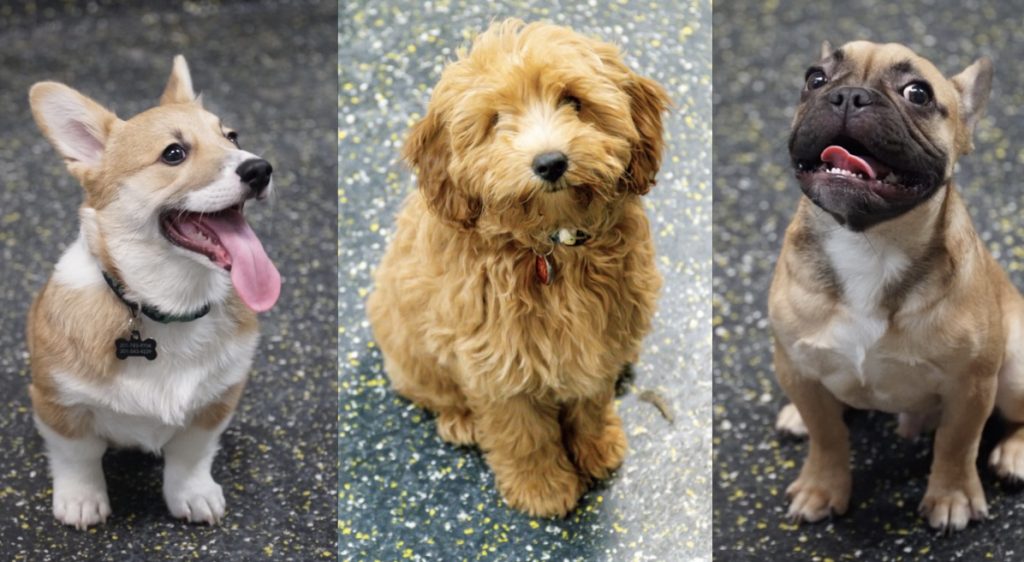 If you have a puppy – or you know someone with a puppy – who is still too young to come to Camp but who needs the enrichment and socialization, send them this blogpost! A bonus is that the transition from playgroup to Camp Canine is seamless – by the time they 'graduate,' playgroup, your puppy is already familiar with Camp Canine and loves group play. And let us help you manage that transition: when you attend Andrea Arden's Playgroup (effective 2/16) you'll receive a Coupon Book that will include a free week of daycare, access to an exclusive bath package and more. If the promise of a pooped pooch at the end of their hour of play isn't enough to get you to come to playgroup, then maybe the promise of a bright future as a Camper will do it!
Sign your pup up for Puppy Playgroup here. See you soon!