Her day started at 8am – bright and early, Brenda was at Camp, changing into her uniform. She grabbed her Camp t-shirt and her walker belt, then filled her pockets with doggie bags and treats: Brenda was ready for her walker shift!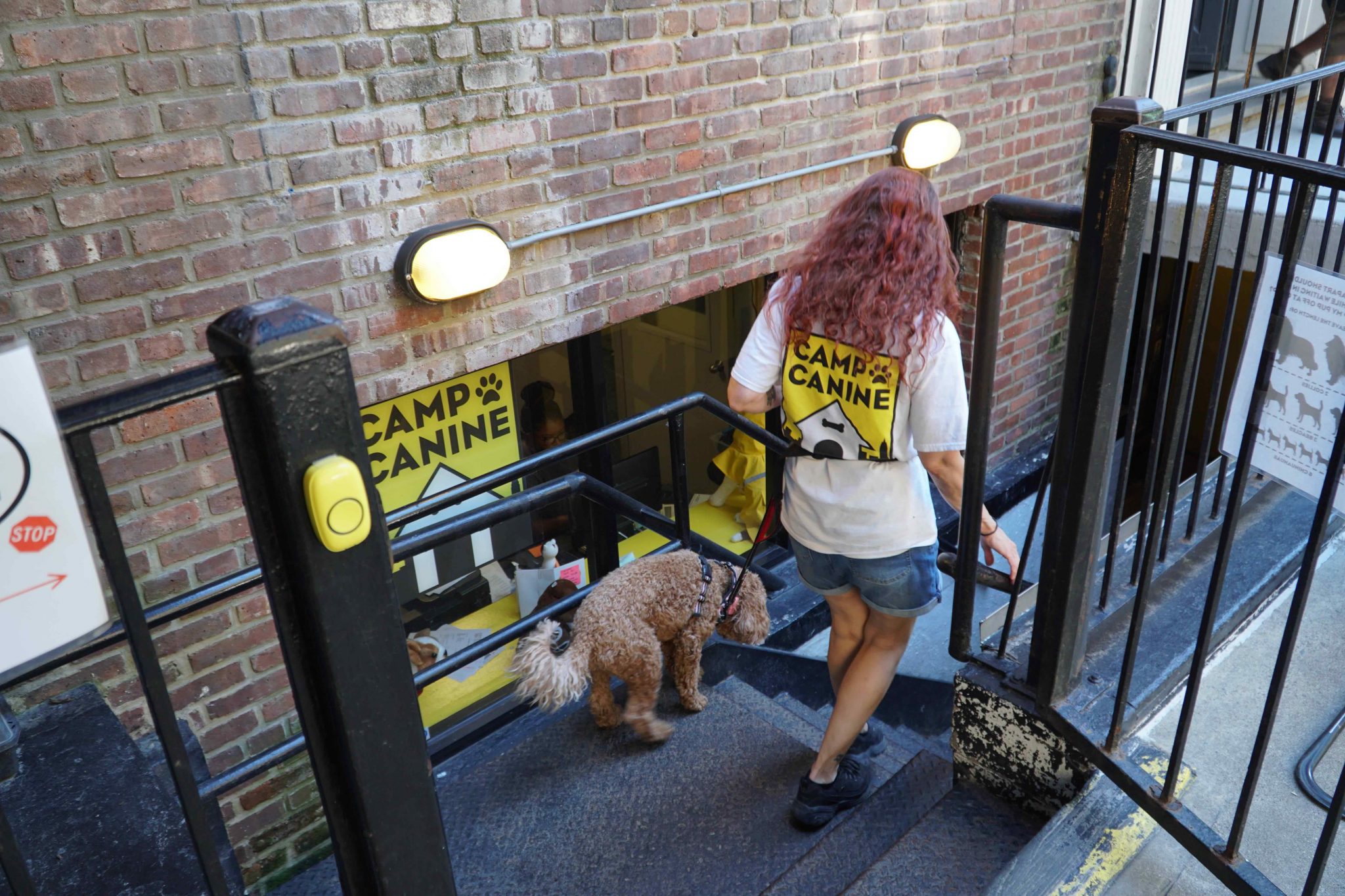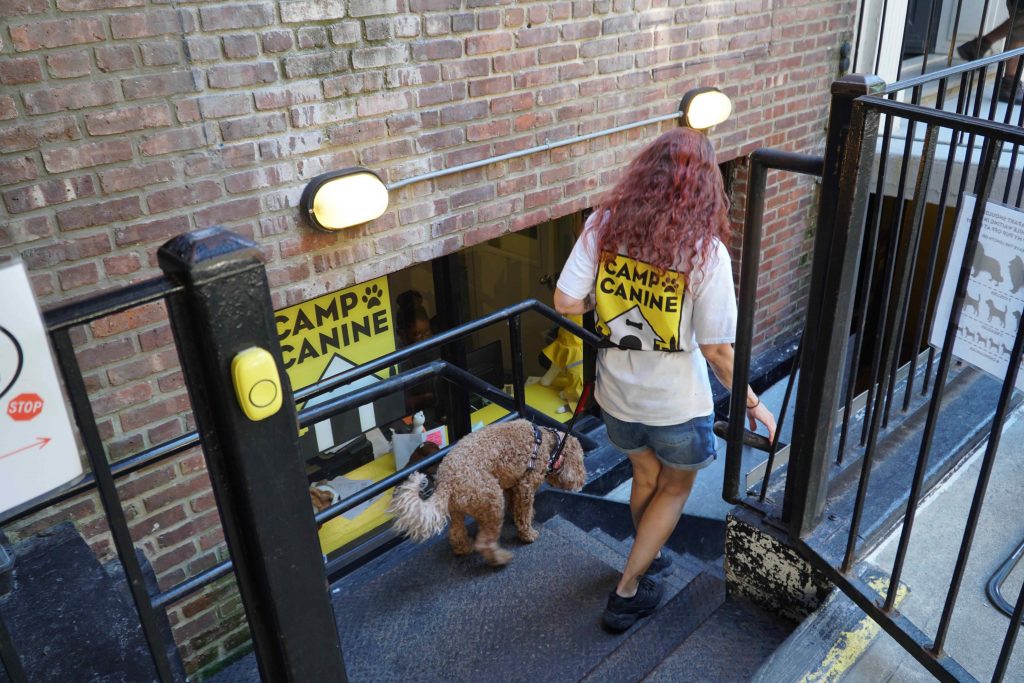 There are a number of shifts a counselor can fill at Camp:
Playroom shifts include supervising the room – entertaining the dogs, cleaning up after them, etc.
A shift lead prepares the meals, administers the medications and makes sure the schedule is moving the way it should be.
A cat shift is just as it sounds: these are the counselors who feed, clean up after, play with and supervise the cats during the day.
And the walker is the counselor that fulfills all of our canine campers' scheduled activities! When Brenda arrived at Camp that morning, she had a full day of 6 Central Bark walks (two of which are an hour long rather than a half hour) and 4  fetch sessions on her to-do list.
Brenda walked with campers Bumbershoot, Einstein, Molly, Ace, Cheddar and Penny that day. It was one of the days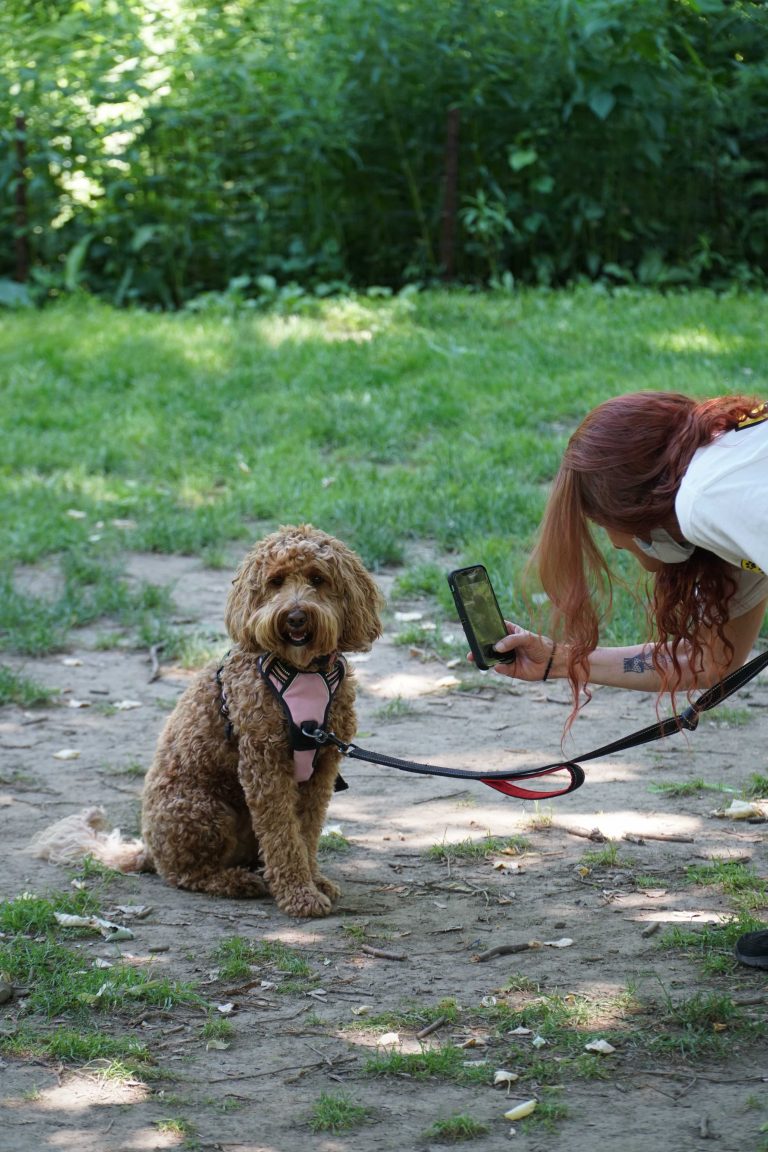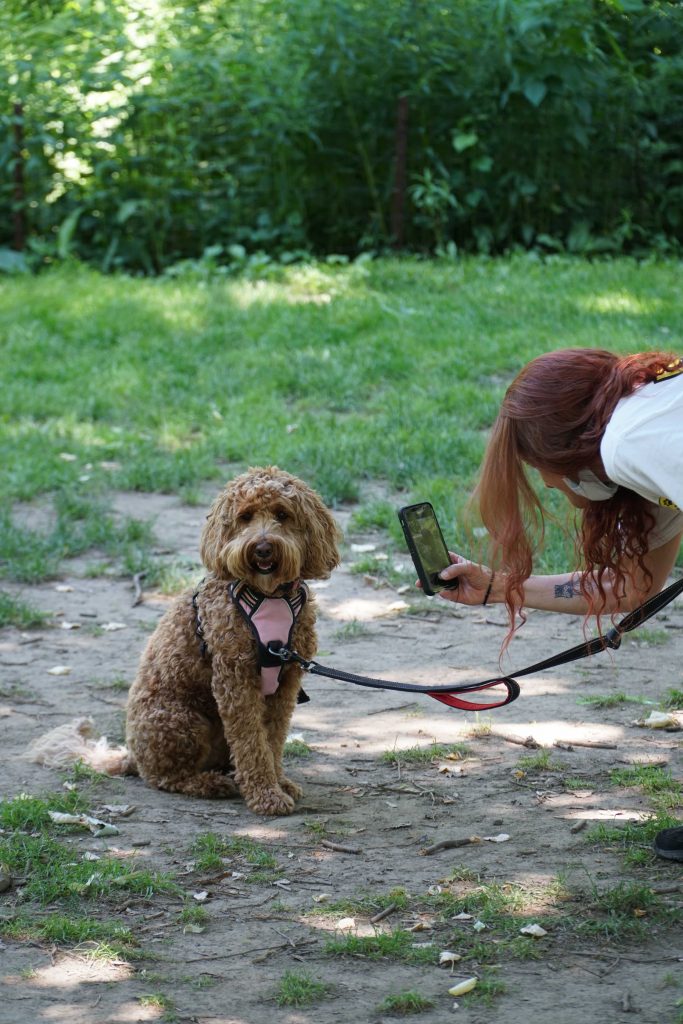 in-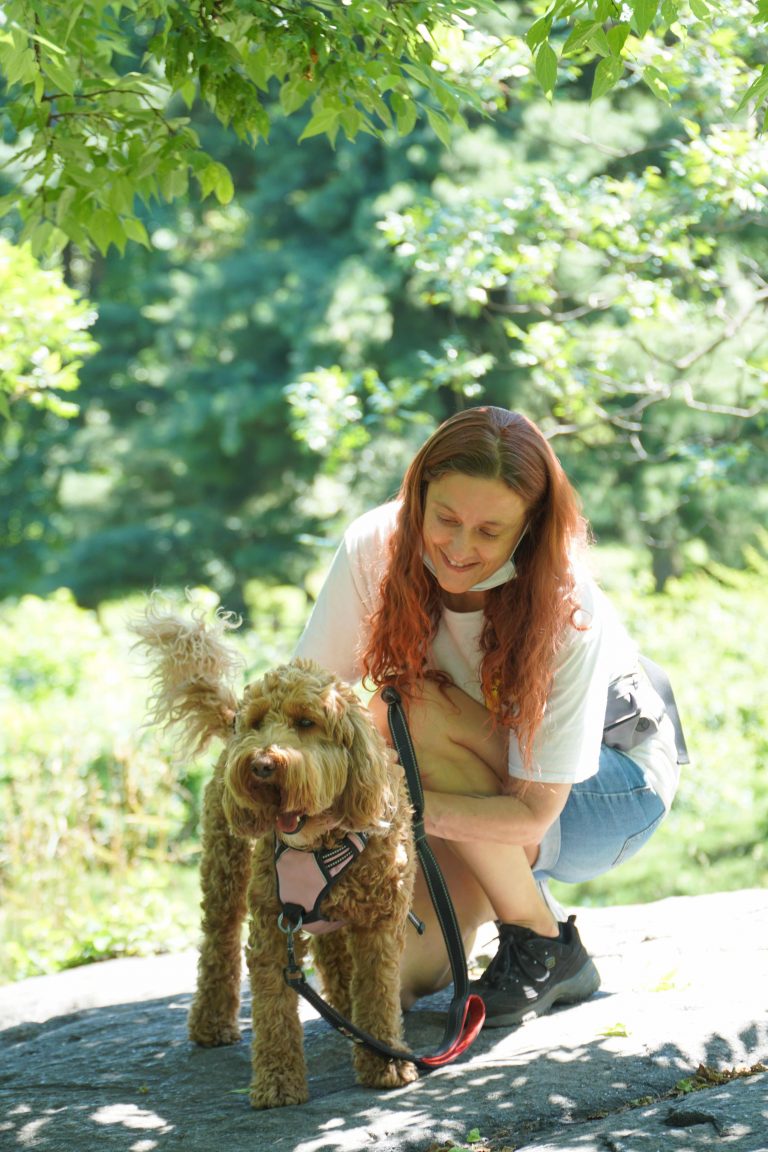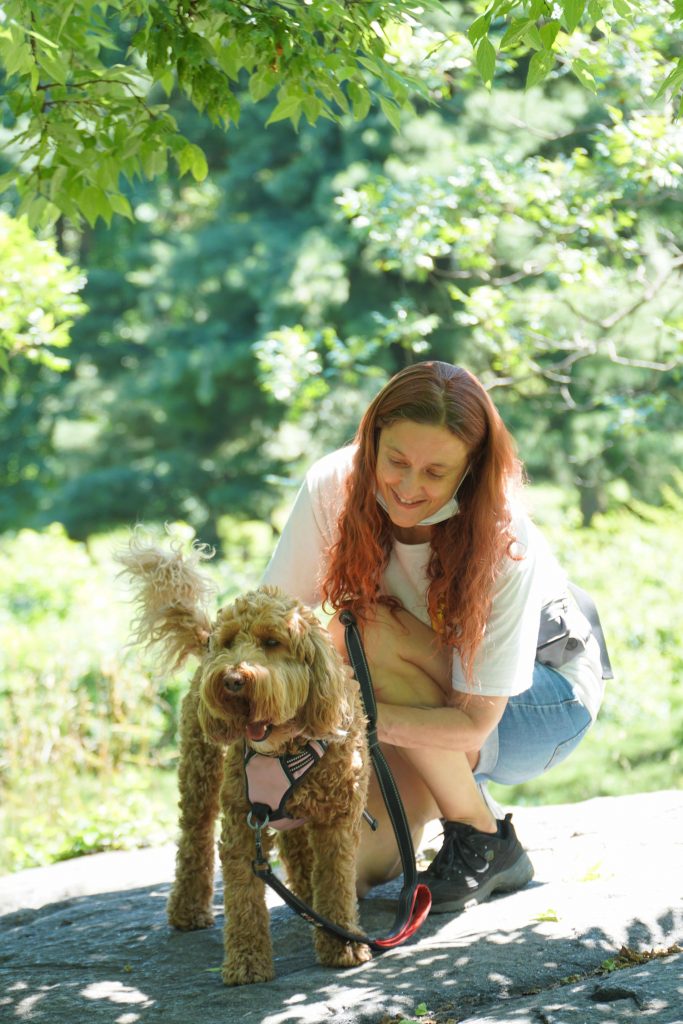 between the heat wave, so the weather was mid-70s and pleasant. Each time Brenda took a dog out, she would take them on a different path – often it was just to give herself a change of scenery, but she did explain to me that she tends to know which dogs love which spots in the park. For instance, Brenda led Penny toward the water's edge so she could spend a couple of minutes staring at the turtles bobbing in the water.
"You get to know each dog's likes and dislikes, and their quirks," Brenda explained. "Like Cheddar – she walks super slowly and drags her feet and acts like she doesn't even want to go, until we get into the park and then she perks up and bounds around, so we know she loves it!"
Some of the walks were fast-paced and some of them were more laid back – Cheddar and Bumbershoot, for instance, didn't want to walk as quickly as Penny did. On each of her walks, we stopped at opportune times for Brenda to snap some pics. "Their parents love to see their adventures," she told me.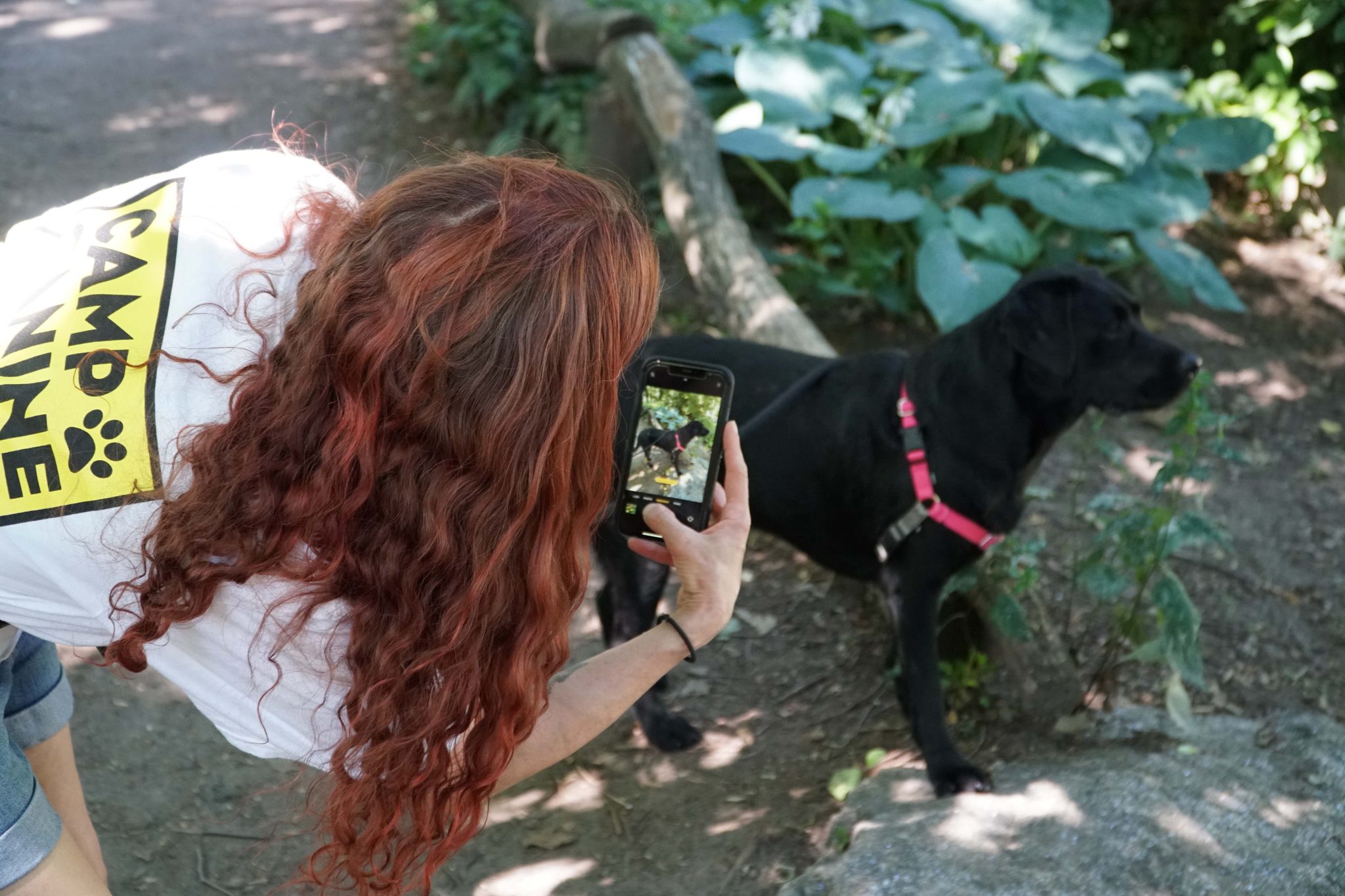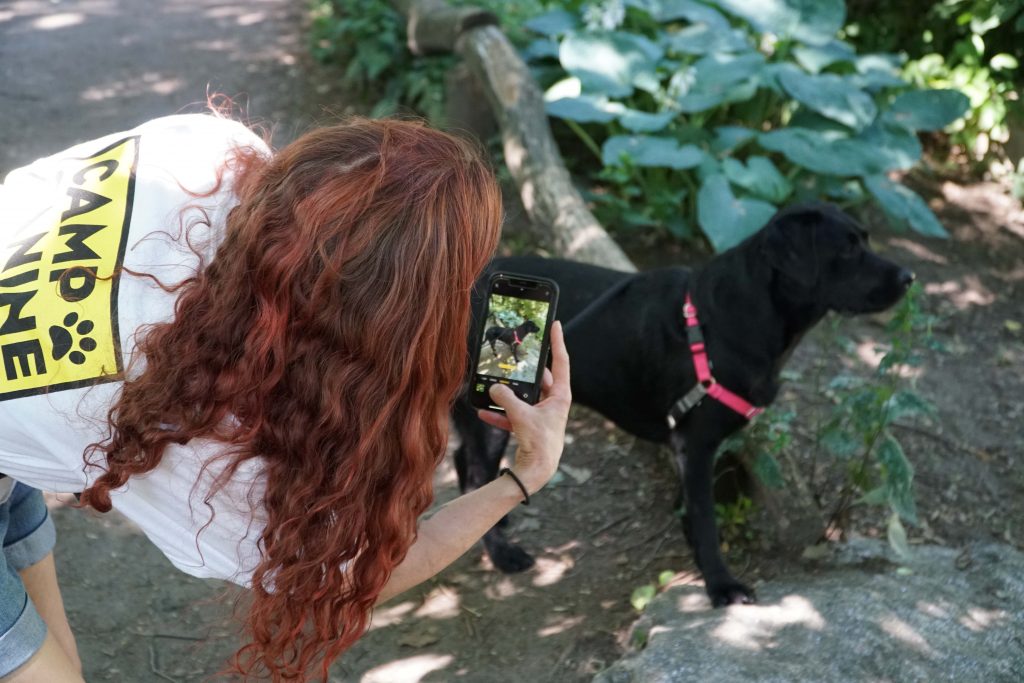 In between each walk, Brenda visited the Assignment Board in the middle of the facility – each dog's name and activity had been written on the board in erasable ink by the shift lead the night before. Each time she finished a dog's walk, she erased their name from the board.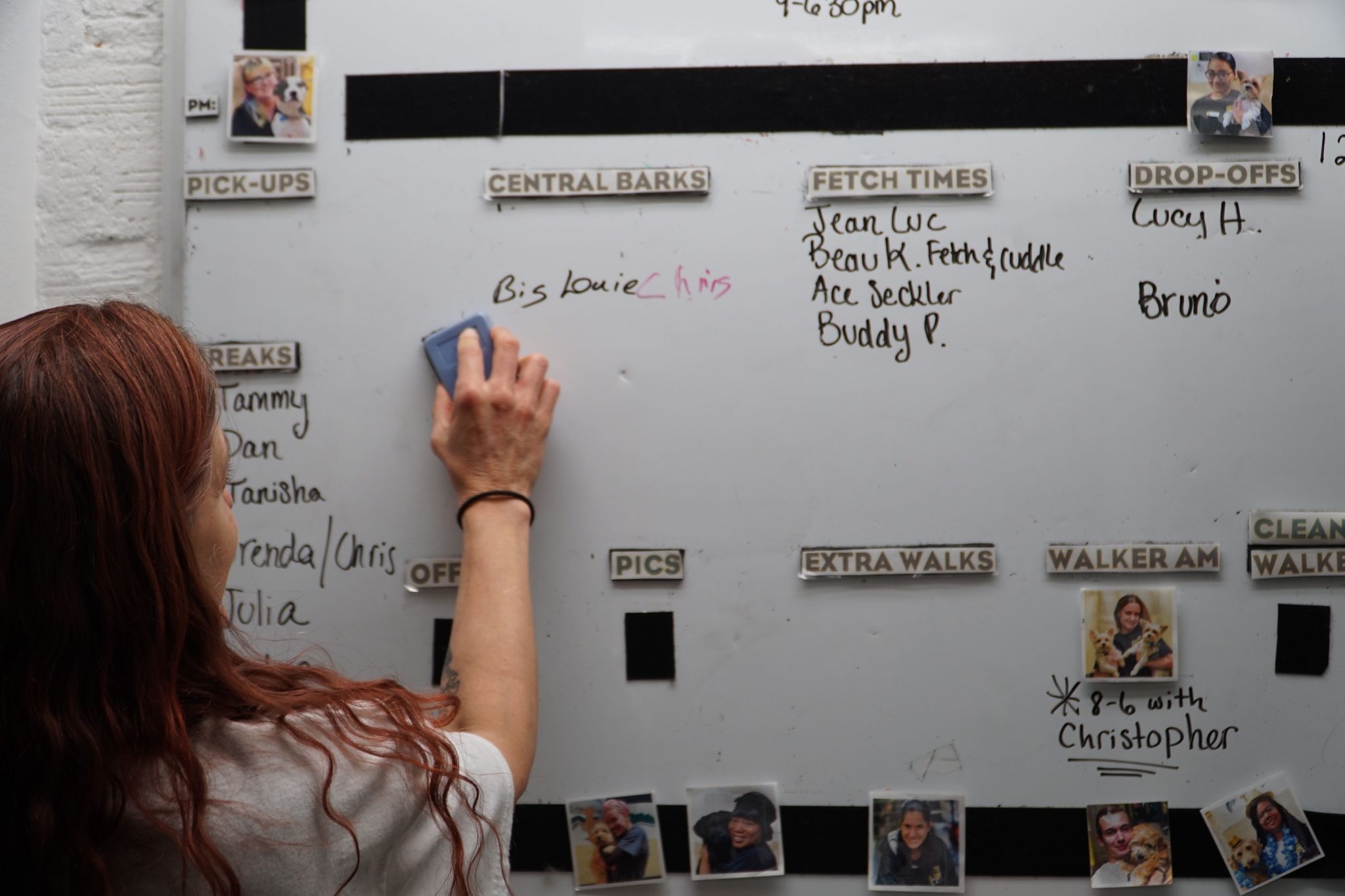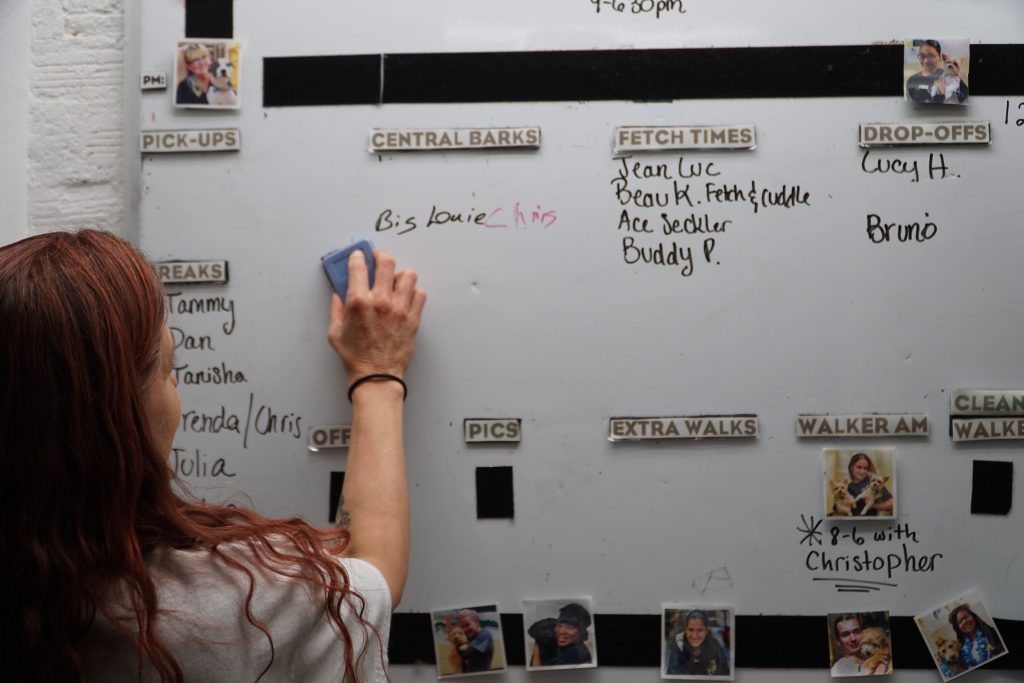 When she had finally finished her miles of walking (she always hits her steps goal!), Brenda transitioned into the fetch room. A new counselor, Christopher, had been paired with her so that she could train him on the art of a fetch room session. "It's just like with the walks," she told Christopher and I, "some of the dogs love high energy fetch sessions, and some of them would rather sit on your lap and chew a toy."
Even after his walk, Ace was raring to go and loved chasing the toys that Brenda threw in his direction.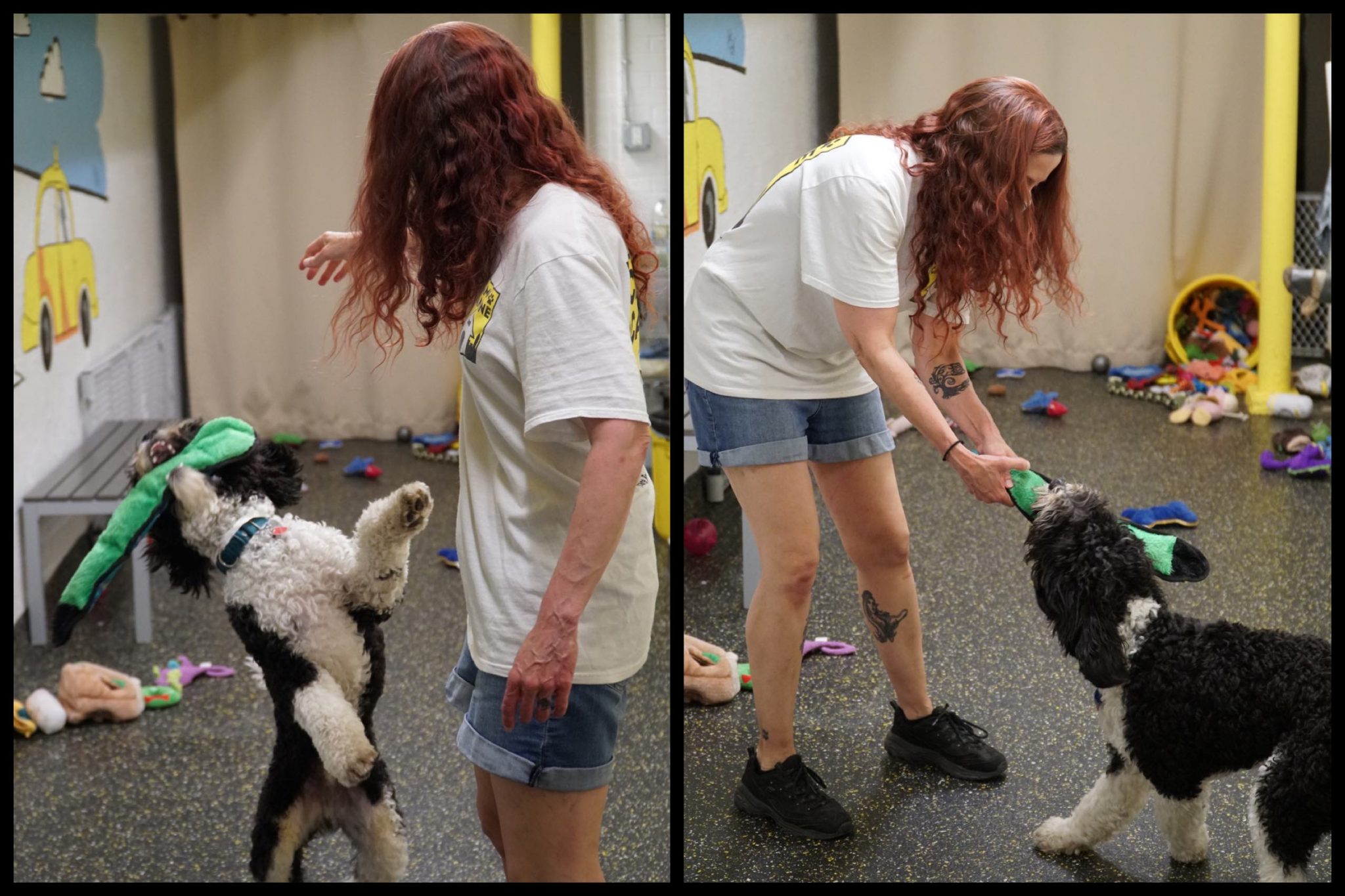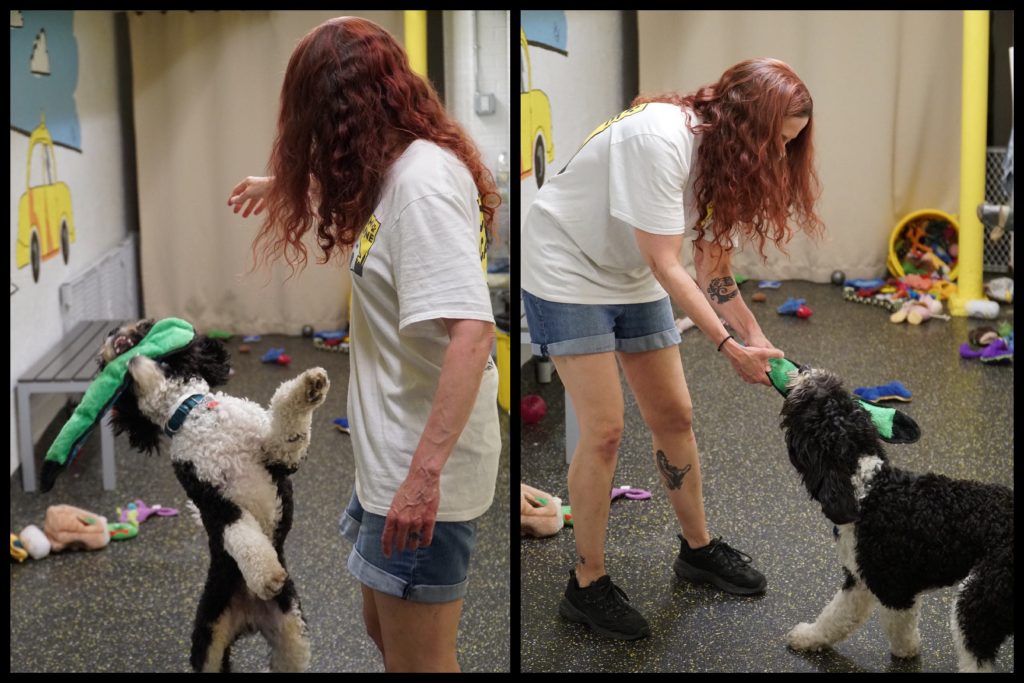 ***
Here are a few of the pics Brenda snapped of her campers on their Central Bark walks that day: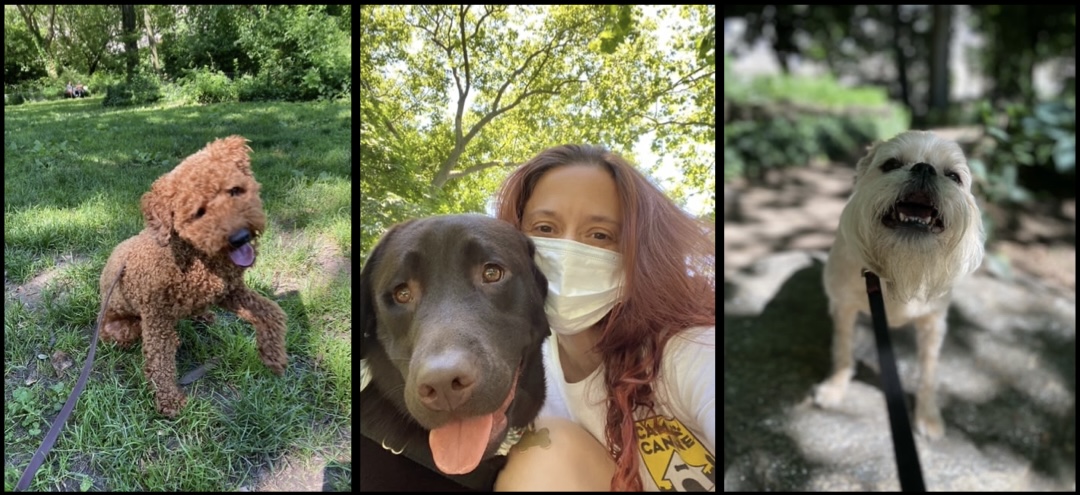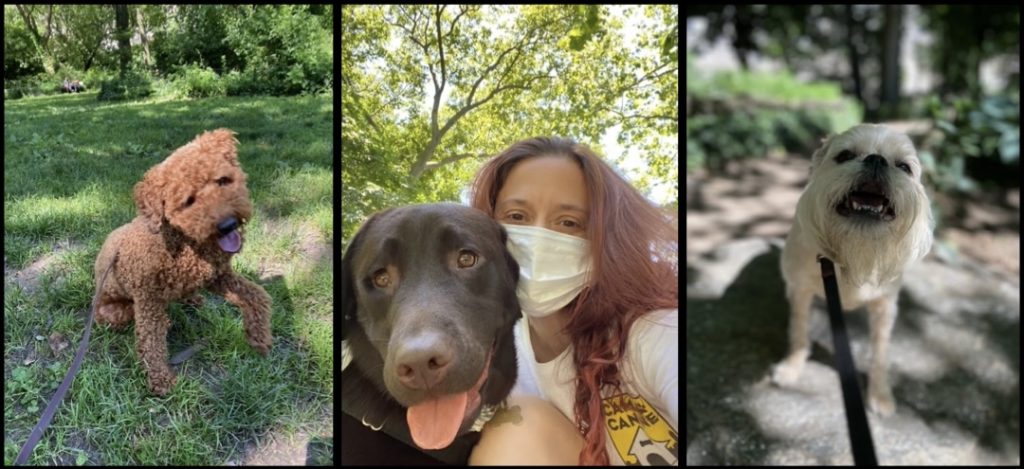 A job at Camp is never dull – everywhere you look, there's a new pup who wants your attention! There are a variety of tasks that each counselor can fulfill, so there's no risk of falling into a mundane routine. Instead, you'll meet new campers and fall in love more every day. Has this 'Day in the Life' feature made you feel like you'd like this to be a day in your life? We're hiring – check out the details here!